Asian Teams Falter On Opening Day of RWC Sevens 2022
Posted On September 9, 2022
---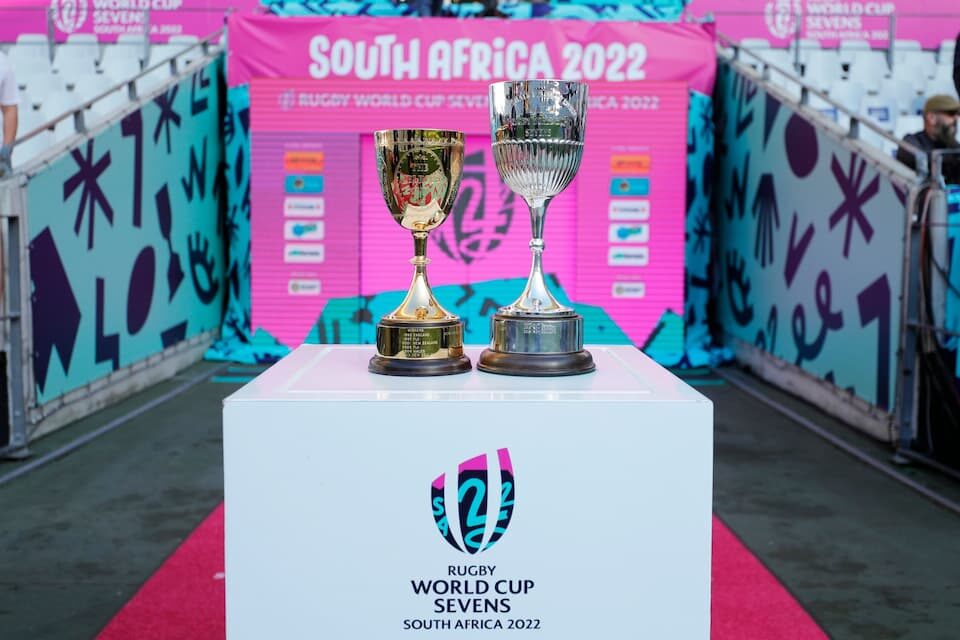 All four Asian teams at the RWC Sevens 2022 lost their matches on the opening day at Cape Town Stadium on Friday 9th September.
(Feature Photo credit: Mike Lee – KLC fotos for World Rugby)
South Korea 10-33 Wales – Men
In the morning session, the South Korean men played Wales in Match 6 of the Pre-Round Of 16 in the men's competition but they struggled to contain the Welsh attack and found themselves trailing 14-0 before they blew a great opportunity which was compounded by conceding a yellow card just before the halftime break. Wales further capitalised by adding their third try after the hooter at the half to go into the break with a 21-0 lead.
The South Koreans started the second half better, as they returned to a full complement of seven players, it was Wales that went down to six men with a yellow card. Korea kicked through to look like what would be their first points but they were cruelly denied by the bounce of the ball, rebounding off the posts, and forcing an error for what would have been an easy try.
They soon did score out wide and made it 21-5 but Wales scored from the kick-off to extend the lead to 28-5. Korea scored their second try with a great piece of play by number 12 Jeongmin Jang to make it 28-10. Although the game was lost for Korea and they had a second player sin-binned, both sides played well beyond full-time but a Korean mistake led to the final try of the game to Wales, who ended up winning 33-10.
South Korea will play Uganda in the Bowl quarterfinal on Saturday 10th September
Hong Kong 7-19 Uruguay  – Men
Hong Kong's players were told by their coach to play unshackled this weekend but they found themselves up against a physically superior Uruguayan team – who recently won the Challenger event in Chile and will be a core HSBC World Rugby Sevens Series next season.
The South Americans set up a great move within the first couple of points to draw first blood and take the lead 5-0. Hong Kong attacked themselves from the kickoff and despite their patient play, the Uruguyan defence was strong, after winning a penalty, a quick tap led to their second try making it 12-0. The restart kicks from Uruguay also placed Hong Kong under pressure and they struggled to clear their half. Another wave of attacks led to a third try for Uruguay who went into the break 19-0 up.
In the second half, Hong Kong tried, but things just didn't click and half chances were not taken, with Uruguay physically dominant too. HK eventually did cross the line, with Russ Webb scoring and converting on his debut as co-captain to make it 19-7, but it was too little too late and Uruguay were deserved winners.
Hong Kong will play Zimbabwe in the Bowl quarterfinal on Saturday 10th September
China 5-24 Canada  – Women
China was the best pick of the four Asian sides on the opening day, and although they lost the match, they scored the first try in the game early on after some crisp passing and patient attacking play to lead 5-0. Canada had to overcome some strong Chinese defence who were defending well in units and not leaving much space for the Canadians to exploit.
Eventually, the Canadian pressure led to their first try, scoring under the posts for a converted score to make it 5-7. China then conceded a penalty at halftime which Canada converted in the corner to extend their lead at the break.
China created some chances in the second half but Canada was getting stronger and after successive penalties, they broke out from their own 22m line to score and extend the lead further to 5-19. China struggled on some restarts and a poor one from the Canadian try, led to another score for the North Americans and effectively ended the game with a score of 5-24.
China will play Poland in the Challenge Quarter Finals on Saturday 10th September
Japan 5-36 Fiji – Women
Japan Sakura 7s, despite their recent success at the Challenger Series win and earning a core spot on the HSBC World Sevens Series, will have a long season ahead if they repeat these performances.
Throughout the match, their tackling was poor and even though they were physically smaller than their opposition, they fell off tackles far too easily which led to successive easy scores for the fancied Fijians. There were just too many mismatches and Fiji had racked up four tries within the half to lead 22-0, and Japan barely had a chance to score.
The second half started in the same vein with the Fiji number 8 scoring her hat-trick to extend the lead to 29-0 and soon it was 36-0. Japan managed a tired coast-to-coast consolation try towards the end of the game to end up 36-5 losers.
Japan will play South Africa in the Challenge Quarter Finals on Saturday 10th September
The full match schedule and results for all three days can be seen here.
Rugby World Cup Sevens 2022 News
---
Trending Now