HK Men's 7s win UK Super Sevens Series Second Leg, Women claim top 4 spot
---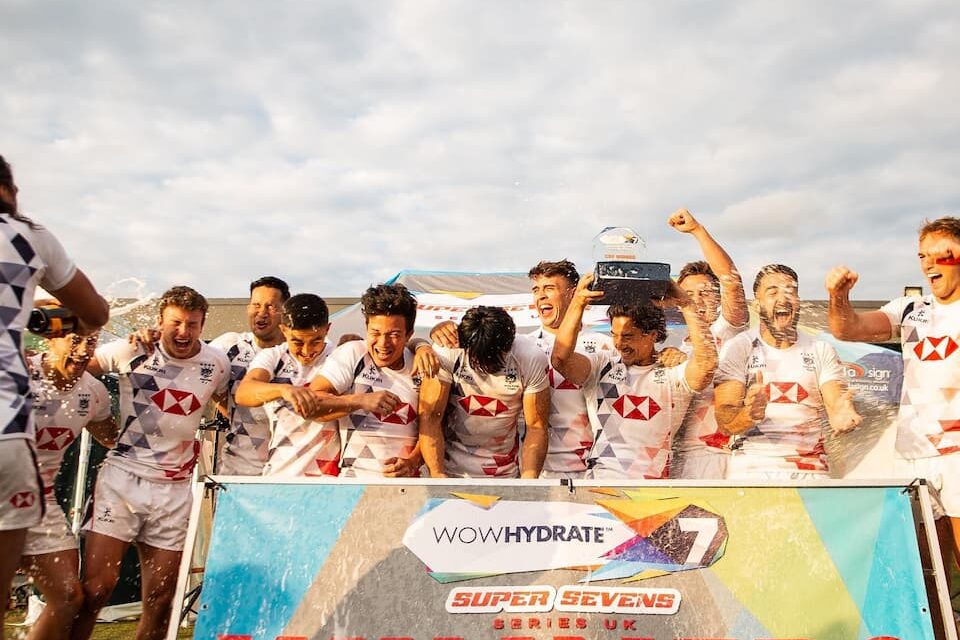 The HRKU men's sevens team won the cup at the UK Super Sevens Series 2022 second leg which was played on Saturday 28th May at London Irish, while the women's sevens team lost out to eventual cup winners Hammerhead Sevens in their semi-final.
(Feature Photo Credit: UK Super Sevens Series)
Hong Kong Rugby Sevens said online "Huge congratulations to our 7s men who won the final of the second instalment of the Super Sevens Series UK, taking it home 63-14 against Apache.
Although our women didn't make the final this time, it was great to see some of our younger players flex their skills."
HKRU Womens Sevens – Super Series UK 2022 Leg 2
The Women's Sevens team were narrowly beaten by Hammerhead Sevens, 12-17, in a golden point extra-time loss in their cup semi-final but still achieved a second straight top-four finish in the Super Series 2022.
The women put in a composed 36-19 win over Lionesses before beating the eventual cup winners Hammerhead 7s, 29-7 in their second pool outing. They also achieved a 29-0 shutout of the British Army in a game dominated by some of the newer players in the squad with Shanna Forrest and Rosie Wright shining. Chloe Chan also announced her return to the squad with some impactful forward carries, helping launch numerous attacks for Hong Kong on the day.
However, Hong Kong fell to Hammerhead in their second meeting of the day, despite jumping out to an early 12-0 lead.
"Obviously, losing a golden point in the semi was frustrating. The girls were disappointed with their discipline not to close the game in the first half as we raced ahead, and then missed two scores though poor accuracy of skill, which would have put us out of touch, but that is sevens." said coach Iain Monaghan.
He added that many U21s were playing their first senior tournament and even their first sevens tournament in over three years.
"This puts us in a great place for some really competitive training and playing in the Algarve and we are hungry to improve on our UK performances and experiences," added Monaghan.
You can read more about both teams' performances in the first leg here.
HKRU Men's Sevens – Super Series UK 2022 Leg 2
Hong Kong started a bit slow in the pool stages and even struggled early in their opener against Stunts, trailing 10-0 at the break but they produced 29 unanswered points in a  comeback win 29-10, with Sayers the standout player for the second week in a row
Hong Kong had another poor start against Wooden Spoon and trailed 19-0 at the half, and despite a fightback, they fell to a close 24-19 loss.
Hong Kong improved with a hard-fought 29-10 win over Emerging Spain to reach the semi-finals where they blitzed a British Army sevens team and claim a fantastic 19-7 victory and a second final in as many tournaments of the series.
In the final against Apache, Sayers was once again a star-players and scored a brace in the opening three minutes to help Hong Kong out to a 14-0 lead. Hong Kong added seven more tries in a huge 63-14 Cup final win.
This information was based on a provided press release.
The remaining events listed on the UK Super Sevens Series 2022 are:
Stafford – Saturday 11th June 2022
Aldershot Military Base – Saturday 25th June 2022
Both HKRU squads are playing next in the Algarve Sevens from June 10-13 and Rugby Asia 247 will be there to cover the action!
Asian Rugby News 2022
---
Trending Now