Hong Kong Rugby Union – Leaner and Meaner?
Posted On September 23, 2021
---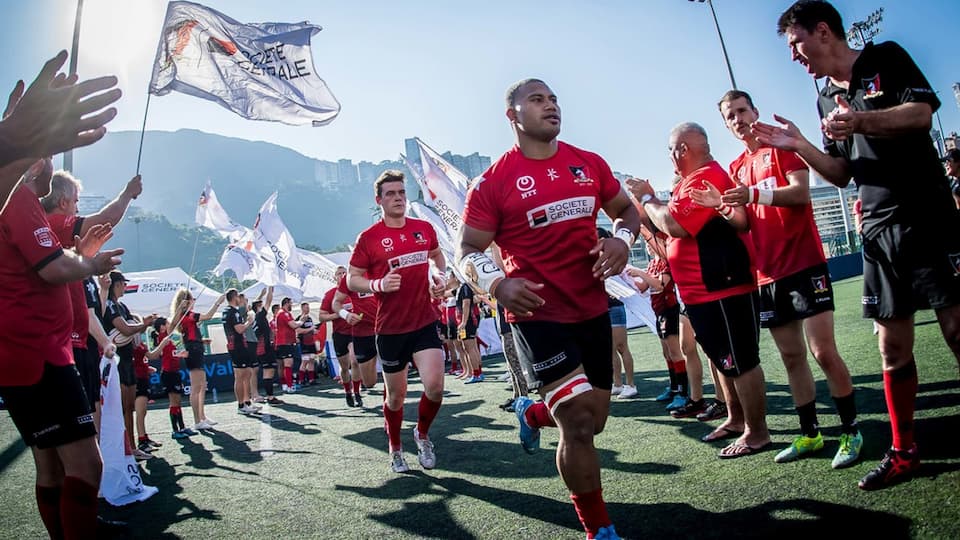 We spoke to Hong Kong Rugby Union (HKRU) CEO Robbie McRobbie on the eve of the domestic Hong Kong 2021-2022 season kicking off and just before his birthday! 
Like many of us, Robbie has been cocooned in-country since early 2020 due to COVID but he remains realistic and very positive about the future of rugby within Hong Kong despite the challenges the Union has faced.
We knew already that the HKRU has been one of the hardest-hit unions in World Rugby if you consider the concerto impact of the political issues in Hong Kong, the pandemic outbreak, and two consecutive years of the global showpiece Cathay Pacific Rugby Sevens being cancelled – which was a financial crux on which the union, self admittedly, over-relied.
In a very frank and open discussion, we heard from the CEO about the tough business and sporting decisions made over the past 18 months. We also discuss the growing excitement on the eve of the return of domestic rugby and from a national point of view, how the Women's & Men's XVs and 7s teams are all shaping up for their respective Rugby World Cup qualifiers over the next 12 months.
Before we got stuck into the nuts and bolts of things we had a good conversation about the state of the game, embracing technologies, law variations etc. Robbie also hinted that the HKRU could be investigating avenues such as NFTs (Non-Fungible Tokens), Intellectual Property and ESports and other means to drive interest and revenues for the game. 
The Financial Issues at HKRU
"Where to start, as it has been horrendous" starts Robbie when looking at 2020-201. "We've always known that our commercial model is fragile and not ideal. The Sevens model brings in 95% of our (HKRU) annual revenue. Over the years it's not been for a lack of exploring revenue diversification and other events; we have held Bledisloe matches, Lions matches and Super Rugby games in Hong Kong, which have all been good.
The reality is that the Hong Kong Sevens is a unique beast. We have found to date it's impossible to replicate. That's because it transcends the sport of rugby 7s and it has become Hong Kong's mardi gras.
To attract 40,000 people into the stadium over three days, there is no other product we have found to date that can attract that amount of excitement and interest."
The COVID-19 outbreak has seen successive Hong Kong Sevens events cancelled in 2020 and 2021, despite a number of attempts to reschedule the event.
"When the pandemic unfolded, we didn't spend a lot of time beating ourselves up on that because we knew we relied on that event. Because of SARS in 2003, we were a little bit more aware of what COVID might become, and we reacted quickly, to be honest. We addressed underlying financial concerns and brought in an external consultant to assist with an organisational review at the Hong Kong Rugby Union.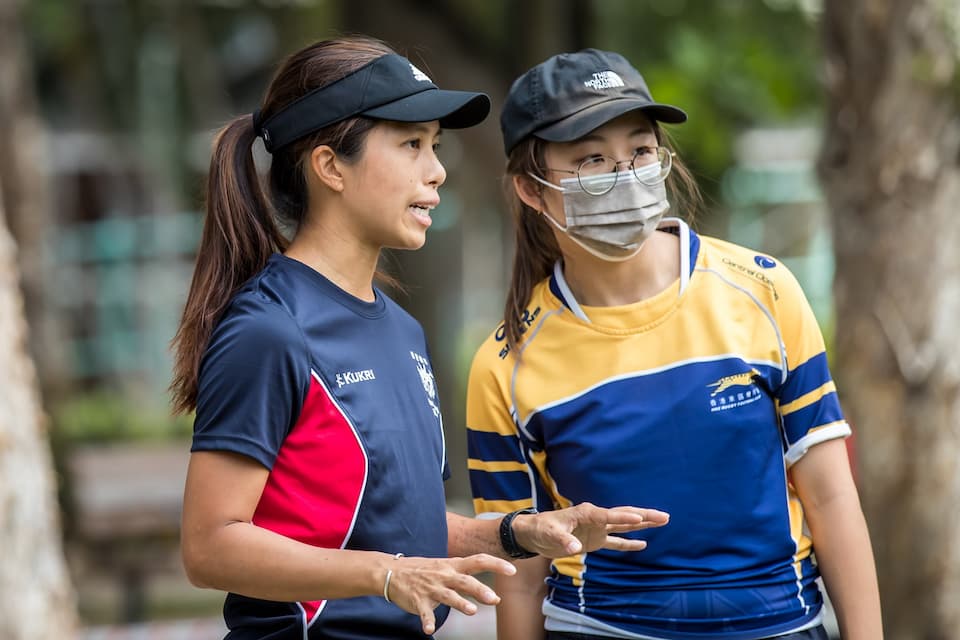 It was a difficult and painful process and resulted in a significant number of redundancies and pay reductions, but it was a necessary exercise. We did it as professionally as we could. 
Another theme of this period, and as part of that review, I reached out to and spoke with 16 other CEOs and heads of rugby unions around the world, everything from tier-one unions to semi-professional clubs, and everybody was so generous with their time and sharing. 
I think that's one of the things to come out of COVID-19, there was so much more willingness to partner and look for collaborations. We are all literally in this together and we only will get out of this collectively."
The changes you had to go through, do you feel like the HKRU is in a better place now? How do you strategise with so many unknowns that could still affect things?
"You have a lot of Plan A, B, C, D etc (jokes Robbie). It's interesting, as one of the colleagues from World Rugby said last year when planning for the Sevens: "it's like you have a jigsaw puzzle, you have almost finished it and you go to bed at night and come down in the morning and someone has moved around all the pieces!"
So, are we in a better place now – yes we are. I think the good thing is that the review was not purely financial. We looked at roles and deliverables, and in the end, we have a leaner and meaner organisation moving forward.
Strategically we also looked at the functional areas of the Union and made them more financially self-sustainable. We had our own charity and we run some of our sports development programs through that. We were able to seek and secure significant funding from the Hong Kong Jockey club for three years that will fund that side of the organisation.
HKRU Program Changes 
That wasn't easy, it was a six-month process but we knew we had great programs and great products and we knew the Jockey Club would like what we had to offer – and it was a good fit. So that was a big tick of the box and job security for those staff and we can deliver those programs.
We then looked at the elite side of the game. As you know we had to make cuts. The sevens programs were in a better place as they are funded by the Sports institute (the Hong Kong government) so that was our banker at that stage and we could have a professional pathway for men and women.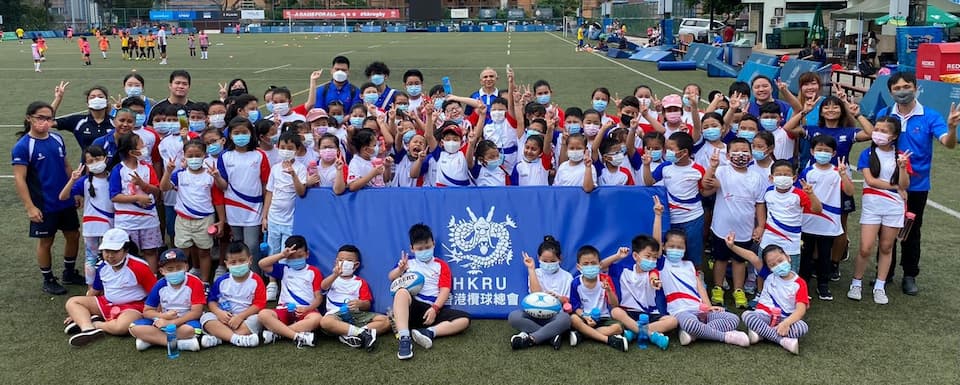 For the XVs, we had a full-time men's, and part-time women's program. The men's program may have been sustainable if Global Rapid Rugby had survived but we knew it wasn't coming back, so the business case wasn't there and it was an expensive program.
We gave everyone affected, 6 months' notice (the announcement was made in January 2021.) We brought in an HR consultant to help handle this. The situation wasn't perfect but in the end, the majority of players did stay in Hong Kong and they have all got employment.
So I feel as good as I can do about that process, even if I'm sorry we had to make people redundant. 
So for the women and men's 15s program – they are now on the same terms and money and that is a good thing. It's also important for us in terms of our approach to gender equity.
Change in Coaches: HKRU
We also, over the past year, lost some key coaching and performance management personnel:  Dai Rees, Andy Hall, Lee Jones (left to Leicester Tigers) and Craig Hammond (now at Nottingham). So we had anticipated losing a couple of people but to lose all four was a bit of a shock, I have to say.
We felt it was important to move swiftly and make an important appointment. We knew that the morale of the players was not the best, and then to lose well-respected coaches…. In what is a critical time with pathways to World Cup qualifications. 
So we were really fortunate that I knew Simon Amor had been released by Eddie Jones from his role with England Rugby, and Simon has had a strong relationship with Hong Kong over the years – it was a good fit for him and a great fit for us. 
(Simon was actually released from his mandatory quarantine in Hong Kong on the day we spoke with Robbie).
"Simon is not here full-time but he is here to run the men's XVs program for what we hope will be the qualification pathway (Still expected to take place at the end of January 2021). And the winner of the Asia Rugby Championship will play Tonga in July we think.
So that's where we got to with the fifteens rugby. And we are on the books with World Rugby as an emerging nation, so we do get some funding from them, it all helps. 
Commercial Partners
On the commercial side, we took a long hard look at ourselves as we had airline and hotel sponsors, which were sectors that had been badly hit by the pandemic. We do have very supportive partners like Cathay Pacific, they have been so supportive, as has HSBC. 
Dettol and HKRU
(On the morning of the interview, we received official PR that Dettol was the title sponsor for the new Women's and Men's season in Hong Kong.)
But we had to look at what sectors had not been affected, and equally, what sectors had actually had a good year. Dettol was right up there. We were aware of the work they had done with Cricket Australia and that sport was an area of interest for them. So we were introduced by a mutual friend and we hit it off. 
There was a lot of enthusiasm from the outset and we have helped with the community network to get the brand out and to be fair, during this period Dettol has been very community-minded with giving out handwash to NGOs and charities and shops etc. So the values and ethos were a good match.
They initially came on for the Sevens, but we were looking for a sponsor of the domestic women's and men's championship, and luckily they were interested in that.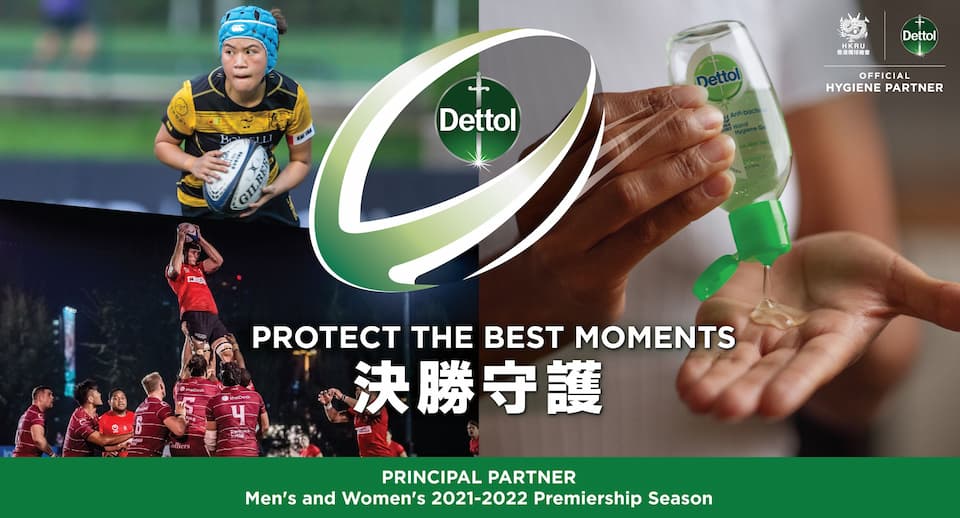 First Point
We also picked up First Point, they help place students at universities and being in the education sector it's an important market. 
We have tried to think a bit outside of the box when it comes to relationships and partnerships. 
HKRU Domestic & International Season 2021-2022
It's a big domestic season as it will help the coaches select national team players for what seems like a congested international run of important games. After an 18 month break, it's jam-packed. 
How do you keep morale up as so many of these tournaments still have question marks hanging over them?
I will be honest and say morale is not the greatest at the current time. I think communication is important, and open and honest transparency with staff, players and the community, is really important. Even when the message is not good news.
I think what we are struggling with at the moment, aligned to that, is people like to be in the loop and know what the pathway is, or what the timeline is, and that for me and my team is the difficult part.  There are some milestones for when some matches need to be played but all of them have a very large question mark hanging over them, and the question mark for us is primarily a result of the HK government-related travel restrictions. 
Every country has a different approach to COVID and in Hong Kong, we have gone down this zero case route. And to be fair they have been very successful and we have not had a COVID case for months.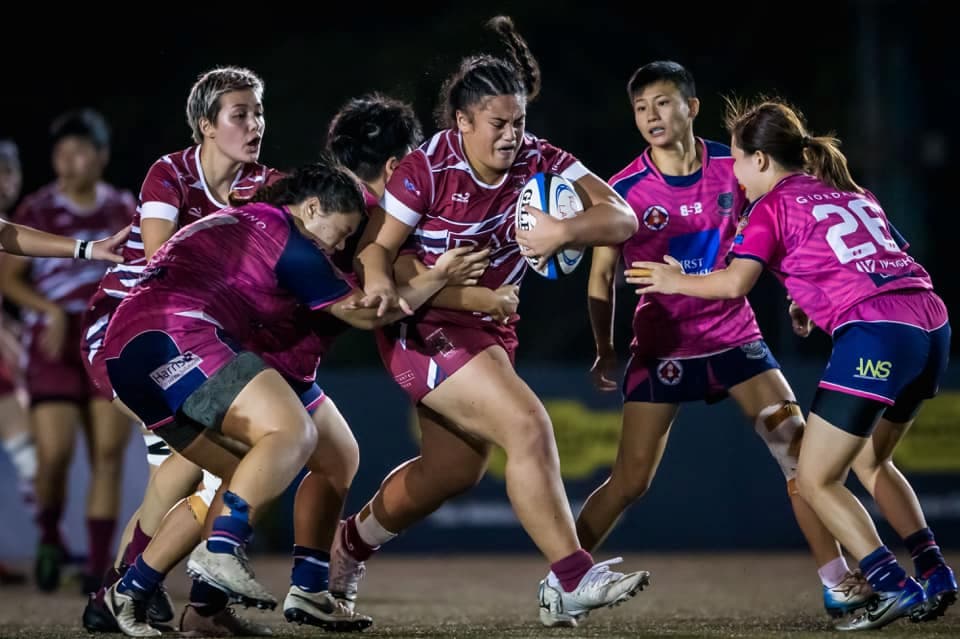 So in our own domestic world, it's fine, we still have to wear a mask and have social distancing restrictions, but nobody has COVID here and you can play sports and go to school and lead reasonably normal lives. However, if you go outside of Hong Kong, there is a fierce quarantine regime. Our players have to face a 21-day quarantine on their return and that brings with it costs; financial, physical and mental.
I'm not comfortable pushing our players where they have to do a 21-day quarantine. Our Men's sevens team are in Canada at the moment playing the two rounds of the HSBC Sevens Series and that's fantastic. But they will have to quarantine when they get back, but the players were given the choice and asked if they were prepared to do that. 
We discussed the possibility of multiple quarantine periods and tournaments for the players which are very taxing.
Shortly after the interview, Asia Rugby confirmed the Asia Rugby Sevens Series will take place in the UAE which are the Asian qualifiers for the World Cup Sevens. So the HK men's sevens players return from Canada in the last week of September, face three weeks in quarantine and need to prepare for World Cup qualifiers in Dubai at the end of November – and then return for another three weeks quarantine!
"In addition, currently, Hong Kong has not been invited to partake in the back to back HSBC Sevens in Dubai in November-December 2021 as it's intended for the core teams and it's the start of the 2022 season," adds Robbie.
"At this point in time, we have not been invited and I'm not holding my breath. Our women and men love playing in the World Series events but at this point in time, we have not been invited and am not particularly expecting that we will."
Those World Sevens Series events are not far away though, and if any core teams can not travel, it would make sense to invite teams from Asia Rugby's top 7s championship to be involved as they will be in the UAE, in any case. However, if the HK teams did partake, they more than likely would spend Christmas in quarantine if the same restrictions are still in place.
Asia Rugby Sevens Series 2021
The Asia 7s Series in 2021 is also important, aside from the championship itself, they are the qualification pathway for the World Cup Sevens in South Africa, but it also has implications for Asia Games rankings which take place in 2022.
As an added impact, some of the HKRU national players are in the 7s and 15s squads (Robbie confirmed this is more of the case for the women than the men.) The XVS Asian RWC qualifier dates for the women and men are still to be confirmed! 
"For the poor old coaches, they will be looking at the calendar and working out the 21 days in quarantine and what dates players are available and need to be flying out again," adds McRobbie.
Qualifying for the Rugby World Cups 2021 and 2023
What are your expectations and hopes for the teams to qualify for the respective World Cups?
RWC 2023
For the Men (XVs), the change in the qualification process is good. Whoever wins the Asia Rugby Championship (ARC) has a one-off crack against Tonga.
Editors note – We still are seeking clarification, as the messaging from World Rugby and Asia rugby on this differs, in it being two legs or a one-off match.
We all know the challenges they have with player availability, so it's an exciting opportunity. Even if we win the ARC and lose to Tonga, we will still go to the Repechage in November 2022, and we are Repechage veterans, so we know what to expect. I am optimistic about the men.
RWC 2021
For the Women, they made it to the last World Cup in 2017 and they know what it's all about. Japan and Kazakhstan are very good (the opposition for the women to gain direct qualification from Asia). 
Japan is well drilled and will be tough to beat. Kazakhstan has been all over the shop the past few years and faced many issues.
We have sent our team to play on European tours, they have played Fiji and Samoa, and they are more cohesive and experienced. So if we even come second, we still head to the Repechage and there will be some very tough teams to beat which could well include Scotland, for example.
The Repechage has shown upsets do happen and our ladies are good – a number of them are in our full-time sevens program. So the fitness, conditioning, and strength are in a good place.
RWC Sevens 2022
For the RWC Sevens qualifiers, the top two Asian teams (men and women) go through from the tournament in December 2021.
We are the reigning men's Asia Games gold medalists and we are proud of that. The women came second in the repechage qualifying for the Olympics.
So I am pretty bullish, and I think we have learned from disappointments and we will be in a good position for the Asia Sevens Series and I'd like to think both the men and women will be in Cape Town for the RWC in 2022.
Domestic HKRU Season
For the domestic season which gets underway this weekend, what is the mood like?
Everyone is very excited. We had two really good pre-season runouts with the Fast Femme and Furious, and Fat Boy Tens. 
It was like my younger days when I went to Manila Tens and you meet up with people you haven't seen for a long time, and a really, really good atmosphere – that's helped build momentum and a lot of excitement. 
On a positive note, we were really worried coming into the Summer about numbers and the players and kids who had fallen out of the routine of playing rugby. The minis festivals, which are such a big part of our community, were not able to take place for the past two years.
There had been so much disruption and lots of people leaving Hong Kong, so we had real concerns we would see shrinkage across the board in playing numbers. That, on top of the other financial challenges for the clubs, would mean fewer membership fees and less income.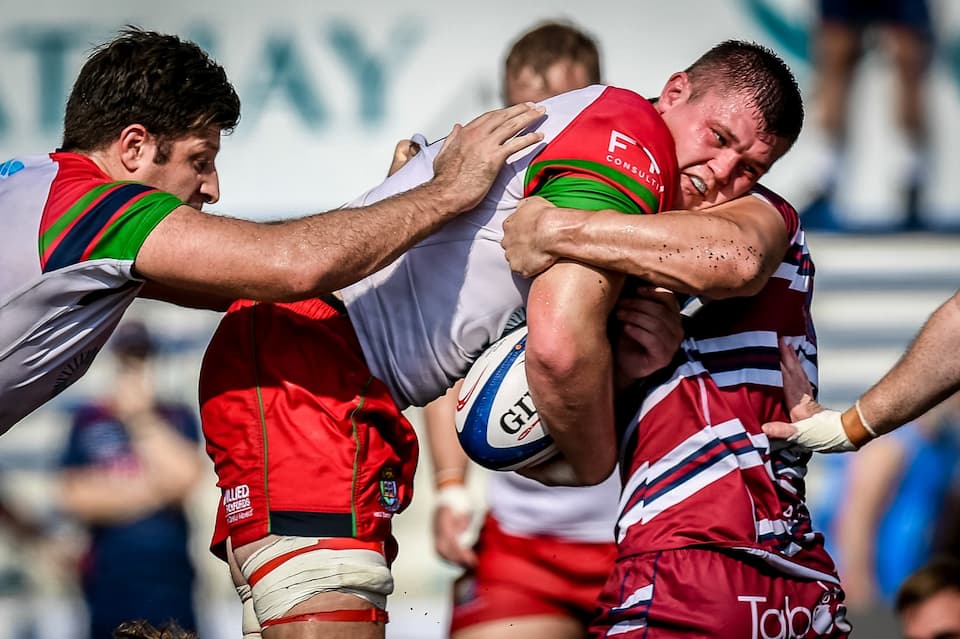 So we had a big summer of rugby with activities, and our clubs were amazing on and off the pitch with activities. They were organising charity events and their own camps, and the end results (we are still crunching the numbers) looks like at worst, the player numbers are flat but in some cases even up for a bit.
We will be streaming the women's and men's "Game of the week" for the domestic season, with graphics and commentary. The other games will be filmed and the clubs will have the option to pay the streaming fee (without commentary and graphics). 
The other exciting thing, is we keep the HK stadium booking from the cancelled HK sevens event. So for three weekends in a row, we will have men's and women's doubleheaders at the stadium which is very exciting. So for many of the players, it will be a great chance to get to play there and we are planning to have some minis and youth games too.
I think it's about finding these nuggets of good news and positivity and grabbing hold of them and making the most of them.
Growth of Rugby in Asia and China
From an earlier webinar this year, Robbie had talked about the good relationship between the HKRU and China Rugby, and how they could further develop the game. China has had a very good Olympic 2020 7s for women recently. 
With China, for us, it's quite straightforward. The governments have outlined a strategy of greater integration around the Greater Bay Area which includes 11 cities; including Hong Kong, Macau etc and it has a total population of 71 million people. The integration involves business, infrastructure, transport, culture and sport.
So we already have relationships with some of the clubs there and used to have the PLA playing in our HK league. We definitely want to play a role in growing the game in the Greater Bay Area as we see that as growing the customer base, the teams, and with the high-speed rail – the travel is really easy. That area for us is a number one priority.
More broadly, we would like to assist the China Rugby Football Association but it also has to be on their terms; we are the little brother in that sense and they know we are here and want to help. Also, we have an MoU with the Bay of Plenty (New Zealand), and they have an MoU with China Rugby so there is a three-way dance going on there.
Professional Rugby in Asia
The China womens 7s coach, Euan Mackintosh, also has links to Bay of Plenty and earlier this year talked about the quality and number of players in China. We asked about the need or possibility of a professional league in the regions and greater competition as Japan seems to take an isolation view in rugby with Asia *(in our opinion).
We would love to go back to when we used to bring half a dozen Chinese national team players into our league, who were distributed across the teams in our Premiership. This was really good and they would have coaching, refereeing and English courses.
This was good for them and for us and added further interest to the league. The XVs rugby in China is still hit and miss, and predominantly it's the expat clubs playing XVs and there is a bit in the universities, but the national programs are very focused around the 7s rugby.  
If you take the women, for example, the Chinese team are amazing athletes and I don't think it would take much to put them into an XVs team and I reckon they would, with no disrespect to Japan, be Asia champions within a couple of years.
In Asia, aside from Japan, the top teams include Malaysia, Korea, Kazakhstan – So would the improvement of Chinese rugby not only help Hong Kong?
I think better competition is what we need. Again, this is where Global Rapid Rugby was good for our men's players and it was exposing them to a higher level of competition. Just playing the same teams every year twice, is not sufficient to raise the players to another level. 
I would also say that our relationship with the Japan Rugby Football Union is now closer than it has been for a long long time. We are in touch regularly and we have made no secret that Korea and ourselves would like to have a team playing in Japan, I don't think in the Top League, but in the lower divisions, it would be a very attractive thing to look at. 
That is the missing piece, for performance for us and Korea. Now that Japan has changed the eligibility criteria for players, my assumption is that there are fewer opportunities for players from Korea to play in Japan.
So having a Korean or Hong Kong or HK-Chinese franchise playing in the Japanese league in 2-3 years time, would be exciting.
There are so many new professional competitions happening globally but not in Asia. It's something we have discussed with Asia Rugby members and other guests. Our feeling is that the longer Asia Rugby does not address that, the greater the detriment to the game in the region?
Well, I can say our conversations with World Rugby during the COVID period- they made the same point. What is proving to be successful is Fiji and the Pacific nations joining Super Rugby, Chile and Uruguay having teams in the South American competition, the new second-tier European competition, the MLR and the impact on US and Canadian players.
Asia is the one place where we are missing the opportunity to step up and engage at a high level of competition outside of those small international pockets. Somehow, if we want to get better, that will need to be addressed for sure.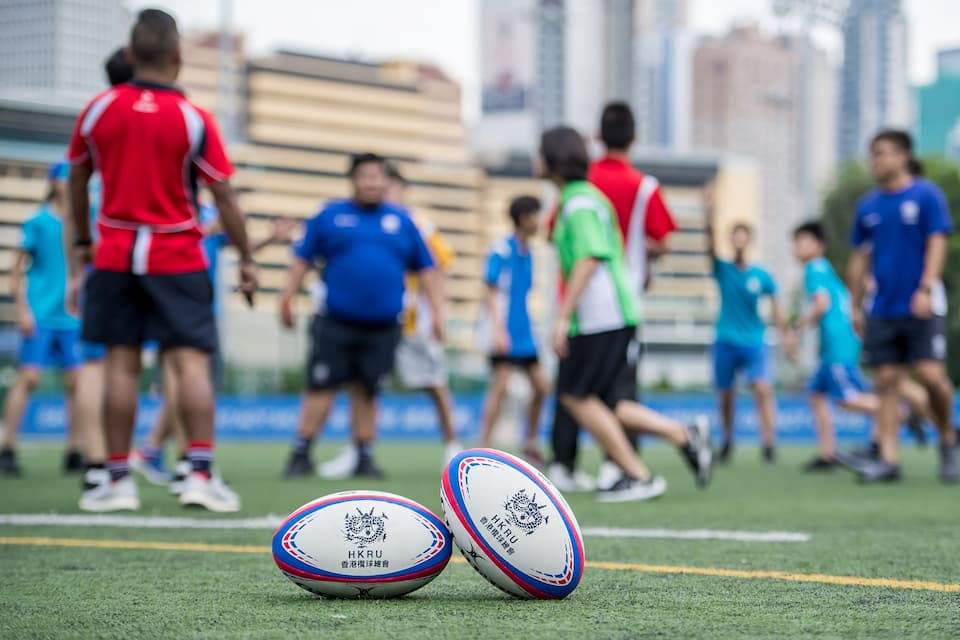 What do you think the biggest obstacle to that is? Is it just financial, or cooperation?
Certainly, finance is a starting point. Global Rapid Rugby demonstrated that if you have the money you can start something. It was amazing how quickly it came together, the whole thing was about six months to plan and put into action. Considering the complexity of the different markets, it was pretty amazing really. I think if you have the cheque books you can make it happen.
The thing is with that, you can see Andrew Forrest knew he would not make his money back, if at all. He has a lot of money but loves the game and was not looking to make that back. You need somebody who is going to put the money up and take a long term view. As you know, the commercial side of rugby is still not great and you are not going to have a big short term return from investing in a competition.
The playing numbers are there in the key markets in Asia, and there are many wealthy individuals and companies in the region, so we hope behind the scenes the governing bodies are working towards making something happen over the next couple of years.
Yes, if you look at Sri Lanka and India for example, there are a lot of players and many wealthy individuals – why are we not joining the dots? It's a good question.
Thanks to Robbie for all for his time for the interview. All photos credit to HKRU unless specified.
---
Trending Now