Hong Kong U19 Men Win 7th Asian Junior Championship Title
Posted On December 18, 2022
---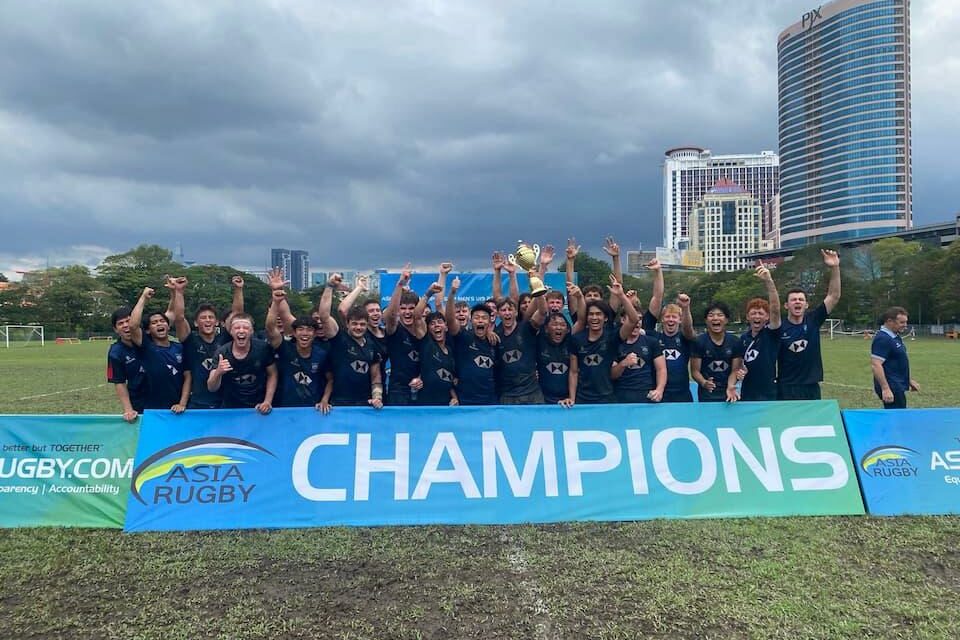 Hong Kong U19 Men beat Chinese Taipei in the finale of the Asia Rugby U19s championship 19-12 on Sunday 18th December in Malaysia to claim a seventh straight Asia Rugby title.
The victory means the side will head to the World Rugby Junior Trophy (U20) in July 2023 which takes place in Kenya.
The match was a title decider after both teams had dispatched the hosts during the week, and the field and wet conditions meant it was always not going to be a free-flowing game.
The sloppy pitch conditions due to heavy rains at kick-off resulted in a tight and oft-scrappy game, which was a battle of attrition and few chances for the two teams to flex their running game. The humidity post-ran also ensured a greasy ball in a match littered with knock-ons and forward passes.
HKRU U19 Head Coach Logan Asplin said as much "It was a tough battle with both teams up for it and a lot on the line, That big downpour in the warm-up followed by the sun, it was like four seasons in one day, which was taxing on the body, but it was good for the players to have adapt to that."
Hong Kong edged the game with a score of 7-5 at the break after fullback Blake Elliot set up a solo try from 30 metres out and fly-half Cooper Wnek added the conversion. Taipei replied with a well-worked drive from a lineout after the restart and a ten-man shove put them over the line for an unconverted try.
A mix of poor passes, and even some poor kicking from hand, as well as set pieces issues, didn't make it easy for the HK team but they never went behind the opposition on the scoreboard and Wnek scored a well-worked try in the corner, converting his own try to extend the lead to 14-5 with 25 minutes left.
Taipei tried to move the ball around in the tough conditions and there were periods of helter-skelter play in the match with kick chases and desperate defending keeping the match tight.
The Taipei forwards then rumbled on and earned a second forwards try which was converted to make it 14-12 inside the final 15 minutes.
Taipei was trying hard but some telling tackles and the patient defence held out, as well as some notable steals from both sides.
At a scrum in the Taipei 22m, the HK pack had a settled scrum and scrumhalf Camill Cheung found Eliot on the blind side, who then ushered it out to Kee for a crucial try,  which was unconverted but offered some breathing space on with the score 19-12.
With only minutes left, and the two teams exchanging blows in a physical and tough game, Hong Kong secured possession and ran down the clock to the final whilst and claim their seventh straight Asian title.
Asplin added "From the start the connectivity in the group was impressive. There were no egos and despite the diversity in ages, and guys coming from different backgrounds, schools and even countries, everyone came together and did something really special for Hong Kong."
Asian Rugby Tournaments and News
---
Trending Now