Japan Rugby League One 2022-2023: JRLO Round 8 Preview
Posted On February 17, 2023
---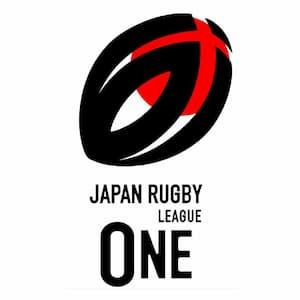 JRLO Division 1 – Round 8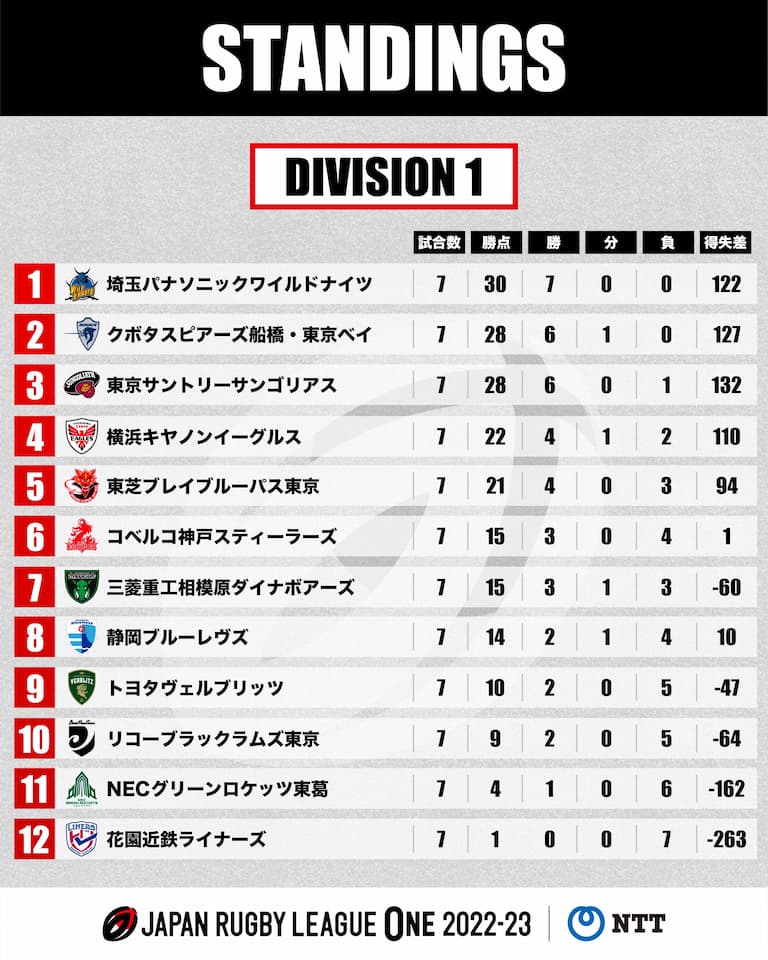 Saturday 18 February 2023
All times shown are Japan Time (JT)
Ricoh Black Rams Tokyo vs Tokyo Suntory Sungoliath – Komazawa Olympic Park Athletic Stadium, Tokyo, 1pm
Tokyo Suntory Sungoliath head on the road, albeit still within Tokyo with the hopes of following up their recent win over local rivals Toshiba Brave Lupus Tokyo, to take on Ricoh Black Rams Tokyo who lie 10th in the JLRO 1st Division.
The Black Rams only have two wins this season and their latest outings were a two-point loss to Kubota Spears Funabashi Tokyo Bay and a 34-13 defeat by Yokohama. The team boasts the League's fourth-highest point-scorer, in Kiwi fullback Matt McGahan, as well as former England loose forward Nathan Hughes but poor game discipline has been an Achilles heel, conceding five yellow cards in seven outings and they have scored the least number of tries in the League.
Meanwhile, Sungoliath has a season tally of 37 tries (best in the league) with winger Seiya Ozaki scoring 13 thus far, five ahead of the next-best individual- and four behind Ricoh's collective total for the season!
Yokohama Canon Eagles vs Toshiba Brave Lupus Tokyo – Resonac Dome, Oita, 2pm
Springbok scrumhalf Faf de Klerk is back for the Yokohama Canon Eagles as they host Toshiba Brave Lupus Tokyo, with the Eagles on a great run of form (three wins from the last four) and theismatch probably the fixture of the round.
Brave Lupus coach Todd Blackadder acknowledged the most recent match loss and 15-8 penalty count against his side, which included an unfortunate yellow card to the ex-All Black flanker Matt Todd, need to be avoided if his
fifth-placed Brave Lupus are to beat playoffs contender, Canon.
Neither of Toshiba's Seta Tamanivalu nor winger Jone Naikabula (who each scored two tries against Suntory last hitout) will play this weekend, however.
Eagles'Coach Keisuke Sawake says his side still has a long way to go to compete at the level of the defending champions in the JRLO "A team like Saitama Panasonic Wild Knights that knows how to win is able to play with their own mentality without worrying (about outside influences).
Saitama Panasonic Wild Knights vs Hanazono Kintetsu Liner – Kumagaya Sports and Culture Park Rugby Field, Saitama, 2.30pm
With the JRLo Division 1 log leaders Saitama Panasonic Wild Knights host the Hanazono Kintetsu Liners which sees Robbie Deans former assistant at Panasonic, Hanazono Kintetsu Liners head coach Yoshitake Mizuma, return to Saitama.
Kintetsu veteran Wallaby halfback Will Genia is positive but they know this is a massive challenge to take on the Wild Knights, achieved a bonus-point win against NEC Green Rockets Tokatsu and didn't concede a point in their 45-0 victory.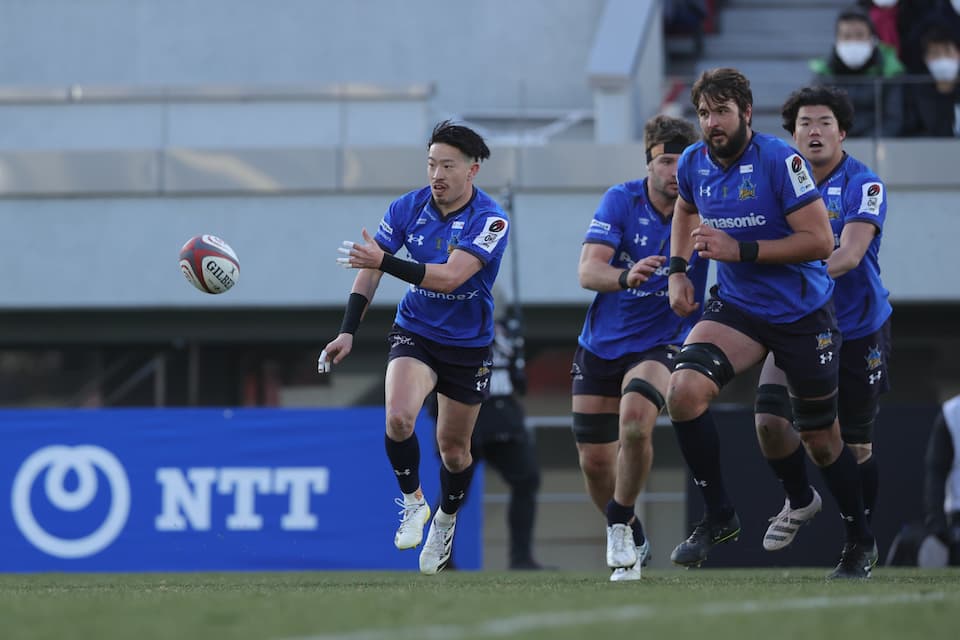 Toyota Verblitz vs NEC Green Rockets Tokatsu – Paloma Mizuho Rugby Stadium, Aichi, 2.30pm
Ninth-ranked Toyota Verblitz looks well placed to improve their position, hosting an NEC Green Rockets Tokatsu outfit struggling to score points.
The home team also welcome back loose forward Kazuki Himeno, who has missed the last three matches due to injury, while Springbok fullback Willie le Roux moves to flyhalf, while regular pivot Tiaan Falcon drops to the 15 jersey.
NEC Green Rockets Tokatsu have not scored a single point in their last 212 minutes of playing time, and their last points were from a try by former Wallaby and London Irish halfback Nick Phipps, which was scored 28 minutes into their 36-12 loss to Canon, on January 21, 2023! Combined with some poor discipline (most penalties conceded in the League). Wallaby and current Pumas coach, Michael Cheika will want much more from his team.
Toyota Verblitz has only two wins and five losses themselves but Steve Hansen's men are on the rise after hitting rock bottom during a 63-25 trouncing by Toshiba four weeks ago. With so many stars in the side including Bok Pieter Steph du Toit, you would expect more from the side.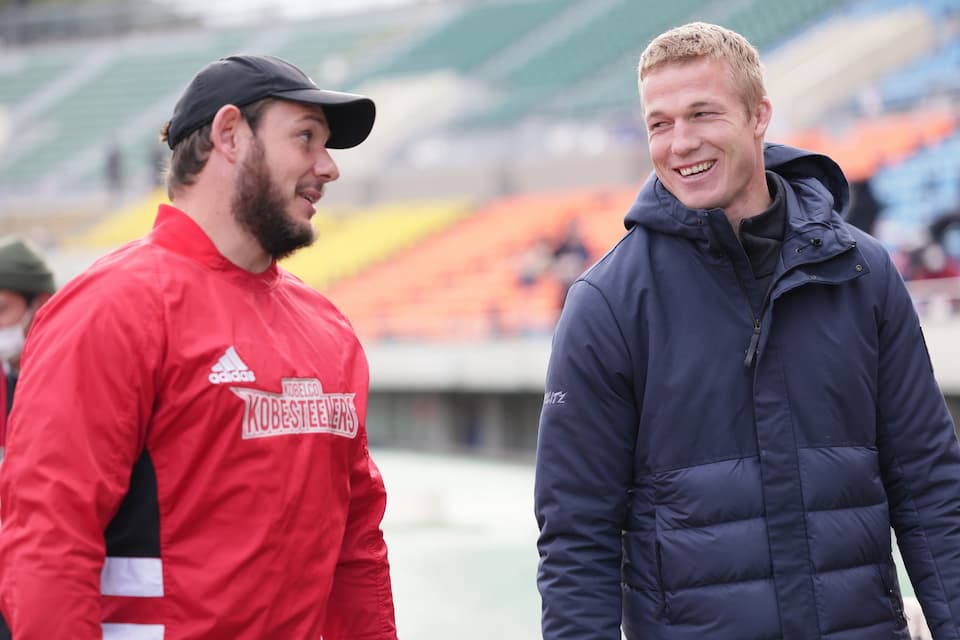 Sunday 19 February 2023
Kubota Spears Funabashi Tokyo Bay vs Mitsubishi Heavy Industries Sangamirha Dyanaboars – Edogawa Athletic Stadium, Tokyo, 2.30pm
Former Wallaby flyhalf Matt Toomua received his first taste of rugby in Japan for the Dyanaboars last time out in a high-scoring match with the Kobelco Kobe Steelers, and could be in line to start against Kubota.
Mitsubishi Heavy Industries Sagamihara Dynaboars had a great start to the season (unbeaten in four of their first five matches)but have snow shipped 81 points in the last two matches. However, fellow newly promoted side Hanazono Kintetsu Liners are yet to win a game this season in the top flight of the JRLO.
The midfield will be interesting if Toomua starts for the visitors, as fellow Australian Bernard Foley will be in the home side and the former Wallaby colleagues played together at the 2015 and 2019 Rugby World Cups. Foley is the leading point-scorer so far in 2023, and Kubota remains unbeaten.
Japanese winger Haruto Kida has scored in all five of his appearances so far this season, scoring twice on two occasions.
Kobelco Kobe Steelers vs Shizuoka Blue Revs – Kobe Sports Park Universiade Memorial Stadium, Hyogo, 2.30pm
Shizuoka Blue Revs, led by Springbok Kwagga Smit, could climb to sixth if they win at Kobe on Sunday, considering they had not won a game until the 6th round, is impressive
Blue Revs'beat both Kintetsu, and NEC, but the Steelers away from home is a tougher matchup. Kobe put a run of three defeats behind them in the last round but they are struggling to defend, something Head Coach Nick Holten and team adviser Wayne Smith, need to address- they have not conceded less than 30 points (240 points at an average of 34 a game).
On the flip side, scoring is less of an issue, having scored more than their 33 tries (4th overall). The young Brave Blossoms flyhalf Seungsin Lee is currently the competition's third-highest point-scorer (76) and a 100 per cent success rate in four of his seven matches.
JRLO Round 8 – Division 2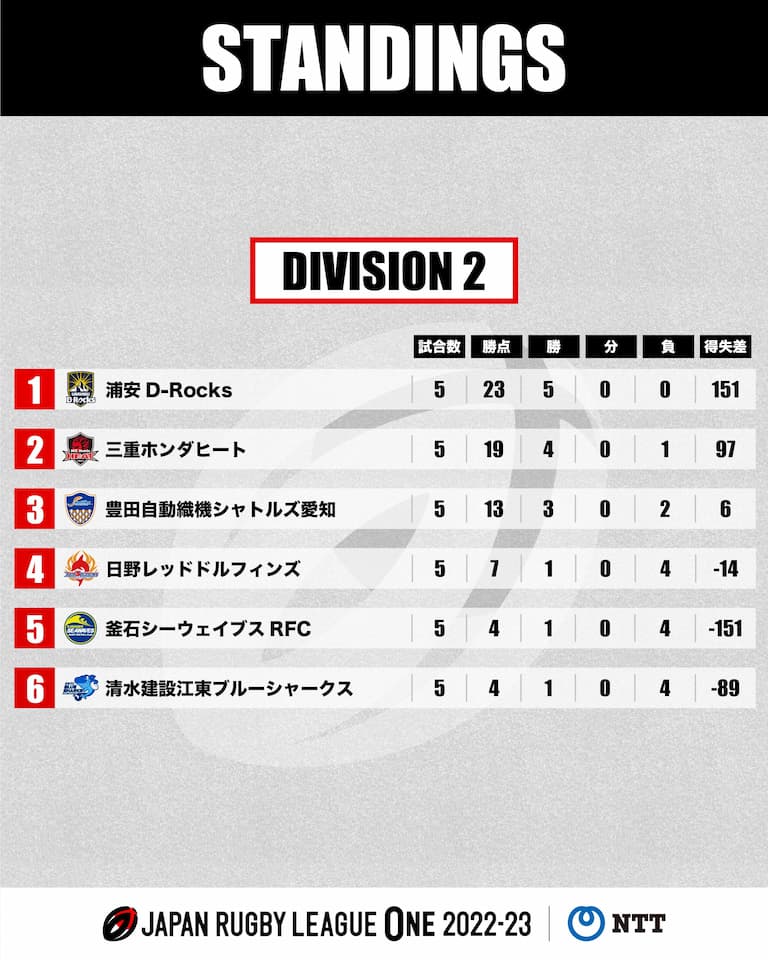 As mentioned, there are no JRLO Division 2 matches this weekend. Urayasu D-Rocks returned to the top of the standings by beating Kamaishi Seawaves 64-26 in Tokyo last weekend.
The controversy surrounding the Hino Red Dolphins and their match withdrawal means the scheduled tie with the Shimizu Corporation Koto Blue Sharks saw the four points for victory awarded to the Blue Sharks by default.
JRLO Round 8 -Division 3
Saturday 18 February 2023
Last weekend, although there were no Division 1 matches, a full round of Division Three was played:
Kurita Water Gush Akishima fell to Kyushu Kyuden Voltex 33-26, having lost prop Rui Kuriyama to a red card in the 23rd minute while the game was still scoreless.
The NTT Docomo Red Hurricanes are second in the Division and with a game in hand, beat Chugoku Electric
Power Red Regulions, 59-14.
MAZDA SKYACTIVS HIROSHIMA v KURITA WATER GUSH AKISHIMA at Hiroshima
JRLO News 2023
---
Trending Now