RKS Legal Samurai Warriors (Women) & Tradition YCAC (Men) Win 2023 Tradition HKFC 10s
---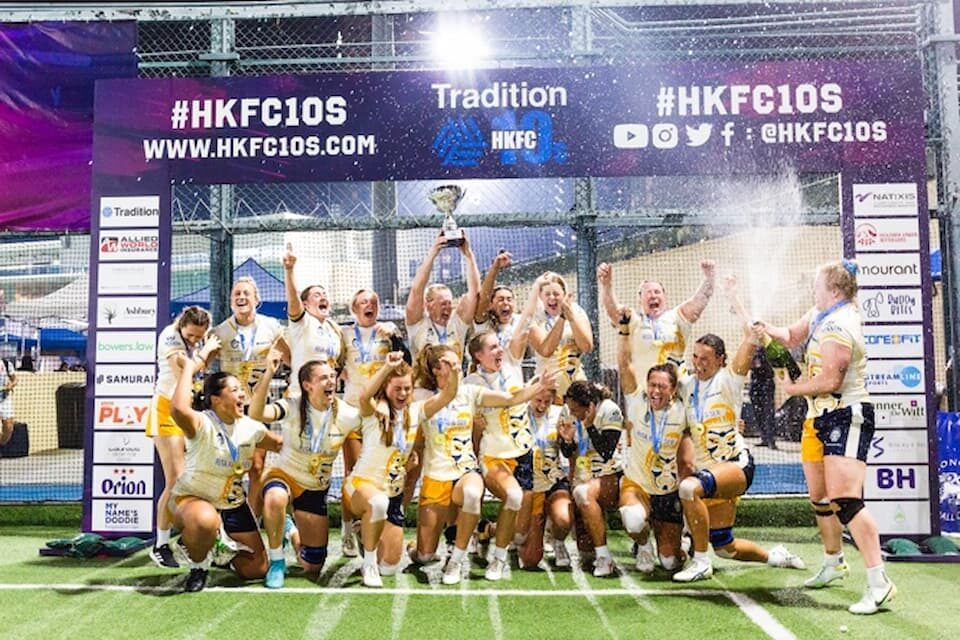 The two-day 2023 Tradition HKFC 10s was won in a spectacular finale in the competition's inaugural Women's competition by RKS Legal Samurai Warriors with an enthralling 14-12 victory over Tokyo Sankyu Phoenix, while Tradition YCAC beat Samurai RFC Warriors 7-0 at Hong Kong Football Club on Thursday 30th March 2023.
Paul Christopher, Tradition HKFC 10s Chairman, said of the tournament "We've enjoyed two days of world-class tens rugby here at Hong Kong Football Club. Congratulations to Tradition YCAC and RKS Legal Samurai Warriors on their deserved victories, but also a big thank you to all the players and coaches that have travelled to be here in Hong Kong this week."
England centurion and World Cup winner Tamara Taylor who was playing with the RKS Legal Samurai Warriors as the captain added: "What a final! To be that close; the Tokyo team were absolutely awesome. As you can see from the girls, they're beside themselves excited. It's amazing that we've been a part of the first women's 10s tournament and we're so proud to represent Samurai and to be here in Hong Kong, thank you so much for having us."
Rochelle 'Rocky' Clark, with 137 national appearances for England Rugby, was also part of the RKS Legal Samurai squad and Official Tournament Ambassador.
Tokyo Sankyu Phoenix were excellent throughout the tournament and their only loss in pool play was against the same foe. In the final, after having gone one try down, they conceded three yellow cards in the space of a couple of minutes towards the end of the first half. This spurred on the home crowd to get behind them, and the professional outfit nearly turned things around but fell just short to narrowly lose the final to worthy champions Samurai.
In the Women's Plate Final, Ashbury Tropics edged out the only Hong Kong team HKFC Natixis Ice  20-10 with the visitors containing several Australian players and whose coaching teams included former England player Heather Fisher. The HKFC team included two touring reserve NZ 7s players, club members and trialists for next season and was led by Chris Garvey as Coach.
The men's final was less exciting but again closely contested with the match being decided by a single score. Tradition YCAC captain, Alex Smith said "It was a bit of a battle in that final – 7-0 – shows there were two good teams out there. I think we saw some quality rugby out there, The boys dug deep right till the end. It was a great final, great showcase here for Hong Kong, and great to be back here having the 10s back on."
In the Men's Plate final, HKFC Natixis Club picked up more silverware this season by beating East Africa RFC.
Trent Hape was the men's player of the tournament and Nia Toliver was the women's player of the 2023 Tradition HKFC 10s.
This was 35th edition of Hong Kong Football Club's flagship rugby event and in terms of the playing talent on display can easily carry the title of World's Best tens. Throughout the tournament, a number of the World Sevens Series teams attended as well as the plethora of international rugby stars who are in town for Hong Kong Sevens Week.
A Legends Charity match was also played on Wednesday with several rugby stars raising funds for Laureus Sport and My Name'5 Doddie Foundation.
The HKFC 10s tournament blends emerging talent with international experience and the 2023 competition saw 12 men's and five women's teams battle it out and we hope for even more in 2024.
Women's 2023 Tradition HKFC 10s Winners
Cup Champions: RKS Legal Samurai Warriors
PLATE Champions: Ashbury Tropics
Men's 2023 Tradition HKFC 10s Winners
Cup Champions: Tradition YCAC
PLATE Champions: HKFC
BOWL Champions: Taikoo Place HK Scottish Exiles!
We will bring more later in the week as we spoke with HKFC Commercial Liason Manager (and HK national team player) Roshini Turner, as well as HKFC Women's coach Chris Garvey about the impact of including the women's tournament and its potential in the future.
Hong Kong Rugby Sevens Week 2023 News
---
Trending Now