SA Women & Tonga Men Win 2023 Challenger Sevens Series
---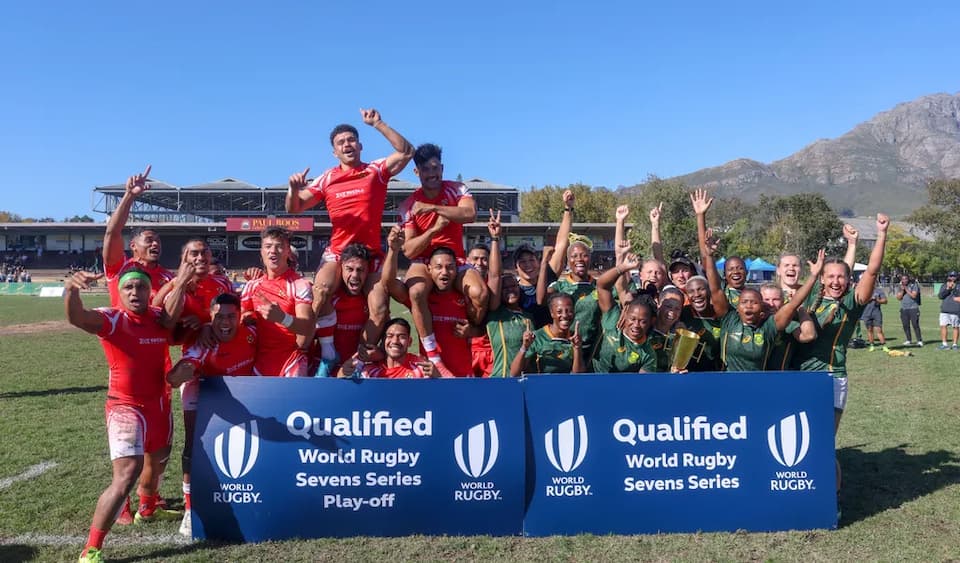 None of the Asian teams managed to make the finals of the second leg of the 2023 Challenger Sevens Series, which effectively ruled out any chance of qualifying for the World Sevens Series. The South Africa Women's team completed the double to automatically join next season's World Sevens Series, while the Tongan men did enough by reaching the final again to earn a shot at qualification.
Tonga were the aggregate Challenger Series champions and qualified for a four-team play-off at HSBC London Sevens in May which will include the 12-14th placed teams in the current World Sevens Series.
South Africa has now qualified for the World Rugby Sevens Series 2024 as the 12th and final core team.
Hong Kong China Teams – Challenger Sevens Series
The Hong Kong China 7s Men finished 5th and the Women 6th in the second leg after both bounced back from quarter-final losses on Saturday. Over the fortnight of two events, Hong Kong's men's 7 only loss was to eventual Series champions Tonga. The women bowed out against Belgium in the second leg, who themselves reached a second straight final in SA.
In the opening days' action, Men's talisman captain Russ Webb was lost due to a knee laceration in their final pool match with Belgium, and the team lost to the in-form Tonga side, 33-12.
The men had a limited squad of only 10 players by the final day of action on Sunday due to attrition and injuries but managed to beat Italy 20-5 and advanced to the fifth-place play-off against African champions Uganda, which they won 17-7 for a fifth-placed finish to back up third in the first leg.
HK China Women had reached their first Challenger Series QF and faced Belgium who were too good and scored six tries en route to a convincing 40-5 win over the Hong Kong team. The HK China women went on to beat Paraguay 12-5 (and fielded four under 20s from the squad) and played European champions Poland, whom they drew 17-all with on Friday but lost out to in the 5th place play-off 24-10 to finish in sixth.
Hong Kong Sevens head coach Paul John said "We have learned loads, especially the girls, who have done really well in finishing ninth in week one and bouncing back to reach the quarter-finals from a very difficult pool, and finishing sixth today…. we have given 17 girls international experience on this trip and they have all responded well.
The boys are looking a bit tired now. Four tournaments in five weeks has definitely taken its toll. This Challenger Series is tough, and rightly so, given everyone wants so badly to get on to the Series. Fifth is not the spot we wanted at the outset, but we have only lost to Tonga here, and they look a cut above everyone else."
China Women – 3rd overall Challenger Sevens Series 2023
China dominated their opposition in the pools stage for the second week running to win all three of their group stage matches – this included a win over Hong Kong China 29-0. The Chinese then dispatched Paraguay in the quarter-final thanks to a hat-trick from Chen Can.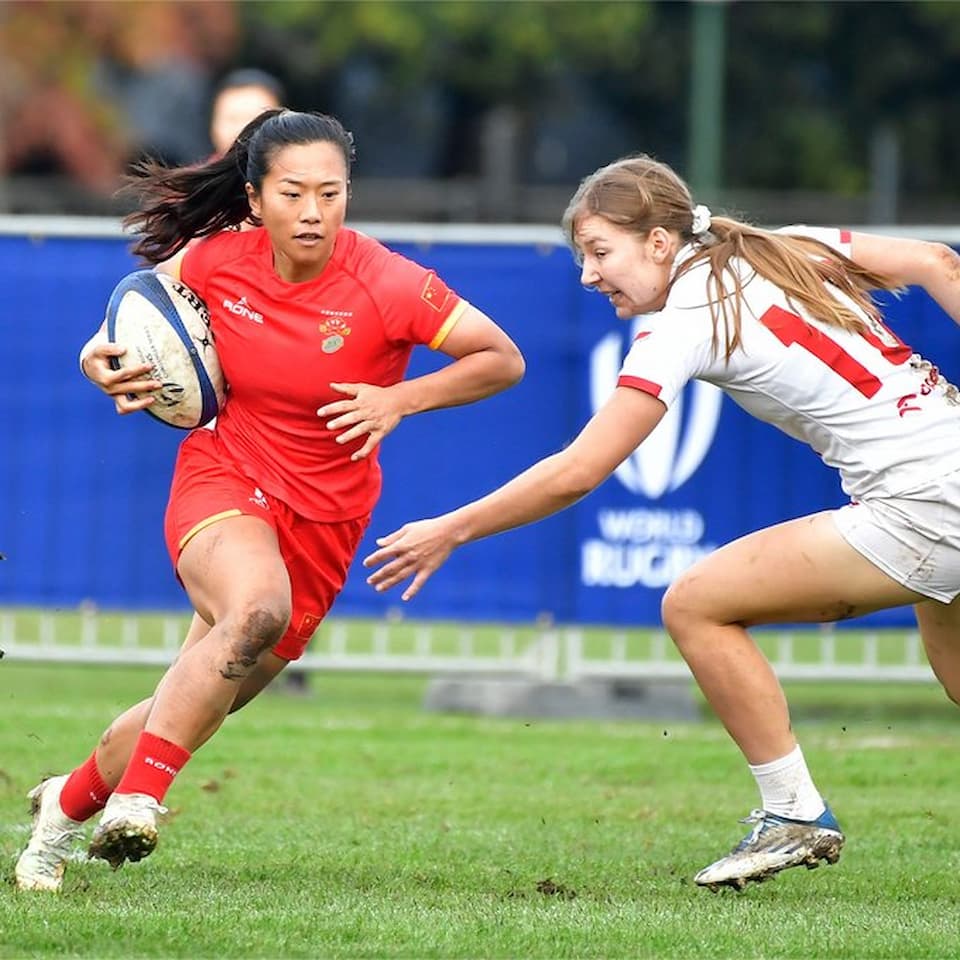 China's women's team fell just short at the semi-final stages for a second week in a row, losing to Belgium 22-5 with a hat-trick of tries from tournament two's leading try scorer Cécile Blondiau. It meant that no Asian sides would go through from the Challenger Series 2023. The Belgians went on to lose to South Africa in the final.
China, despite the disappointment, still went on to claim the World Rugby Sevens Challenger Series 2023 second event bronze medal in a row with a strong 31-15 win over Czechia.
Thailand Women
The Thai women secured a win over Madagascar in pool play but South African Nadine Roos (who play for a club in Japan) ran in five tries to down Thailand 38-0 in their last group match. The Thais were much more competitive in their match-up last week with the eventual champions South Africa.
They were much improved to dismantle PNG with a 34-0 win and went on to beat Madagascar for a second time this weekend with a 22-14 win.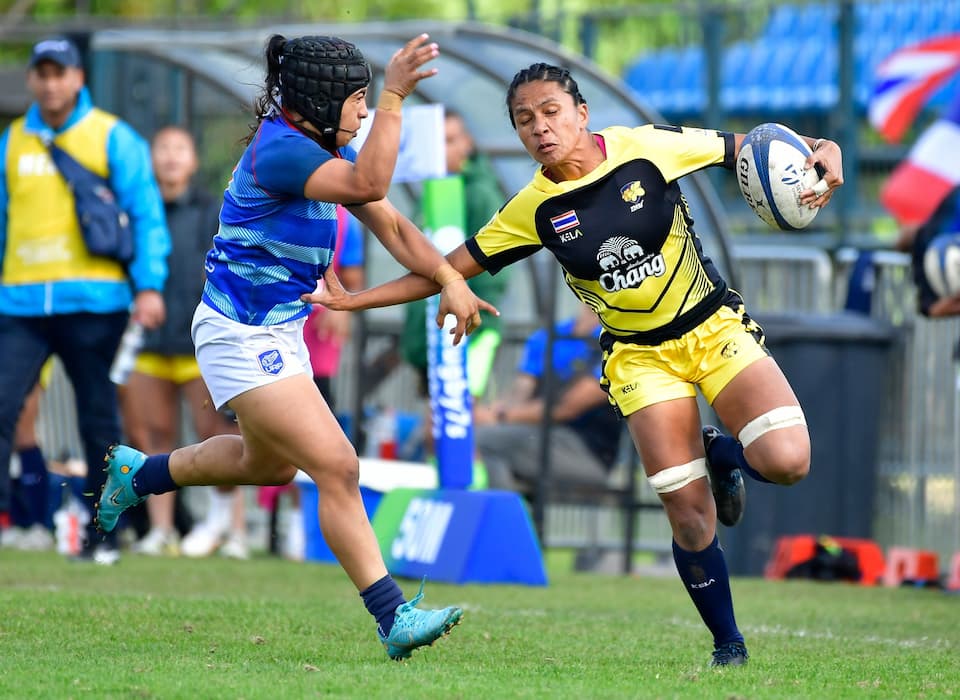 South Korea Men
The South Korean men had some tough losses in pool play which included a thumping by Germany 0-48 and Uganda. In their final pool game though, they beat Brazil 17-14.
They followed this up with a solid win over Jamaica 26-12 but in their second match of the weekend against Brazil, they fell well short and were put away 0-35 to end up tenth overall in the second leg.
All of the results can be seen here.
All of the Asian teams will need to turn their attention to the Asian Sevens Series and Asian Games later in 2023.
HSBC London 2023 Men's Sevens Play-off
Following the penultimate event in Toulouse, the 15th-ranked men's HSBC World Rugby Sevens Series team will be relegated while the 12th through 14th-ranked teams, along with the World Rugby Sevens Challenger Series 2023 champions Tonga, will compete in a four-team play-off in London on 20-21 May for the 12th and final position on the 2024 Series.
Currently, Japan (16 points) hold the lowest ranking, while Uruguay (49 points), Spain (48), Kenya (37), Canada (24) and Japan will all be trying to accumulate points in Toulouse on 12-14 May to determine the placings for the final event in London.
Rugby News 2023
---