French Schools Asia Rugby Cup 2019
---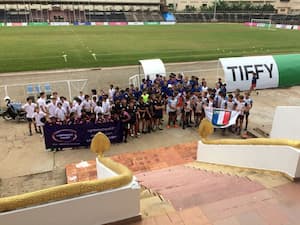 The French Schools Asia Rugby Cup (Coupe d'Asie de Rugby 2019) is taking place this week in Phnom Penh, Cambodia. The Rugby Cup has U13, U15 and U18 categories for boys and girls.
The annual schools' tournament sees teams involved from Singapore, Cambodia, Vietnam, China and Thailand. The tournament tends to rotate the host location and in 2018 the U13 and U15s were held in Singapore whereas the U18s tournaments were held in Phnom Penh, Cambodia. In 2019 all of the age groups will compete in Phnom Penh.
Teams from the local rugby and sport NGO, Kampuchea Balopp will also be competing, enabling more Cambodian youths to participate in this regional rugby tournament.
The U13s and U15s will play on Tuesday 26th March and the U18s will play their tournament on Thursday 27th – Friday 28th March 2019. All games will be played at the Old Stadium in Phnom Penh.
Date: 26th & 28-29th March 2019
Venue: Old Stadium, Phnom Penh, Cambodia
2019 Frech Schools – Asia Rugby Cup 2019
U13
Lycée Français René-Descartes de Phnom Penh – (Cambodia)

French School of Singapore
French School of Shanghai
Kampuchea Balopp
U15
Lycée Français René-Descartes de Phnom Penh – (Cambodia)

French School of Singapore
French School of Shanghai
Kampuchea Balopp
French School Bangkok
U18
Lycée Français René-Descartes de Phnom Penh – (Cambodia)

French School of Singapore
French School of Hanoi
Kampuchea Balopp
French School Bangkok
2018 u13-15 tournament – Singapore Results
U13
Singapore
Phnom Penh (Cambodia)
Ho Chi Minh (Vietnam)
U15:
Singapore 1
Singapore 2
Phnom Penh (Cambodia)
2018 u18 tournament –  Phnom Penh Results
U18 girls:
Singapore
Phnom Penh (Cambodia)
Ho Chi Minh (Vietnam)
U18 boys
Singapore
Bangkok (Thailand)
Ho Chi Minh (Vietnam)
(all photo credits to Lycée Français René-Descartes de Phnom Penh)
---
Trending Now