Interview: Chris Mastaglio – ChildFund Pass It Back
Posted On February 14, 2019
---
Chris Mastaglio has a background in child rights and child participation, "essentially looking at how we can all work with children to provide them with the opportunity to engage in decisions that impact them" Chris told RugbyAsia247. With more than 15 years of experience in this field, and a deep fascination with the power of sport bringing people together, Chris founded the ChildFund Pass It Back program in 2015. He believes strongly in the ability of sport to provide a platform for young people to come together to learn and take action.
In his role as Regional Director, he has to ensure that ChildFund Pass It Back delivers quality learning experiences for young people. In addition, he works with many partners, including World Rugby and Asia Rugby, to make sure the program's impact is maximised.
When he is not crisscrossing the globe, Chris enjoys supporting the coach training team as "they build the skills of young people to deliver the ChildFund Pass It Back curriculum across the region" says Chris. Although he is humble, Chris is also a fine addition to any rugby team.
Hi Chris, where are you now?
Right now I'm sitting in Istanbul airport on my way back from a trip to Europe to see the start of the Race to Rugby World Cup; a DHL supported initiative which will see two people (one of whom worked for ChildFund Pass It Back for the last 3 years in Laos and Vietnam) cycle from Twickenham to Tokyo to raise funds and awareness for the program. They are also very importantly carrying the whistle for the first game in Japan at Rugby World Cup 2019!
How ChildFund Pass It Back started
Excellent! Can you share with our readers how the idea for ChildFund Pass It Back came about?
ChildFund Pass It Back developed out of a pilot project in the north of Laos that used 4 different sports as tools to engage young people in leadership development. Of the 4 sports, only tag rugby achieved high levels of female participation (more than 60%) and we wanted to understand why.
We commissioned some research and found out that there were 3 main reasons:
In communities where most young people had not played organised sport and where many girls had not played any sport at all, tag rugby was entirely new. This meant that neither boys or girls knew how to play, which in turn meant an equal starting point for everyone and no boys telling girls how to play!
We worked with the national rugby federation on the rugby part, which meant that the quality of the sports coaching was strong.
From the outset, both male and female Coaches were involved in the project, so positive role models that children could relate to were central to everyone's learning experience.
Based on this, we developed a much more sophisticated program that had in place clear measurement of our social impact, as well of course to provide children and young people the opportunity to play and coach rugby.
Since then, the program has not only expanded in Laos, but also grown to Vietnam, Timor Leste, Philippines, and Japan. We have also supported work in Fiji through an initiative called Get Into Rugby PLUS – we hope to get more countries involved in the future!
What were the main goals when you conceived the project? How have these changed?
I don't think our goals have changed, only our ability to better achieve those goals – that comes with the experience of implementing activities and both failures and successes! The program has always been about providing young people with the opportunity to learn critical leadership and life skills so that they are able to make more informed decisions about their futures.
Asia is home to the biggest population of young people in the world and it is critical that these future leaders and decision makers have the opportunity to make informed decisions in their lives about their health, their plans and their communities.
So what would you say is the biggest success story since ChildFund Pass It Back launched?
There are so many success stories in terms of the personal change we see in players and coaches so it is hard to know where to start! One of the things we are most proud of is the leadership group of young women that has developed across Laos and Vietnam that are not only excellent coaches but work so hard with parents, local authorities and each other to improve the program every day. Watching these individuals grow as leaders in the program, in their homes and in their communities is a big part of the program's success.
Credit – ChildFund Pass It Back


ChildFund Pass It Back in Laos
That is inspirational. Many readers may ask why Laos though? Why did you think it was possible to launch there and what were the biggest challenges?
Before my role with ChildFund Pass It Back, I was the Country Director for ChiuldFundLaos – so overseeing ChildFund's other projects in Laos including those in education, child rights, nutrition and mother and child health. ChildFund is also committed to building young people's resilience and we recognise that sport is one of many effective ways to do this when it is used as part of a well-designed program.
We developed the pilot project I talked about earlier, which really gave us food for thought about the opportunities that tag rugby provided in this environment for the engagement of girls and young women, which in turn provided a platform to address gender inequality through child participation.
Child participation is new in many countries, even though the Convention on the Rights of the Child, the international legal document setting out the rights of children, has been signed by 140 countries. Despite this, there is still the idea in many places that children should be seen and not heard.
However, with ChildFund's experience in this area, and with the support of the Government of the Lao PDR and the Lao Rugby Federation, the program has taken hold and Laos is a model country in the region for Sport for Development that supports the leadership and life skills development of young people.
Laos has also taken a further leadership role by demonstrating more than 50% participation of girls and young women across the program – something that many said would not be possible. These equitable levels of female participation have also been replicated in every other country in which we work.'
Pass It Back is growing
In addition to tackling gender issues, ChildFund Pass It Back has expanded into new territories, can you tell us a bit more and what the future goals are?
Building on our work in Laos, the program was expanded to Vietnam – a country with no rugby exposure and no national federation. In that context our ChildFund office, working closely with local government, oversees implementation. We then moved into the Philippines, working closely with the Philippines Rugby Football Union and were then invited by Oceania Rugby to develop a curriculum and provide Coach training in Fiji for their Get Into Rugby PLUS initiative.
This month (February 2019) we began start-up in Timor Leste and in Japan, where we will be working with DHL to deliver a series of rugby-based learning events around the Sustainable Development Goals (SDGs) – the development targets leading the global development agenda.
How supportive have the rugby governing bodies and federations been with ChildFund Pass It Back? And where do you think Asian rugby can improve?
Bringing partners together from very different backgrounds is never easy, but it is essential to run a program at scale with impact. Working with Asia Rugby and World Rugby has ensured that our rugby content is at an international standard and by working with national federations, there are player, Coach, official and administrator pathways in place.
For example in Laos, whilst ChildFund Pass It Back is a tag rugby only program, all of the current under-18 Laos women's rugby team is made up of graduates from the ChildFund Pass It Back program and they have the strongest performances of any Lao national team under their belts.
Their early, positive experiences with the sport have provided them with a connection to the sport, rather than a one-touch experience. The pathways put in place by the Lao Rugby Federation are paying off.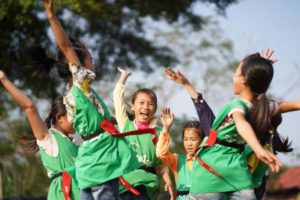 The rugby family in Asia is very diverse; geographically, culturally and in terms of union development. Managing this diversity is a huge challenge. However, the facts stand by themselves – more countries are playing rugby than ever before, more women and girls are playing than ever before and innovative partnerships, such as that around ChildFund Pass It Back, are being developed.
The rugby family in Asia is very diverse; geographically, culturally and in terms of union development. Managing this diversity is a huge challenge. However, the facts stand by themselves – more countries are playing rugby than ever before, more women and girls are playing than ever before and innovative partnerships, such as that around ChildFund Pass It Back, are being developed.
So whilst the opportunity Asia offers to grow the game as the biggest market in the world has not yet been fully realised, positive steps are being taken. However, more investment needs to be made at all levels of the game, especially at the grassroots level, and strategies need to be developed that provide people with a meaningful connection to the sport rather than only the opportunity to touch a ball or play in a one-off event.
Rugby Development
ChildFund Pass It Back is competing with a number of other development and rugby programs. What makes it stand out in your opinion and why has it proven to be a success?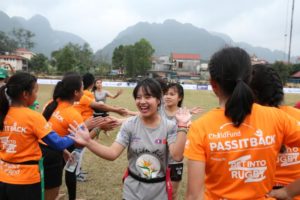 There are a number of amazing rugby development initiatives globally that provide young people with the opportunity to experience and play the sport. There are fewer that use rugby as the platform to deliver learning for young people in an intentional and measurable way.
These differences are key to what ChildFund Pass It Back does – it is not better or worse, but it is different. We have in place a strong, scientific evidence base that demonstrates impact on players, coaches and communities relating directly to their engagement in the program – this, of course, is complemented by the growth of the sport.
I would also highlight our high and consistent levels of female participation – this is an area that many sports, in general, are working hard to improve, and rugby is no exception, but we do have good lessons to share about setting expectations and building an environment where girls and women have support to access the same opportunities as boys and men.
Finally, in communities where sport is seen as something that takes children away from their work in the home or conflicts with learning at school, the integration of a strong educational component that can demonstrate results back to communities is critical in ensuring that young people have the opportunity to play.
Getting a child to a one-off event as part of school time with a reluctant parent is one thing. Getting a child to engage in a long-term program, often with time commitments outside of school, is another, and it is critical that communities and parents understand and are supportive of work in their communities – delivering learning with sport as the platform is a key way of doing this.
Credit – ChildFund Pass It Back

Sport as a positive influence: Rugby World Cup 2019
Why do you think sports can have such an impact, and rugby in particular?
It's important to acknowledge that there are also negatives associated with sport; it is not a silver bullet for bringing people together for positive outcomes. However, when it is done well, the convening ability of sport can be very powerful.
At the elite end, for any of your readers who have been to a big game live or even watched on the TV (or online), you can feel the energy and the passion that a game can generate. And at the grassroots end of the game, around the world there are so many people who give up their time to provide young people with the opportunity to play sport – be it through coaching, managing a team, running water or making sure snacks are ready after training!
This convening power has often been overlooked as a tool to deliver social impact and all too often, there is an assumption that any sport is good sport. Whilst sport is often keen to highlight the positives of the game, it is important to be balanced and to acknowledge that sport also has many areas to improve; governance, corruption and equitable participation to name a few.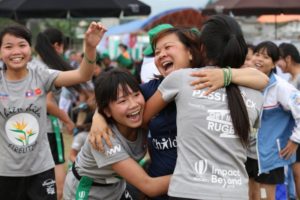 In terms of rugby, one of the areas of the game that often surprises everyone is how, on the pitch, the game can be so physical, but after the game, teams always sit together and socialise. In stadia at big, high-pressure events, you will always see fans mixed, sitting together from different teams. This element of the game is quite unique and it is something that the sport is rightly proud of – and it is something that fits well with leadership and life skills learning.
In addition, with the Rugby World Cup being hosted in Asia in 2019 for the first time (followed by the Tokyo 2020 Olympics), the world is watching Asia and there is attention on the sport and how it is being used like never before.
These opportunities in the Asia region will not come together again in our lifetimes, so it is important to leverage them to grow the sport in a way that has a tangible impact on individuals, families and their communities, as well as growing the number of players and fans.
On that point, what is your opinion of the Asia 1 Million Rugby project?
Asia 1 Million has achieved its goal of reaching out to more than 1 million participants ahead of Rugby World Cup 2019. This means that many young people who had never heard of or seen rugby now have.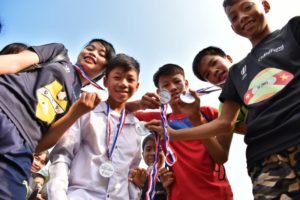 The challenge now is to convert that awareness into players, coaches, officials, administrators, and fans – how can services be provided for those that are interested in continuing their involvement in the game? Again, this comes back to investment.
Unions cannot rely only on rugby authorities to meet their investment needs – strategies to engage with communities, governments, corporates, development bodies and non-governmental stakeholders needs to be developed to ensure that investment can support the interest that has been generated. Creativity and partnerships in this space are essential.
It is also important to keep in mind the scale of the opportunity in Asia; the UN estimates that the Asia and Pacific region has over 1 billion young people aged 10-24. A huge proportion of these are potential rugby players, coaches, officials, administrators and fans, but the resource implications of working at this scale are significant.
Strategic investment is key, along with accountability too – with this approach, a strong base can be built to take the sport forward in the region that offers the biggest growth opportunities for the sport globally, and the biggest return on investment for those interested in the social development aspects of the sport, when delivered as part of intentionally designed Sport for Development programming.
ChildFund Pass It Back has partnered with World Rugby and Rugby World Cup 2019. Can you tell us what the partnership entails and how the program will benefit?
ChildFund Pass It Back is proud to be recognised as the principal charity partner of Rugby World Cup 2019. Through our partnership with World Rugby, we have a platform to showcase the power of sport in creating social change, particularly around major sporting events.
Rugby World Cup is the third biggest sporting event in the world and fans at the stadia and at home watching games will not only have the opportunity to learn more about ChildFund Pass It Back, but more broadly about the impact that well-designed Sport for Development initiatives can have on building leadership and life skills, as well as growing the sport.
Do you think then that RWC 2019 will have a positive impact on rugby in the region?
Rugby World Cup 2019 has already had a positive impact on the region. That you and I are even talking about rugby in Asia is a big change from 5 years ago, when people did not even realise rugby was played in the region, never mind that it had a rich history and has more than 30 national federations.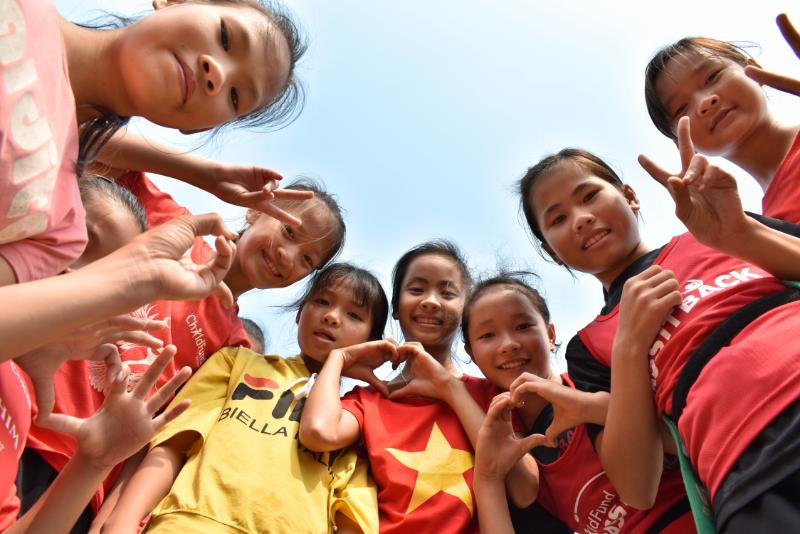 I believe that 2019 will provide an opportunity for Asia to showcase that rugby development can take many forms and that rugby for development i.e. delivering intentional learning through rugby, is one critical strategy for growing the game in communities where sport is not valued as it is in many other parts of the world. Complex barriers, influenced by culture and poverty, are in place for many young people, particularly girls, and these complex barriers often require complex solutions.
Rugby prides itself on being a sport for all and to do that, it cannot focus only on cities and those with the luxury of time and money to participate in organised sport. To ensure the sport is open to all, different participation opportunities need to be offered and the values of the game need to be central to all these experiences – without this, the sport will struggle to gain traction.
What is your hope for rugby in Asia and ChildFund Pass It Back in the future?
We hope that ChildFund Pass It Back's experience with Rugby World Cup 2019 will show one of the many different possibilities for not only growing the sport in the region and beyond, but also, more importantly, for tackling the barriers that young people face in their lives.
Finally, we know you travel an enormous amount for your role, what are your top tips for anyone traveling to Asia to enjoy rugby?
Make sure you get involved at events at all levels! The Cathay Pacific/HSBC Hong Kong 7s, of course, is a great event, but I also recently attended the Asia Under 18 Girls competition in Bhubaneswar, India – Rugby India did an amazing job of hosting the event and the quality of rugby was great.
I also got to see some countries debuting their under 18s teams for the first time in history! Rugby is going on at so many levels and it is important that if you are visiting to see more about the Asian rugby scene, you should experience it at all levels!
RugbyAsia247 would like to thank Chris for his time and ChildFund Pass It Back for all the photos supplied.
---
Trending Now