Hong Kong Sevens: Guide to the best rugby events at the HK7s
Posted On February 15, 2019
---
The Hong Kong Sevens remains the premier rugby sevens event in the world and aside from the Rugby World Cup and Lions rugby tour, possibly the one rugby event every fan should have on their bucket list. It's not an entirely affordable event, but what you do get is a rugby carnival week filled with social rugby, semi and professional rugby, and national rugby. Here is our guide to the best rugby events take place for the week of Hong Kong Rugby 7s.
Hong Kong stadium: watching the sevens live
Nothing beats being in the stadium from Friday night to Sunday night to soak in all the rugby action and atmosphere. Drinks are not cheap, but there are a large number of vendors selling drinks, food, and merchandise as well as some play areas for kids (including adult-sized kids.
Hong Kong sevens 2019 schedule
The final schedule of the HK7s is only released closer to the time of course, but traditionally all teams in the men's World Rugby Sevens Series play one game on Friday night, before the main pool games on Saturday and knockout rugby on Sunday.
The Hong Kong Sevens 2019 Pool Draw
The draw has been completed and can be found here.
Pool A: South Africa, Samoa, Scotland, Japan
Pool B: France, Argentina, Canada, Portugal
Pool C: Fiji, New Zealand, Australia, Kenya
Pool D: USA, England, Wales, Spain
Hong Kong sevens South Stand
An iconic part of the HK 7s is the South Stand. Filled with rugby fans, revelers, costumes and a raucous atmosphere. Although since 2007 the South Stand is officially accessible to over-18s only, many will spend hours to queue to get in and public announcements are made to warn of the capacity and when it is filled, as well as the waiting time.
There is a zero-tolerance policy of invaders, so despite how many beers you have, don't be tempted.
Top Tip: get in early and book your place in the stadium! As crazy and busy as it gets, people often get in early, book some seats by placing some towels or way to reserve their desired seats, and then come back hours later. It's not fail-safe but we have always been amazed at how fans seem to respect this system.
World Rugby 7s Qualifiers: women's and men's rugby
Of significance are also the World Series qualifier games that also take place, with the winner gaining qualification the following season's main World Rugby Sevens Series as a core member. Local Hong Kong national team has come agonizingly close in recent years and receive a huge amount of support from the crowd.
Pools and location 2019
The Pools for the men's and women's sections have been completed.
Mens 7s Qualifiers Hong Kong 2019
Pool E: Hong Kong, Tonga, Zimbabwe, Philippines
Pool F: Ireland, Russia, Uruguay, Jamaica
Pool G: Chile, Germany, Uganda, Cook Islands
Women's 7s Qualifiers Hong Kong 2019
Pool A: Japan, Belgium, Scotland, Mexico
Pool B: Kenya, Papua New Guinea, Hong Kong, Uganda
Pool C: Brazil, Argentina, Kazakhstan, Poland
Date: Thursday, 4th April 2019
Venue: So Kon Po Recreation Ground (FREE ENTRY)
Time: 10am – 5.20pm
Date: Friday, 5th April 2019
Venue: Hong Kong Stadium (Gates open at 7.30am)
Event: Women's matches kick off at 10.30am
Women's Rugby Sevens
Hong Kong is one of the events that usually feature both the men and women's World Sevens Series. The two-day Hong Kong Women's Rugby Sevens has preceded the men's tournament during the 3-day rugby festival in the past. However, the Women's World Series will not be at Hong Kong in 2019 but is due back from 202o-2023.
Best social rugby tournament: Refinitiv Kowloon Rugbyfest 2019
The Refinitiv Kowloon RugbyFest 2019 takes place on Wednesday 3rd April and is the only social tournaments leading up to the HK 7s, The one-day event features women's and men's tens rugby and is played at King's Park (which has 3 artificial pitches). The teams come from across the globe and the games come thick and fast but in a fun and inclusive atmosphere. It's definitely recommended for players and fans alike.
Top Tip: Teams that enter have access to buy HK 7s tickets, so its a great way to play some rugby and then watch the pro's.
An evening with Kowloon
The dinner event is a great way to socialize and it often features former legends of the game as guest speakers. Over the years the event also raises funds for charity. Rugby internationals David Campese (Australia), Andrew Mehrtens (NZ), Jeff Probyn (England) & Claudia McDonald (England) will be in attendance.
HKFC GFI Rugby Tens: Hong Kong Tens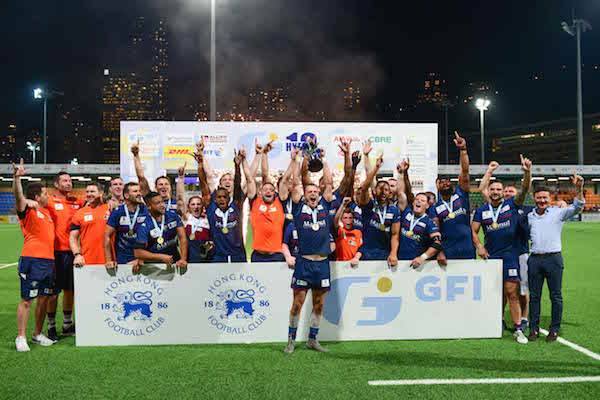 While Kowloon RugbyFest is for the social level, the GFI Tens is anything but. The invitational teams are world class and consist of some of the best academy, national and age grade players as well as few former and current international players. The HKFC is a condensed stadium that lets you sit right near the field and feel the impact of the hits, and there are plenty of hits.
The quality of rugby is sensational and the two-day event (Wednesday 3rd-Thursday 4th April) gets really busy by the 2nd day. It's a great way to see some rugby and the players and teams are not shy to mingle with the fans. It's also an easy way to spot loads of former rugby legends.
A special Rugby Legends Tackle Cancer match has also been organised this year.
The Hong Kong Sevens is an incredibly fun way to see and get involved in rugby at all levels. If you have any top tips, let us know!
(Article updated 15th March 2019)
---
Trending Now