Interview: Paul Walsh – Jungle Crows and Khelo Rugby
Posted On February 24, 2019
---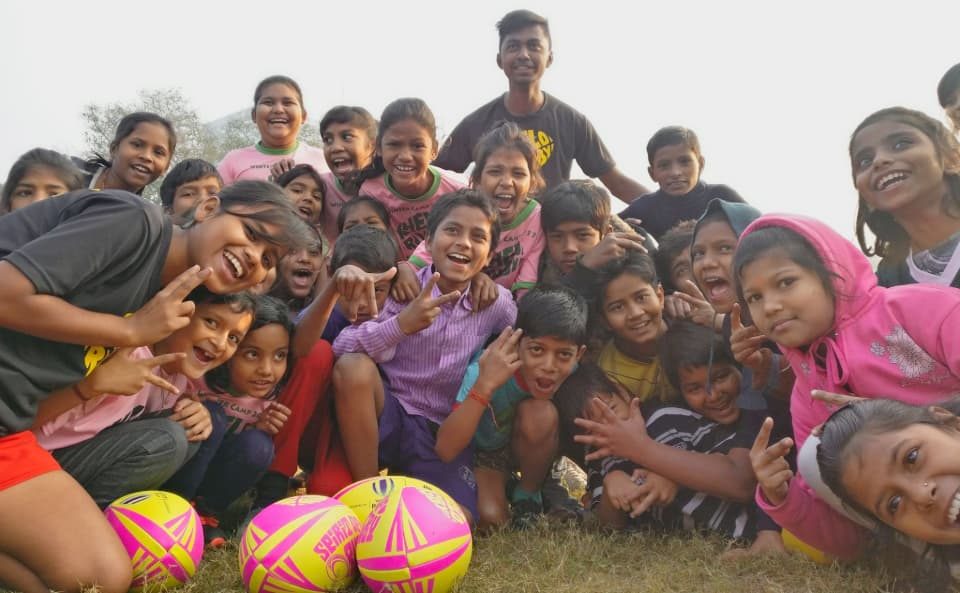 Paul Walsh is a well-respected rugby personality in India and well known through his involvement in rugby development, having received a Member of the Order of the British Empire (MBE) in 2015 for his contribution to rugby. RugbyAsia247 talked to Paul to find out more about the Jungle Crows and Khelo Rugby.
Jungle Crows and Khelo Rugby
You are involved with the Jungle Crows (rugby club) and Khelo Rugby. Can you explain how they each came about and what the organisations do?
I was one of the founders of the Jungle Crows way back in 2004. We started to practice and play rugby on fields near our office in Kolkata just for fun, teaching the game to friends and colleagues. It was around 2010 when we started Khelo Rugby.
It was the idea of our players to take coaching out into their communities. Khelo means 'play' and is the best thing to shout to keep children running with the ball. It was strange enough getting the odd shaped ball out without then having to explain what "Jungle Crows" was, so Khelo Rugby worked better as a community project.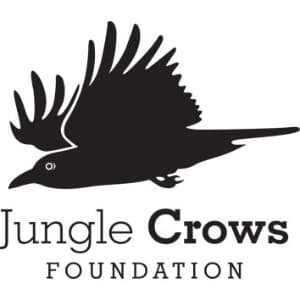 You have also been recognized for your rugby commitment with a Member of the Order of the British Empire (MBE) in 2015. What do you consider the most outstanding achievement since you have been involved with grassroots rugby in India?
Yes, it was very special to be recognised with the MBE, especially for my Mum who loved her day at Buckingham Palace. It is very difficult to pinpoint any single achievement. It is just an incredible motivation to see youngsters growing up with a love for rugby and a respect for what the game means. Obviously when one of the teams win that is very exciting, but I also enjoy the challenge of getting more and more children playing.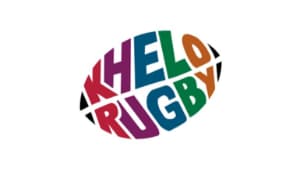 What are the other biggest challenges you face with the club and Khelo Rugby?
Probably like most clubs and organisations, a recurring challenge is funding – this is what I seem to spend most of my time on these days. The easiest part is sharing the game, just get a rugby ball out and children will fall over themselves to play.
Keeping young players in the game is also a challenge once they leave college and go into work – there is no time given to sports unless you are perhaps a high-level cricket or football player.
Rugby Development in Asia
There is an argument, not enough meaningful and impactful development programs are successfully implemented in Asia. What are your thoughts on this or in what way could the programs be better implemented?
One of the things with Khelo Rugby is that we will only operate where the project can be sustained and the children will learn to play decent rugby. As a location develops we can include social development add-ons but in the first instance, it is having the children play good rugby that is the priority.
This builds the sense of community and shows our commitment which means we can then work on other issues like gender equality or going to school.
I'd say we have to avoid getting into a numbers game – quality over quantity. Obviously, quantity can be easier and is able to deliver a quick win, it is not difficult to find a school with hundreds of children, throw a rugby ball about with them and post the numbers but what is that achieving?
In 2017 Khelo Rugby was selected to be part of the World Rugby Spirit Of Rugby programme. How has that impacted things?
Being a part of the Spirit of Rugby programme has been incredibly positive for us. It has given our work credibility that was not there before. It also means we have to maintain a high standard in what we are doing, obviously, we should be doing this anyway but now more people are watching.
Khelo now goes into 35 locations in Kolkata, 5 villages in and around Saraswatipur and 8 locations in Bengaluru.
Rugby World Cup 2019 impact on Asia
What is your opinion of the Asia 1 Million Rugby India project? (with the goal of reaching out to over 1 million new rugby participants across Asia in the build-up to the Rugby World Cup 2019 in Japan.)
I'm not very familiar with the project, but support anything that gets more children and young people into the game. Hope they have some clear targets and ideas with regard to legacy since when the hype and glamour goes, the game has to carry on. Legacy and funding after major events are always an issue so I hope this has been addressed.
Do you think Japan, Asia Rugby, and World Rugby are doing a good job in promoting rugby across Asia leading up to RWC 2019? What impact do you think the RWC will have in the region.
I can talk from an India perspective only. The official effort seems mainly to be going into "Get into Rugby" here. We had the Rugby World Cup visit India so that got some nice hype – mainly on social media I'd say.
I think if you asked the average person about rugby they still don't have much of a clue, changing that will take time and effort. Am hoping that the Rugby World Cup 2019 is on TV in India, that makes a difference. It would be nice to see any rugby on TV here, but currently, no Indian channel shows rugby that I know of. We're not involved in making or developing such policies or ideas, I wonder if any grassroots rugby organisations are?
Jungle Cry
We have heard part of your legacy will soon be on the silver screen in the form of a Bollywood film on the Jungle Crows. Can you tell us more about the story and when the film will be released?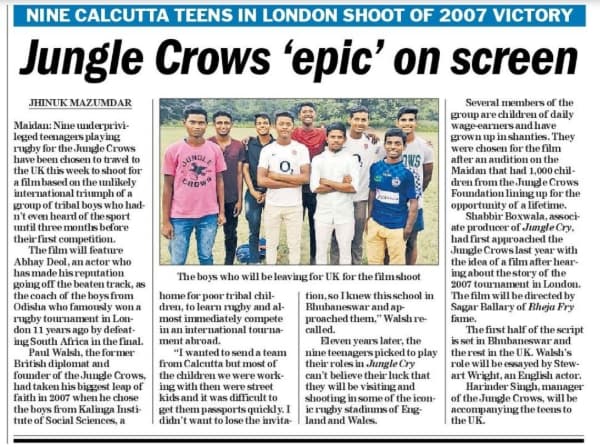 The film will be called Jungle Cry and tells the true story of a team from India who went to the UK in 2007 and played in a tournament for disadvantaged kids organised by the UK charity Tour Aid.
Filming has finished and the editing is taking place. Abhay Deol plays the main part of the Coach, he is a well known Indian actor and has done a good job from what I have seen. My role has been to talk to the filmmakers about the story of which I was a part and also make sure the rugby looks real.
It is quite challenging to make the rugby look good, a US Sports Director was also brought in to manage this and I was particularly happy that this was something the Director and Producer took seriously. Sadly there is no dancing but equally, nobody gets kicked in the head! (in reference to a humorous Indian rugby film clip that went viral a few years ago)
What are your hopes for the impact of the film?
The film will be released in May/June and I hope it introduces more people to rugby. It is a good story. The children we took to the UK had only started playing a few months before and beat a team from South Africa in the final. They surprised everyone, the organisers had even flown in Chester Williams (RWC 1995 winning Springbok) to hand over the trophy!
What advice would you give to someone who is eager to have a positive impact through rugby on their community, especially if they are in an area where rugby is not well known.
I'd say start small, in a way in which you can keep up regular rugby coaching and playing. Start with lots of fun and games, don't worry about any technical stuff, just throw the ball around. Get friends involved. Keep at it week in and week out.
(all images are credited to Khelo Rugby and Jungle Crows)



---
Trending Now