Japan Fail To Make RWC 2023 Quarterfinals – Go Down In Nantes Nailbiter To Argentina
Posted On October 9, 2023
---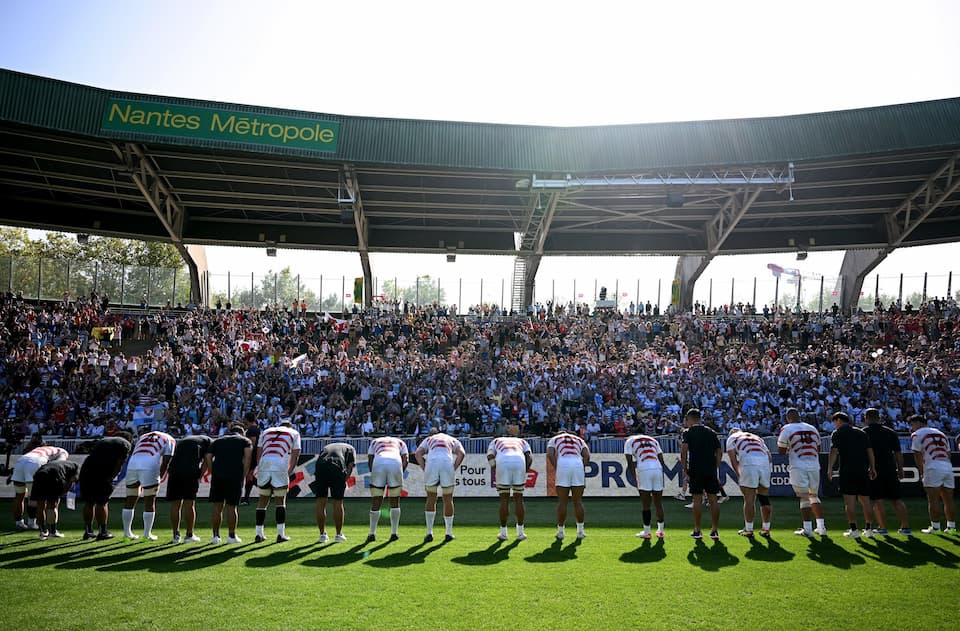 The Japanese men's XV side failed to reach the RWC 2023 Quarterfinals in France, going down 27-39 to Argentina in an absolute nail-biter in Nantes. As the team now lose long-time stalwart players and Head Coach Jamie Joseph, where to next for the Brave Blossoms?
A hat-trick of tries by Los Pumas wing Mateo Carreras helped the South Americans to the vital win, in what was one of the best games in the pool as over 33,000 fans at Stade de la Beaujoire waved goodbye to the Japanese side at this tournament.
Photo Credit: JRFU – Brave Blossoms say goodbye to RWC 2023 in Nantes
Japan Needs More High-Level Test Matches – Domestic Players Need More Intense Rugby
Outgoing Japan head coach Jamie Joseph, in the post-match conference, joined the number of exiting coaches from this tournament (and his role) in calling for tier-two sides to have more international test games against higher-ranked opponents.
He also said that the domestic competition in Japan (the Japan Rugby League One) doesnt offer his players the intensity needed at the top level, something Japan team manager Yuichiro Fujii had suggested mid-week. "I think we need to send players out to different leagues so that we can develop players who can perform at the international level. I don't think the (Japan Rugby) League One is enough just by itself" said Fujii.
It might not be the message the JRFU and League One want to put out there as the new season gets underway with a number of new international signings.
Joseph, who heads back to New Zealand to take up a senior Director of Rugby role with the Super Rugby franchise the Highlanders after seven years with the Brave Blossoms, said: "I think I speak on behalf of all Tier 2 teams, (we have) quality players but we do not have quality time to develop those players to play a game like today. This was our 10th match (this year) so we are pretty good in terms of being ready to play a big game of footy," he said.
A similar message has come from Samoa, Fiji, Portugal and many other tier-two nations – also intensifying the increased number of calls to scrap the proposed World League from World Rugby.
"That's an ongoing challenge for Japan rugby unless there is a change. Like any team or player, you need to play tough footy. This year we have played 10 tough games and only now we are starting to play to our potential" added Joseph.
On the game itself, the departing coach said; "We played a quality Argentine team. The result was tight but some soft moments, and some mistakes cost us. But I'm proud of the way my team played against a strong Argentine team."
Japanese lock Amato Fakatava scored a sensational try in the game and he said of the team's effort, "If you were a neutral, then it would have been a great match to watch. I'm very proud of the team for what we did out there. We didn't get the result that we wanted, so now we have to look forward and build towards next year."
It was the Brave Blossoms captain, Kazuki Himeno, who left the tournament with another poetic message: "We're gutted to not get the results we wanted, but we came this far because of all the fans' support. This time, we couldn't get to the top of Mount Everest to bloom the cherry blossoms, but our legacy, culture, goals and dreams will be carried onto the next. I believe that Japan rugby will continue to grow."
The team has qualified for RWC 2027 in Australia, as have Argentina, Australia, England, Fiji, France, Ireland, Italy, New Zealand, Scotland, South Africa, and Wales.
Argentina March Onto RWC 2023 QF With Wales
After the hard-fought win, Argentina Head Coach, Michael Cheika said, "There's always nervous moments in the coaches' box. The tournament's been so competitive and even when you feel like you get yourself ahead a bit, everyone is playing for their lives, right? We gave them a few easy entries back into the game, which was unfortunate, but if you look on the positive (side) of that, if we can turn that around and get better at that next week, maybe we'll be (in) for a chance."
The Argentine captain, Julian Montoya, added, "In terms of the game we know it's knockout rugby… we like to be a fighting team, we fight for everything. The quality players Japan have, every mistake we made they capitalised with points. But the resilience of this team and coming back from tough moments is what made the difference here. Really proud of the team and how we fight.
Argentina will play Wales, in what will be Nicolás Sánchez's third RWC quarterfinal, in Marseilles on Saturday 14th October 2023 for a place in the semifinals against either Ireland or New Zealand.
RWC 2023 Quarterfinals
Saturday, 14 October 2023 (times shown are local)
QF1 – 17:00: Wales v Argentina – Stade de Marseille
QF2 – 21:00: Ireland v New Zealand – Stade de France, Saint Denis
Sunday, 15 October
QF3 – 17:00: England v Fiji – Stade de Marseille
QF4 – 21:00: France v South Africa – Stade de France, Saint Denis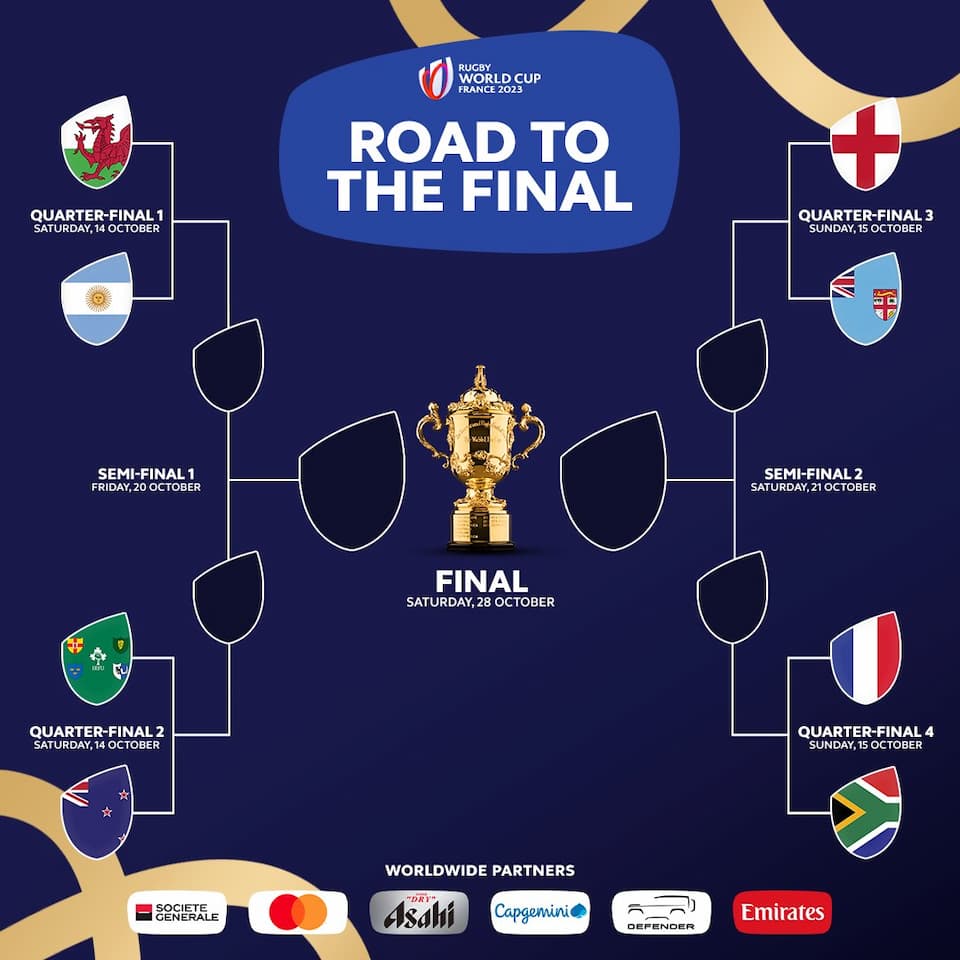 More From Rugby World Cup 2023
---
Trending Now