Johor Rugby League 2019- Round 5 fixtures
---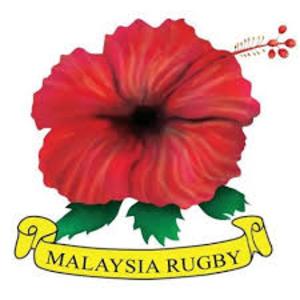 The Malaysian based Johor Rugby League 2019 enters round 5 this weekend. RugbyAsia247 looks at the key clashes taking place in both Divisions.
Johor Rugby League 2019: Round 4 Results
Division 1 Pool A
Ex-Ec beat PG Ronin 29-21 which means PG Ronin are yet to secure a win this season. Malay Village moved into 2nd place with a strong 45-0 win over Beringin Rendang.
Division 1 Pool B
Pool B leaders Merc JR narrowly beat 3rd place Mammoth 34-33. Bottom-placed Brumbies have a clash have stayed bottom with their 7-28 loss to Black Owl.
Division 2
The top of the table clash was decisively won by Pirates who beat RMP Johor 30-10.
See all league tables and results on Ragbi Online.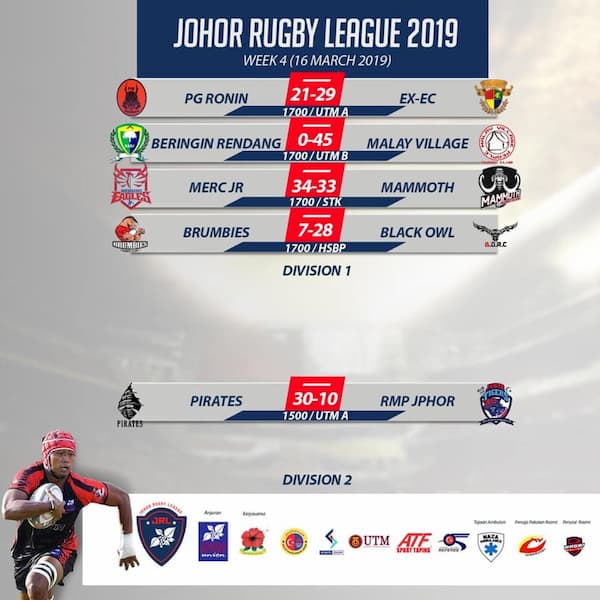 Johor Rugby League 2019 Division 1
Top of the table Wildcats takes on Ex-Ec in Pool A, while Malay Village hopes to gain ground on the league leaders by putting PG Ronin away in their fixture.
In Pool B the two bottom teams have a crucial game against each other with Mammoth hosting Brumbies. Kluang RC hope to retain their 2nd spot with a game versus 3rd placed Black Owl
Johor Rugby League 2019 Division 2
Pool A leaders Pirates hope to maintain their winning streak versus 3rd placed Wurawari whereas the bottom two teams in Pool A battle it out with Marinos hosting Thundercats.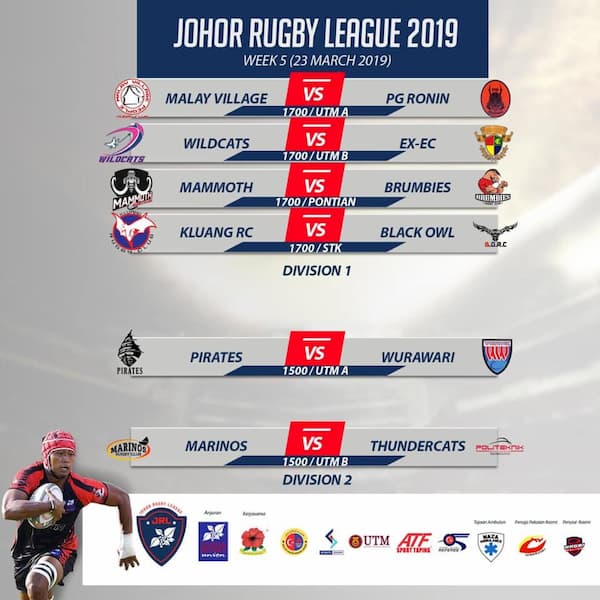 You can follow the Johor Rugby League Facebook for more information.
---
Trending Now