Kuching 10s Rugby Tournament 2019
---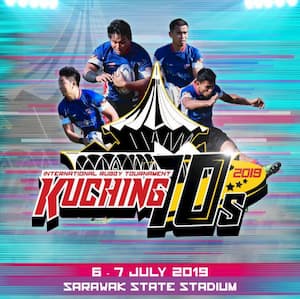 The Kuching 10s Rugby Tournament 2019 will take place from the 6-7th July 2019 in Malaysia.
Although details in English are not as easy to find, this annual rugby tens tournament is running for its 2nd year and has the backing of the Malaysia Rugby Union and supported by the Sarawak Rugby Union. It is organised by the Kuching Division Rugby Association – KDRA.
2018 Kuching 10s Rugby Tournament 
In the 2018 edition of the rugby tournament, the Blue Tigers from Johor won the Kuching 10's Rugby Tournament beating UPM
Angels 19-7 in the final. It appears is if there are men's social club tens, a Veteran Cup and an U18 Schools category.  32 rugby teams with more than 550 players and officials were involved in the tournament in 2018.
RugbyAsia247 has contacted the organisers for more information on the Kuching 10s Rugby Tournament 2019.
Date: 6-7th July 2019
Venue: Sarawak Stadium, Kuching, Malaysia
Levels: Men's tens, Veterans, U18 schools
For more rugby tournaments around Asia see our tournament calendar.
---
Trending Now