Japan vs Scotland – WXV 2 2023 Match Preview
Posted On October 26, 2023
---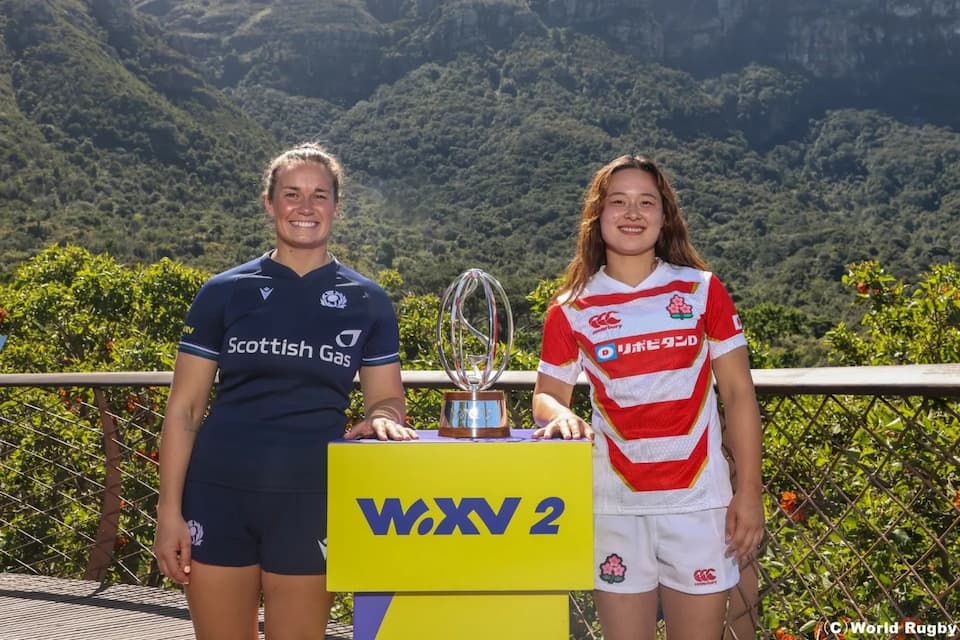 Japan Sakura Fifteen will end their inaugural WXV 2023 campaign with possibly their toughest game, as they take on Scotland at Athlone Stadium in Cape Town, South Africa on Friday 27th October.
Japan has lost one and won one in the WXV 2, and currently are in third place within the six-team tournament. There is no promotion to WXV 1 this season but a win over higher-ranked Scotland by 15 points or more (and a 4-try bonus point), while denying the Scots any table points would allow Sakura Fifteen to finish above Scotland in the final standings.
If the Azzurre (Italy) also gain nothing in a defeat to USA on Saturday, while also losing by a 22-point differential, the Japanese could even top WXV 2 2023.
Scotland are chasing a place at the top of the standings themselves and have beaten South Africa and the USA, nothing up bonus point wins in both fixtures. They will need to better Italy's result over the weekend to win WXV 2 2023.
Japan and Scotland have faced each other twice before, and have one win each, but this is the first time they will play outside of Scotland. Whereas Japan's winning streak was ended in their WXV opener against Italy, the Scots are chasing their 6th consecutive win – which will match their best win streak.
Japanese Head Coach Lesley McKenzie has brought in one new player in the matchday 23, and two positional changes. Moe Tsukui comes into the starting XV for the first time this tournament at scrumhalf. The number 9 will be key in keeping up the remarkable stat of the team as being the only side to average more than 200 passes per match (248.5).
Seina Saito will play her 40th test for her country, extending her position as the most capped player for Japan, while Sakura Fifteen Captain, Iroha Nagata captains from openside flank.
Sakura Fifteen High-Performance Advisor Simon Middleton said of the team's final WXV 2023 match: "Scotland are a very good side with many players contracted in the English game. They have a strong set piece, are well organised in defence and have good connections in attack. They have some very good, experienced players with real strengths, including an attacking back-three with lots of pace, as well as an experienced pack, particularly with their back-row.
So for us, it's about looking at how we played against Samoa and how we can build on what was a very good performance. We will look at Scotland and see how we can use our strengths to exploit areas of their game and apply pressure."
Scotland Women's Head Coach Bryan Easson has made two changes by bringing in Sarah Bonar and Coreen Grant who return from injury and could make their WXV debut. The starting line-up remains unchanged from their previous game.
Of the Japanese challenge, Easson said: "I've been impressed by Japan in the competition. Despite a tough start against Italy in the opening round but they had a really physical test against Samoa last week and they fronted up well.
They provide a different threat to South Africa and USA as we are expecting them to attack with width and their kick attack has been impressive as well but we've prepared accordingly."
Kat Roche (USA) is the match referee.
Match Permutations – WXV 2 2023 – Japan vs Scotland
Scotland can rise one place to a new high of eighth if they win (but they also need the USA Women's Eagles – to lose to Italy.)
If Japan wins, they could climb to a new high of eighth (if they win by more than 15 points, and if the USA lose by the same margin against Italy.)
A draw could see Japan climb one place (if Ireland and Spain also end in a draw or if Japan win and Ireland loses.)
Japan Squad – Japan vs Scotland – WXV 2 2023 Friday 27 October 2023
1. Sachiko Kato
2. Kotomi Taniguchi
3. Yuka Sadaka
4. Masami Kawamura
5. Otoka Yoshimura
6. Sakurako Korai
7. Iroha Nagata (captain)
8. Seina Saito
9. Moe Tsukui
10. Ayasa Otsuka
11. Komachi Imakugi
12. Kanako Kobayashi
13. Haruka Hirotsu
14. Misaki Matsumura
15. Sora Nishimura
Reserves
16. Hinata Komaki
17. Asuka Kuge
18. Nijiho Nagata
19. Jennifer Nduka
20. Ayano Nagai
21. Kotono Yasuo
22. Minori Yamamoto
23. Nao Ando



Scotland Squad – Japan vs Scotland – WXV 2 2023 Friday 27 October 2023
1. Leah Bartlett
2. Lana Skeldon
3. Christine Belisle
4. Emma Wassell
5. Louise McMillan
6. Rachel Malcolm (captain)
7. Rachel McLachlan
8. Evie Gallagher
9. Mairi McDonald
10. Helen Nelson
11. Francesca McGhie
12. Lisa Thomson
13. Emma Orr
14. Rhona Lloyd
15. Chloe Rollie
Reserves
16. Elis Martin
17. Anne Young
18. Lisa Cockburn
19. Sarah Bonar
20. Jade Konkel
21. Caity Mattinson
22. Meryl Smith
23. Coreen Grant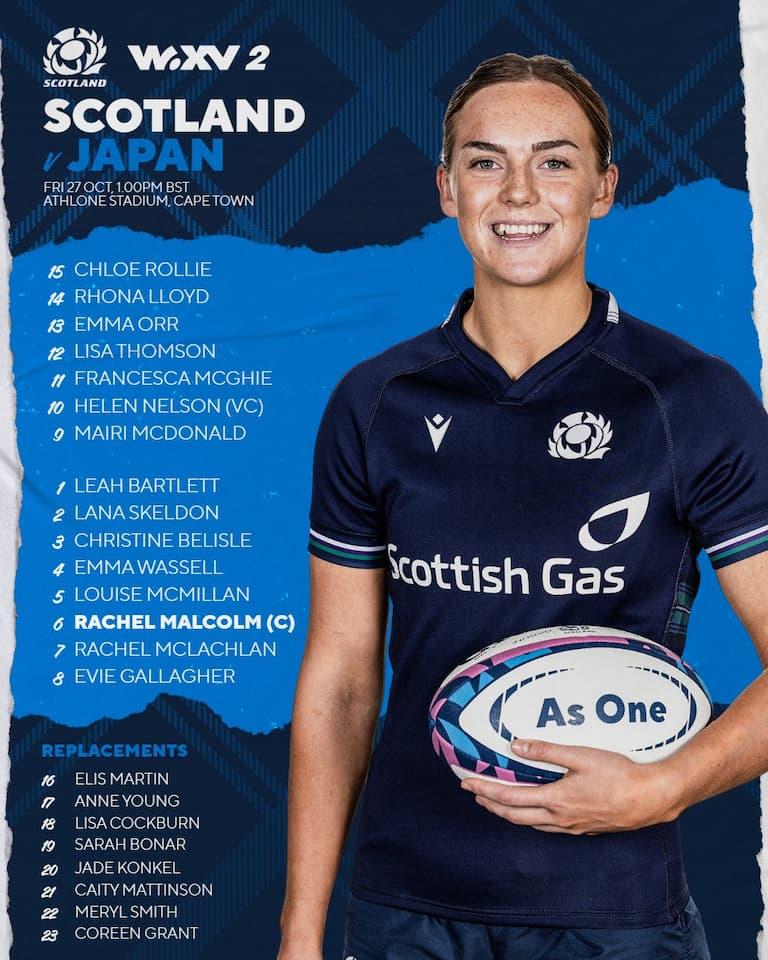 WXV 2023 News
---
Trending Now