New rugby league in northern Thailand: Lanna Rugby Tens League
---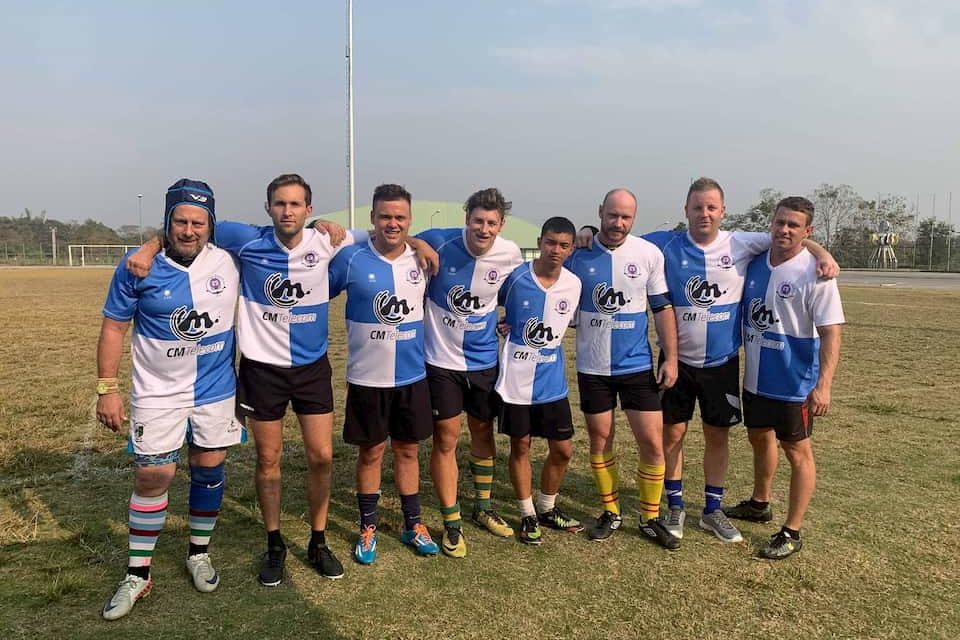 With the expansion of rugby in Asia, often the drivers are still individuals at grassroots levels who are making a massive impact. In northern Thailand, Thomas Stubley and the newly formed Lanna Rugby Club, in cooperation with others in the region, are forming a new tens rugby union league called the Lanna Rugby Tens League due to start in June 2019.
We spoke to the very ambitious and passionate Thomas about the plans and goals of the new league and what his aspirations for the development of rugby in northern Thailand are?
Hi can you tell us how the new Lanna Rugby Tens League has come about?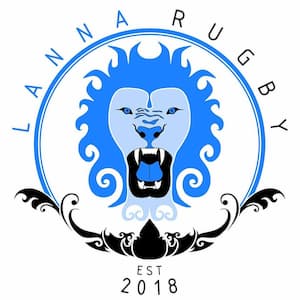 It's a pretty lengthy story as to how the league came to be in Chiang Mai. Over a year ago, back in November 2017 I discovered that there was a rugby team in Chiang Mai known as the Chiang Mai Tigers. They entered tournaments in the Thai winter months between November and February. However, the tournaments only last a day or two. Almost as soon after the tournament had finished myself and an acquaintance at the time, Ian, saw the lack of organised sport and discussed the possible idea of turning rugby into the 'IT' sport of the north of Thailand. With the right guidance, it would work.
Ian and I spoke with the Manager of Chiang Mai Tigers discussing the idea of solidifying the team, finding land to act as our home team ground, having regular training sessions and to be able to create a properly working team. Alas, after months of frustration, in March Ian and I branched out and formed the Team Lanna Rugby Club, AKA Lanna Lions!
We found sponsorship with Zoe In Yellow, a successful club in Chiang Mai. By June 2018 they helped us to secure land in Lamphun at the Lamphun Technical College. Sadly, Ian departed Thailand to work elsewhere.
The concept of having a proper team in Chiang Mai was set up, and Lanna Rugby Club now had land to use for practice, however, I did not see the point in having a rugby team purely for tournaments in Bangkok all the time.
The good news was there are a few education bodies in Chiang Mai that have rugby teams, but there was no league set up for them to play in. Light bulb moment, create a league and they will come!
We created the Lanna Rugby Tens League Manifesto in both English and Thai, highlighting why it was valuable for every team in northern Thailand to be a part of it. Since then, a number of teams have agreed to take part, especially since Prince Royal's College (PRC) came on board.
What rugby teams will play in the Lanna Rugby Tens League
The following teams will lay in two groups in the Lanna Rugby Tens League.
Chiang Mai Division (CMD)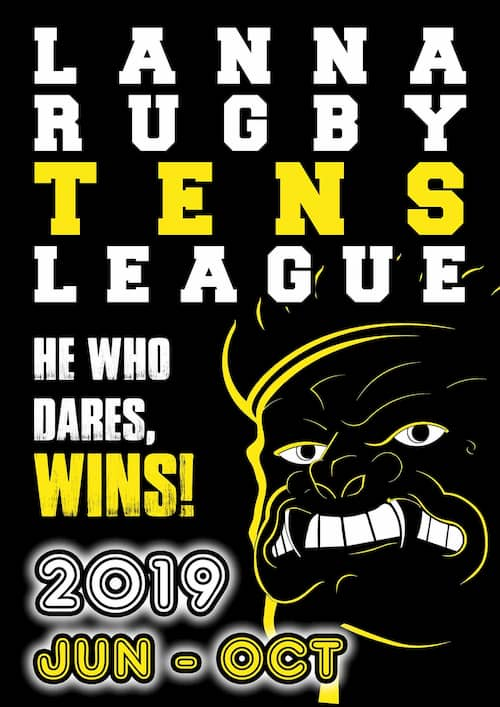 Chiang Mai University
Chiang Mai University Alumni (Uncertain)
Institute of Physical Education Chiang Mai
Lanna Rugby Club
Maejo University
Prince Royal's College
Prince Royal's College Old Boys
Chiang Rai Division (CRD)
Chiang Rai Rajabaht University
Mae Fah Luang University
Both the Chiang Mai Division and Chiang Rai Division will start their games on Saturday 22nd June 2019 and it will end on the 5th October 2019.
Champion of Champions Cup
On the 22nd October 2019, there will be a special cup known as the Champion of Champions. This will be played in Chiang Mai the first year, and alternate thereafter. The Champion of Champions Cup will define which team in the north of Thailand is the absolute best, played between the winners of both the CMD and CRD.
What will the league structure be?
All matches will be played every Saturday at the same ground, beginning at 16:00 (to avoid the heat) and finishing around 18:30.
We want to generate a community, a rugby family, not just individuals playing a sport. We are embracing the British ideology of a league. Everybody will be given food after playing, and after the matches are finished, I'm sure there'll be a fair few socials!
Lanna League Points
Win = 4 points
Draw = 2 points
Loss​ = 0 points
Bonus Points
Win 3 tries or more = 1 point
Lose by 7 points or less = 1 point
What about local rugby player development?
Everybody is welcome. We want to turn rugby into a huge sport in the North of Thailand. We want everyone involved as much as possible. And yes, the whole reason the league has been put together is to ensure we can develop the teams and players.
The league will aid in developing players in a big way. If teams are playing regularly, week in week out over a 4 month period, it gives them a chance to reflect every week on where they went wrong and they can target specific problems in the team that can be worked on and ironed out in practice.
Lanna Rugby Club specifically aims to develop players to be good enough to play internationally. If LRC can have 5 players in the Thai National squad by 2022 then this will be excellent!
How will the league be funded? Does the Thai Rugby Union support the league or is it independent?
​It is very much an independent league. We want regular rugby, everyone wants to play much more often.
It has been developed for the Thai people, to give people in the north of Thailand a reason to go out, run around, and get excited about something worth being excited about.
The league will be funded by the rugby community. Every match, each player will pay 100 Thai Baht, this will allow for the officials to be paid and for the food to be produced. The idea is for a different team to make the food once a week. The money that is left over will be injected into the team fund for the team that has made the team food, and for new equipment.
How would you describe the rugby scene in northern Thailand?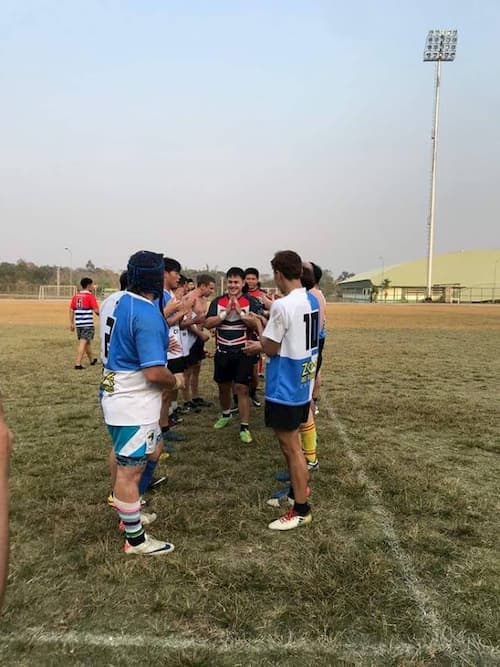 So far the rugby scene and almost any other sports scene is pretty lacklustre in northern Thailand. Of course, there is the Thai Premier League, but for the locals, for amateur sports, there's a whole load of nothing that is organised to a good degree. The main objective of the Lanna 10s League is to bring people together, to give people something to strive for, to give the community something to be passionate about, to give children something to aspire towards.
At the end of the day, I, myself am a very ambitious person. Eventually, I'd love to see players from our league going abroad after being scouted from the league, to play in teams in Japan, Australia, SA, U.K. France, Italy, that would be the icing on the cake. Albeit, maybe it will only be 10 years in the future if the league keeps developing the way it is doing.
Any final words on the league and the ambitions beyond 2019?
Looking forward past 2019 to 2020, 2021 and so forth, if this league works, then we can start to look at doing the same for the ladies in the north of Thailand.
We also want to start work on a grassroots rugby program; that is the end goal. Once we have got the grassroots set up, the north of Thailand will be able to generate loads of top rugby players in m opinion. I despise elitist sports.
We've set the amount for subs to be paid at 100 Thai Baht, a price that is fair and should allow anyone in Thailand to play. For that amount. every player will get so much out of it, as I'm sure most rugby players can agree, rugby is not just about the sport, it offers so many more benefits; friends, contacts; experiences; careers, everything.
Long Live Rugby, Long Live Lanna!
If you'd like to know more about Lanna Rugby Club and the Lanna Rugby Tens League you can get in touch via these Facebook pages or their website:
Thanks to Thomas Stubley for the interview.
Reads more about other rugby clubs in Asia with our Club Profiles.
---
Trending Now