Rugby World Cup 2021 Qualifier Review: Kazakhstan fall short against Colombia
Posted On February 20, 2022
---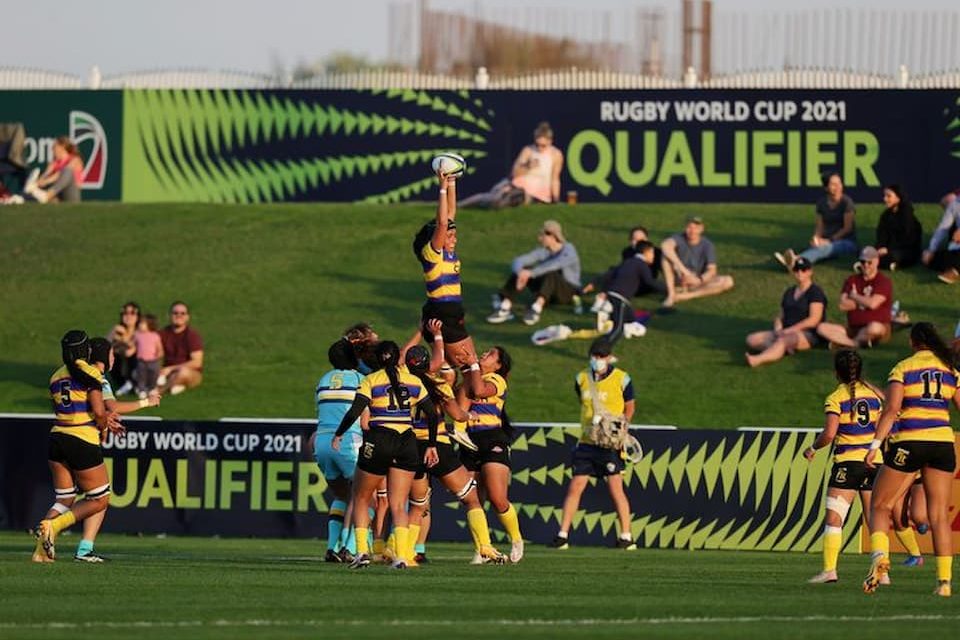 Colombia ran out as deserved winners 18-10 against Kazakhstan in the Rugby World Cup 2021 Qualifier and move on to the Final Qualification game against Scotland on Friday 25th February in Dubai.
The disappointing result for the Kazakhstan ladies means they won't be heading to a 7th Rugby World Cup and Asia will only be represented by Japan in New Zealand later this year. Colombia to their credit continues an amazing run of not having lost a test match (having won all three so far) in this incredible journey to try and reach their first RWC.
Rugby World Cup 2021 Qualifier Review Colombia vs Kazakhstan
The Colombians overcame being a player down for most of the match following the red card offence which saw Colombian Tucanes No.8 Maribel Mestra hit Kazakhstan fly-half Balzhan Koishibayeva late as she kicked the ball clear. Following consultation with TMO Ian Tempest, the referee Kat Roche decided that there was shoulder to head contact and Mestra was dismissed.
However, the Colombians went on to play smarter rugby, and overpowered the Asian side at the set-piece, with the Kazakhstan scrum often backtracking – which was the biggest surprise. The South Americans looked slicker and fitter, although both Kazakhstan centres and fly half found gaps in the defence, they often lacked support and couldn't convert chances.
Following a Colombia penalty and subsequent yellow card to Kazakh loosehead prop Yelena Yurova, Juliana Soto, who is the older sister of Colombian captain Leidy Soto, powered over for an unconverted try and the Colombians went into the half with an 8-0 lead.
The second half showed more attacking intent from Kazakhstan but they also displayed some poor game management and never really capitalised on the player advantage. All credit to the Colombian Tucanes who tackled relentlessly and covered the space in defence – but where Kazakhstan really suffered was their inability to take any good field advantage with penalty kicks when going for touch, and seemingly without anyone who could kick for points – at the international level, this is poor.
Scrum-half Nigora Nurmatova did take advantage eventually and scored an unconverted try to close the scores to 8-5 but in the 64th minute, Arzuaga responded with Colombia's own five points and added the extra two points from the conversion and Colombia extended the lead to 15-5.
The final 15 minutes were tense, but Colombia ran out as deserved winners despite a late score by Kazakhstan second-row Daiana Kazibekova, and a penalty at the death by Arzuaga sealed the victory with a penalty to make it 18-10.
Full-time here in Dubai and @fecorugby are victorious!! ??

They will now play @Scotlandteam in the final of the Qualification Tournament! #RWC2021 pic.twitter.com/qtT8PVN43j

— Rugby World Cup (@rugbyworldcup) February 19, 2022
Where to next for Kazakhstan women's rugby?
Much has been made of the disruptions in preparation, and the team only played their last test match in August 2019, but the players conditioning didn't look great. The game management was a big issue, they often flooded the rucks and had too many players tied up and nullified their own player advantage. The lack of any kicking threat we highlighted earlier.
Despite a higher ranking and stronger women's rugby pedigree than their opponents, this was also a very young team and they will now need to rebuild, and quickly – especially with World Rugby's new WXV launching in 2023. A number of players who performed recently in the U18 Championships were selected by the Head Coach, Anna Yakovleva.
In the press conference, we asked the Kazakhstan management about the performance and they said they were obviously disappointed but that the team fought hard and their focus would now switch to the Asian Games late this year (to be played in Hangzhou, Zhejiang, China from 10 to 25 September 2022 – albeit Sevens Rugby). As many as 7-10 players in this XVs squad play both formats for the national team.
They also will need to wait on Asia Rugby to determine when the next Asia Rugby Championship will take place (Japan is preparing for RWC 2021 and Hong Kong rugby is unable to play due to current COVID restrictions).
The Kazakhstan captain, Karina Sazantova, who was leading the team for the first time, said quite passionately that they hoped they would get more chances in the future to qualify and hopefully experience a World Cup.
A fairytale for Colombia?
Colombia scrum-half Yamileth Andrea Ramirez was named player of the match, but as World Rugby noted, this was a real team effort. They have less than a week to prepare for the match against Scotland on Friday and will be underdogs but having beaten Brazil twice and Kenya in Nairobi, this win against Kazakhstan in the UAE his perhaps creating a fairytale story for an unpredictable story.
With 80 minutes separating them from a World Cup, in which they could face New Zealand, Australia and Wales in Pool A – Friday will make for interesting watching.
Colombian Coach Lissete Martinez told us in the post-match conference that they learned from their previous few matches and had worked hard on their set pieces (scrums and line-outs) and she was very happy with how the players performed.
Rugby World Cup 2021 Qualifier Final – Friday, February 25 2022
Martine also knows that Scotland will be another step up and an even harder opponent to beat. They identified they would need to work harder on their organisation and being too static.
"We believe we have achieved something very good and have shown some very good skills. This journey we have been on has been very important, not only because of the teams we have played and beaten, but the development of the players along this journey and in a short period of time. That knowledge is going to help us to develop more tools to compete in future tournaments.

We want to be the main women's XVs team in our region".
Women's Rugby News
---
Trending Now