Izzy Cerullo – Growth of Women's Rugby
Posted On January 19, 2022
---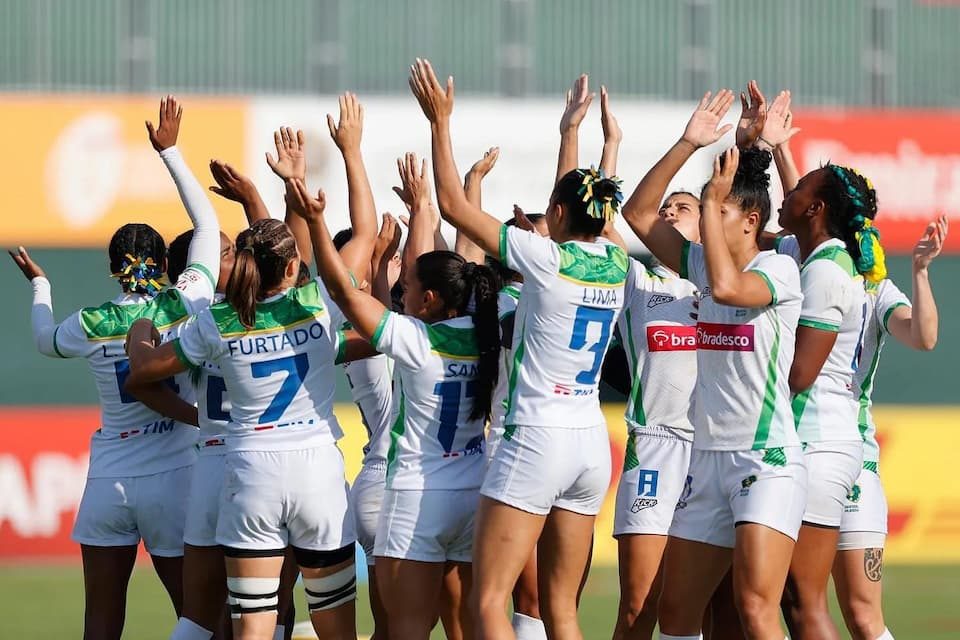 We caught up with Brazilian Yaras player Izzy Cerullo, who is one of the veterans of the women's sevens rugby team, at the Emirates Dubai Sevens 2021. We discussed the team's role in growing the sport in Brazil and the pathways to success. 
It also inadvertently may have been one of her last interviews as a Brazil player –  but the similarities and challenges in growing the women's game in her country are not dissimilar to those in Asia.
(Feature Photo Credit: Mike Lee @taiwanmikelee / World Rugby Sevens @worldrugby7s)
Our chat with Izzy was on the back of her team just beating team GB at the second Sevens event in Dubai of the World Series. It followed just one weekend after the Yaras had recorded their highest finish at an HSBC World Sevens Series event. However, the back-to-back tournaments also proved to be Izzy's last – she announced at the start of January 2022 that she was retiring, saying online:
"I am at the top of my game. 2021 seemed to be the culmination of all these years of hard work, with results and recognition finally coming to the surface: competing in my second Olympic Games, playing in the first professional 7s league in the US and captaining the team, winning another South American title in arguably our most dominant performance, finishing in the top 6 in a World Series tournament, being elected best rugby athlete of the year by the Brazilian Olympic Committee.
These past 8 years have been the most incredible adventure and, with a full heart, I have decided to step away from the pitch."
As a side note – following the final of the women's rugby sevens at the 2016 Olympics, Cerullo's partner, Marjorie Yuri Enya, walked onto the field at Deodoro Stadium and asked Cerullo to marry her, making Cerullo the first athlete to accept a marriage proposal at the Olympics!
Izzy Cerullo views on the team's Emirates Sevens performances
Brazil's historic weekend in Dubai with their highest-ever finish in a World Sevens Series event, a 6th-place finish. They defeated the USA Women in pool play and fell short against Great Britain by only a single point (22-21) in the 5/6th playoff. 
The second weekend of the Emirates Dubai 7s (with fans in attendance) did not go as well but the Yaras managed to get revenge on GB, beating them in their final playoff game 26-24 to claim 9th place. 
When wrapping up her thoughts on the weekends, Izzy told us: "We always knew that it would be tough to get a lot of wins in the World Series, but we just took all the opportunities last weekend and I think we surprised some teams. We just wanted to repeat the performances this weekend but were unlucky to experience the wrong bounce of this oval ball. On a different day, it could bounce in a different way.
There was a lot of learning though. And the fact we were able to compete with team GB (again!) in the final game and a buzzer-beater (again) just shows the growth of this team".
All of the losses Brazil experienced were narrow, and with a young team and relatively new coach  – who led them for the first time at the Olympics in Tokyo – there was a lot to be optimistic about.
"Yeah, we scored in every match which is something we weren't able to do, even last season. So to keep the scores in most matches to within a try or less is great. Even against Australia, we didn't get blown out as much as other teams did. (In fact, Brazil was the first team to score against Australia that weekend).
We asked Izzy at the time about the personal and team goals for the season and year ahead, not knowing she was thinking of retiring at the time.
"We won't actually have that much time off heading into January (the back-to-back events in Spain). We want to make this consistent and we know the work we have to put in to achieve that. We are pretty clear about not having a long break over Christmas and we want to work over the holidays and have a big nine months building up to the World Cup Sevens (in Cape Town in September 2022).
We have a lot of big goals on the horizon and are clear about how we want to get there."
She said in an interview recently "I have been in the national team for more than seven years, I took part in two Olympic Games and I am able to work with my process in a more individual way. It's nice to be able to share my knowledge, to be there to help the group and to know that sometimes I need to step back so that other girls take responsibility in the process. It's been really cool to work with this awareness."
Brazilian Women's Rugby – Get more girls to play
Brazil has a long history of playing rugby, with the first recorded match in São Paulo in 1888. The women's team have been leading the way in South America too.
Brazil has been dominant in South American rugby, and now you have been on the global stage. Where do you see the development of this team and Brazilian women's rugby heading in the next few years?
We hope that our performances in the World Series will inspire more girls to pick up a rugby ball – sooner than most of us did. And then hopefully that can trickle into clubs wanting to develop the women's game more.
That work on the ground will have a trickle-up effect – we can't just focus on the top pyramid which is high-performance. 
A lot of conversations between the rugby union and the clubs are going on – we need a larger playing base and how does that happen? So, hopefully, with the vaccination rates in Brazil being super high, that will get rugby back sooner and back into people's lives – more matches, more competition at the grassroots level, and hopefully that will transition into how we are doing in the World Series. I hope those two cycles can feed off each other.
There are a lot of similarities in what she said, to what is happening in parts of Asian rugby, especially with the focus on grassroots-level rugby and ambitions to grow the game with women's rugby development. 
The Yaras as a group are very forward-thinking,  rebranding before the Olympics, but how do you effectively tap into the younger player base?
A lot of it is about giving more girls opportunities to pick up a rugby ball, so we run clinics at schools, and with other organisations like social projects – really just taking a rugby ball into people's lives – they have never seen it before. 
So that exposure and contact is good but also if you want kids to play, you need to talk to parents. There needs to be that open conversation – like:
"Yes, rugby is for girls, and they'll have a lot of fun, and they will learn how to be strong, and learn how to be part of a team! All of that is really important in building a rugby culture and allowing it to enter people's lives."
Izzy Cerullo on Hong Kong Sevens
Talking of rugby in Asia, Brazil and Izzy have played in Hong Kong at the Sevens and the city has a special place in her heart.
I have played in Hong Kong several times and it will always have a special place in our hearts as it's where we qualified for the World Series. 
Every time we go back, we want to tap into that energy and draw on some of the performances we have had there before in a big big stadium!
The two-time Olympian has been a high-pedigree player for Brazilian rugby, not just women's rugby. However, her retirement from playing is not a loss to rugby altogether. 
Izzy has confirmed she will be joining Los Angeles 2028, the organising committee for the Olympic and Paralympic Games, in the Analysis and Insights Department, through their 2022 Fellowship Program for Olympic and Paralympic athletes. 
We wish her all the best of luck and the continued success of the Yaras and rugby in Brazil. The HSBC World Series events continue in Spain in 2022 with the events in Malaga (21-23 January) and Sevilla the following weekend (29-30 January).
Rugby News in Asia
---
Trending Now