Rugby World Cup 2023 Opening Conference – Key Takeaways
Posted On September 4, 2023
---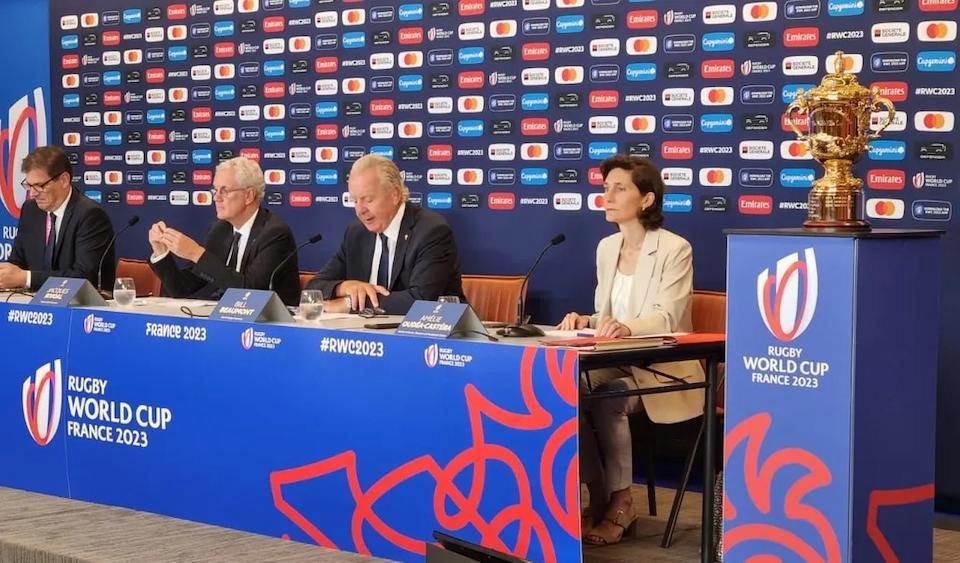 The key figures from World Rugby and RWC 2023 attended the Rugby World Cup 2023 Opening Conference in Paris on Monday 4th September 2023 to launch rugby's 200th birthday celebrations and the RWC 2023 tournament, however, there were some tough questions for the custodians of the sport to answer.
World Rugby Chairman Sir Bill Beaumont, France Minister of Sports Amélie Oudéa-Castéra, World Rugby Chief Executive Officer Alan Gilpin and Jacques Rivoal, Chairman of Rugby World Cup France 2023 addressed the media who attended in person and online, as the focus shifts to France for the next two months.
The speakers covered a wide range of topics, from Rugby World Cup 2023's final preparations to the Tournament's legacy and positive impact as well as announcing a new campaign called " We Are Rugby".
Alan Gilpin, Chief Executive Officer for World Rugby said of the spectacle "And like any great party we need that bit of magic, that great entertainment, and I think again we are going to see 48 very special games.
If the quality of rugby in the last couple of months is anything to go by, we're going to see some very entertaining matches, and that's the important part of this moment in time for us as we, like every sport, look to make our great game more accessible, more relevant to more fans around the world. Nothing does that like a Rugby World Cup."
A Celebration Of Rugby – RWC 2023
Sir Bill Beaumont spoke of the celebratory aspect of the France RWC 2023 tournament, saying "It was 200 years ago that our sport was born and there can be no better place to celebrate our birthday than here in France. We know that this nation will be a magnificent host, not just here in Paris but the length and breadth of a nation that loves major events and loves rugby."
Adding on the support from the French government and its people, Beaumont said: "We believe Rugby World Cup 2023 will be rugby's ultimate celebration of togetherness. And why? We've received incredible support from the highest office to the smallest villages. Never has a nation been so ready and so excited to host.
We have a record number of international fans – some 600,000 fans will be coming to experience the best of rugby and the best of France."
Team welcoming events have seen large turnouts from the fans and host cities. Fans and Teams will ultimately determine the success of RWC 2023.
12,000 fans greeted Ireland in Tours at their team welcoming.
For the first time – three South American teams are at the men's Rugby World Cup.
Portugal make their first appearance since they last played in France at RWC 2007.
91 per cent of French people support the RWC 2023 and 74 per cent want to follow it.
Over 600,000 foreign visitors are expected for the 51 days of RWC 2023.
1.8 million tickets sold to date, 55 per cent of them to French fans.
5,500 security personnel will be mobilised every day, reaching 7,000 on some match days. They will complement the 5,000 private security guards in the stadiums of the nine host cities.
5,500 seats were made available to French healthcare workers.
4,800 volunteers are involved.
A total of 38 competition partner companies.
4,000 press & media accreditations.
"The stage is set, now it's down to the teams to perform. I think it's fair to say that the action will be compelling, spectacular and unpredictable" said Beaumont.
Jacques Rivoal summed it up succinctly: "The strength of the event will be the ability to mobilise all stakeholders in such an adventure. Pierre Villepreux once said: 'In a rugby team, there are no passengers, only a crew'. The same applies to our organising committee.
What Lessons Have Been Learned?
Gilpin answered a valid question from the media on what lessons have been learned and implemented for RWC 2023. "I guess we're never complacent about these things. Obviously, we've introduced and implemented the Foul Play Review Bunker through Super Rugby and then into the summer games for Rugby World Cup warm-up matches.
Any time you're introducing new processes and procedures there's always going to be some learnings, and I think there have been. I think the key difference for us when we come into the tournament is that we get to control the process much more."
The Women's Rugby World Cup hosted in 2022 was a motivator too.
Gilpin said players' personalities and fan engagement were big takeaways; "players' personalities, not just being projected but being embraced by fans, by media. I think there's a lot that the men can learn from that and hopefully, with your help, we can bring the personalities of all the great players that we've got in the game alive."
Fan involvement and the general joyous mood around the event was something he hoped would be replicated in France.
Players being at the heart of every event was key.
It was also confirmed by Beaumont that the top three teams in each pool at RWC 2023 will automatically qualify for RWC 2027 in Australia.
France Preparedness for Rugby World Cup 2023
Amélie Oudéa-Castéra, French Minister for Sport and the Olympic and Paralympic Games said France has been preparing for many years to host the tournament and much of it during the pandemic. Airports, the railways and the public are ready to welcome the rugby world.
She said, "We have coordinated a national mobility plan. This plan includes an increase in staffing at airports, for which 600 agents have been recruited to streamline border controls, and also at stations, with a specific plan put in place by the SNCF [railway], notably at Gare du Nord and Gare de Lyon.
In conjunction with the organising committee and the regions [of France], we have promoted a number of additional services. Regional rail capacity has been increased, as have bus and tram services before and after matches, and between the stadiums and the Rugby Villages, with particular attention to services for anyone with reduced mobility."
She added: "These plans have been drawn up with a view to promoting sustainable mobility. For the first time, an exhaustive measurement of the carbon impact will be carried out by the Organising Committee. Together, we have set two operational targets: one for spectators, who will make 88 per cent of their journeys by train, and one for the teams, with 80 per cent of journeys made by train or bus."
Rugby Values And Legacy – "We Are Rugby" Campaign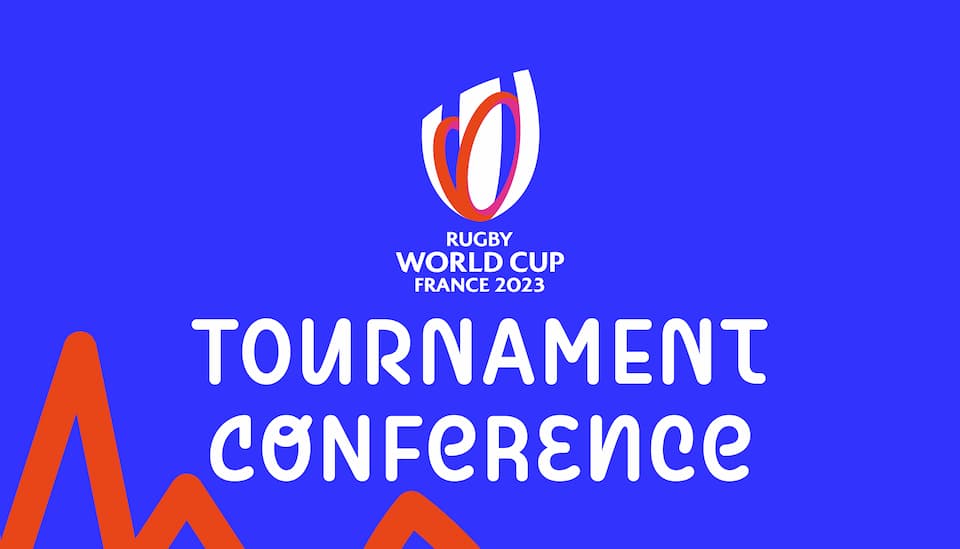 Beaumont spoke about the values of the sport shining through at the tournament, "We should project our values, make an impactful contribution to society and inspire new players and fans."
For the campaign, he said "Today I'm delighted to confirm the launch of our We Are Rugby promotion, showcasing the sport's collective commitment as an inclusive, respectful tournament. And as we look to the future and continue to work with partners to create a sustainable, impactful and equitable global calendar we can confirm that the top three teams from each pool in this tournament will qualify directly for Rugby World Cup 2027 in Australia."
Oudéa-Castéra added, "The French government wanted this World Cup to illustrate a new model for sporting events that our country wishes to promote, namely events that are more responsible, more inclusive and that leave a lasting and useful legacy."
There were some tough questions too for the speakers to address, on doping issues in the sport following the positive results of two international players (from Wales and South Africa). The announcement of the French player Bastien Chalureau's being called into the French squad as a late replacement has been seen as controversial as the player was found guilty of assault after the court determined the attack to be racially motivated.
We also question why the TMO bunker and disciplinary processes -which can be viewed to have been rushed into this tournament when not every team has played under the new regulations – were not delayed with further consultation and be ready for future tournaments.
World Rugby is confident in their decisions and we will know after the 48 games if the RWC 2023 has been a success and how that is measured.
For World Rugby Chairman Sir Bill Beaumont "The stage is set, the teams are ready, France is ready, let's get this wonderful Rugby World Cup started."
Rugby World Cup 2023 News
---
Trending Now