Rugby World Cup 2023 – The Final Dance
Posted On October 23, 2023
---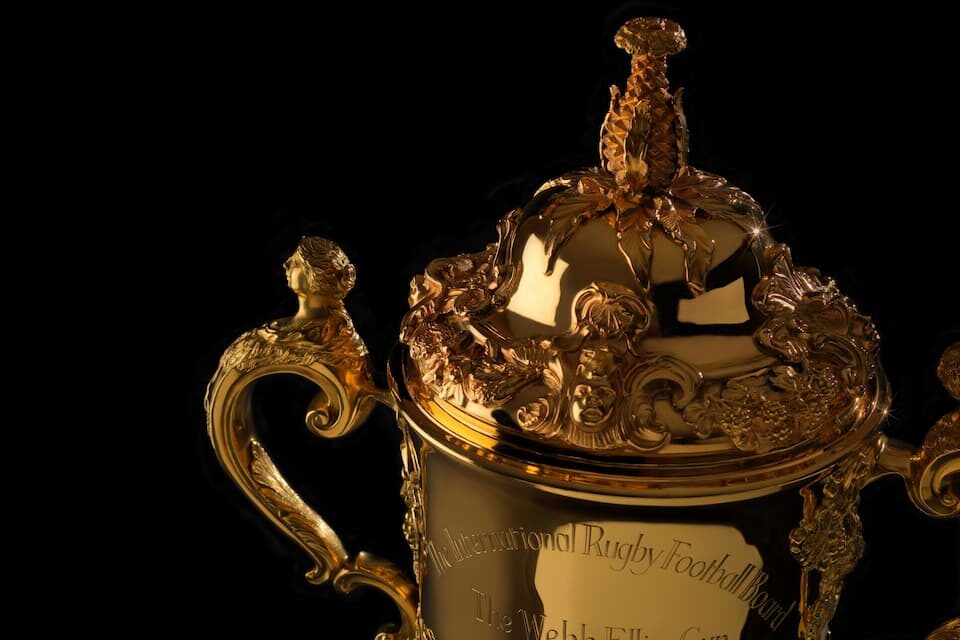 Although it may not have been most neutrals' pick of teams to feature in the France Rugby World Cup 2023 final, it will be the All Blacks and the Springboks who will compete for the Webb Ellis Trophy in Paris on the 28th of October 2023, with records set to be broken regardless of who wins.
Feature Photo – The Webb Ellis Cup will be lifted by the winners of the Rugby World Cup 2023 final at Stade de France on 28 October 2023. (Photo by Phil Conrad – World Rugby/World Rugby via Getty Images)
With New Zealand comfortably beating Argentina 44-6 on Saturday in wet conditions in the French capital, it was the second semifinal which was the pick of the weekend (although one for the rugby purists) as the defending champions came from behind to beat a valiant English team and win in the final minutes 16-15.
It sets up an RWC final which will ensure the men's trophy remains in the southern hemisphere again and will either return to NZ or SA, with the two sides combined holding the trophy since 2007. The winner in Paris this coming weekend will also be the first to hoist the coveted cup for a record fourth time, while the Springboks, if successful, would only be the second team to retain the cup (the other of course being their fierce rivals NZ.)
Whereas highlights from the All Blacks win was Will Jordan scoring a hattrick and now matching the record of 8 tries in a Rugby World Cup tournament with one match to go, the Boks win was characterised by the impressive scrum (bolstered by their bench) which had a 100% success rate on their own ball and led to penalties resulting in the match-winning converted try to RG Snyman and the penalty by Pollard to snatch victory at the death.
South Africa's Assistant Coach, Deon Davids, said after the nailbiting win there were no injury concerns for the Boks, and added of the titanic clash that awaits: "It is a fantastic and exciting week that lies ahead of us. Our battles with the All Blacks, there is a lot of history between us. We have played them a couple of times this year but going into a World Cup final I don't think any of those previous encounters count. It is a totally new game, under new circumstances, playing for the World Cup. We will have to be on top of our plan and our execution this week."
"It has been part of our rugby history, the Springboks and the All Blacks, and every time we play each other it is always a special battle and I don't think this one will be different. I think it will maybe go to a different level in terms of the competition between the players – excellent talent in both teams.
English And Argentinean Disappointment
England's Head Coach, Steve Borthwick, who was under pressure coming into the tournament, spoke of the pain in losing the match; "I thought it was a great test match. I think both teams gave everything they had in that game. We approached the game with the belief that we were going to win the game. Unfortunately, we fell just a little bit short. From that experience, as painful as it is – and it is very painful – we will be better in the future."
English captain Courtney Lawes has since indicated he will retire from international rugby, but the head coach said of him in the aftermath of the result, "I think we could talk about his trademark Courtney Lawes, those low tackles that cut the attackers down in their path. What I see in Courtney is somebody that covers the ground and does things in crucial moments. He finds himself in the right place at the right time so often. It is a sign of the intelligence of the player, it's a sign of the understanding of the player. The player just being in the moment, that is what he continues to do."
Argentina assistant coach Juan Fernández Lobbe added after Los Pumas loss in their semifinal, "The disappointment is very, very big. We came to want to play in the final and we couldn't. The team is very clear, and they made it clear yesterday, that finishing with a medal is important."
His side will play England on Friday 27th October in Paris for bronze at RWC 2023 and added: "I am convinced that the team has the focus and determination to have an excellent game and win on Friday. I saw it in their faces, in their expressions and I could feel it."
RWC 2023 News
---
Trending Now