SA Women & Tonga Men Take Spoils in First Leg of Challenger 7s Series 2023
---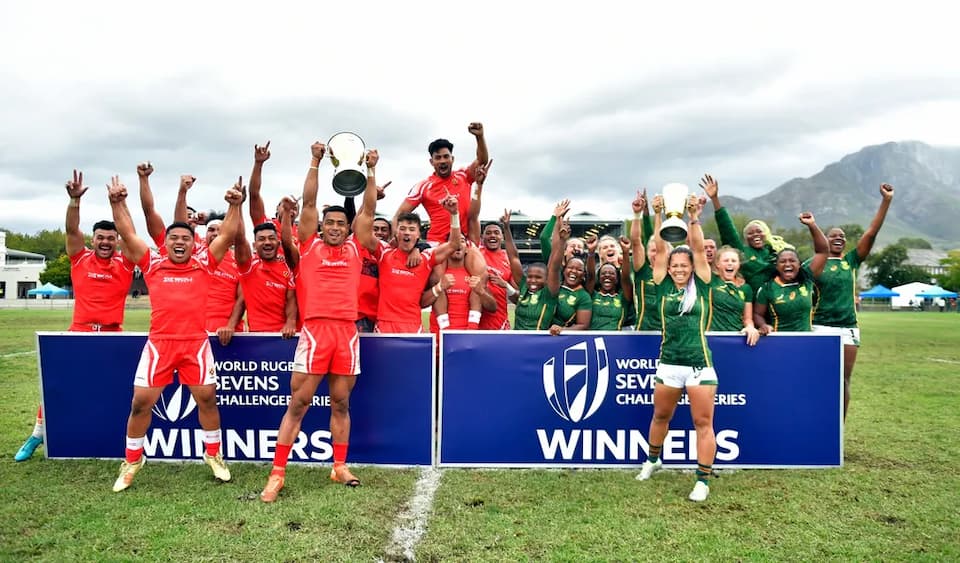 The South Africa Women and Tonga Men won the Cup Finals in the first leg of the Challenger Series 7s 2023 to both claim an advantage in earning a spot as a core team in the HSBC World Sevens Series. With the second leg less than a week away, squad injuries and recovery could determine the second leg.
Ecstatic hosts, South Africa, beat Belgium 17-10 in the women's final (beating both Thailand and China on the way to the title), while Tonga beat Germany 26-14 in the men's final.
South Africa's captain Mathrin Simmers said: "We have a lot of confidence going into the second leg of the tournament, but for us it's just about going back to zero and starting all over again. We'll go through all the processes and the systems we do in training and go into the next leg of the tournament."
Tonga captain Sione Tupou added: "This win means the world to us. This is a reward for all the hardships that we've been through. This win is for the future generation in Tonga."
Unfortunately, both the China Women and Hong Kong China Men fell in their respective Semifinals (both to the eventual winners) but both also did claim third place to keep their dreams alive of promotion to the World Sevens Series although they both also face an uphill battle.
The weather on the third and final day was back to being wet and cold, and combined with gruelling days of competition, teams struggled more with handling skills and decision-making which let some big moments pass them by.
The Hong Kong China women finished ninth but won their last three matches in a row to take great confidence into the second leg.
Thailand Women will be disappointed by the rout in their final match, but 5th place is still a great effort for the team playing in their first Challenger Series.
The South Korean men finally picked up a win in their final match – as much as lessons will be learned, annually sending development teams to the Challenger Sevens is a questionable strategy.
First Leg of Challenger 7s Series 2023
Hong Kong China Men
The HK men were disappointing in their semi-final against eventual champions Tonga, conceding five tries in a 33-0 loss and being shut out for the first time in the competition. Hong Kong China were punished for their lack of discipline which resulted in two yellow cards to give Tonga the upper hand throughout the match.
They were then guilty of some poor game management and consistent infringements and made to work hard into extra time by the 6-man Belgian team in the Bronze medal match before Max Denmark came up with the crucial score in the opening minute of the second period of ET to claim the 26-21 win.
Hong Kong China men still have a chance but will need to move up the podium in next weekend's Series finale and hope for those who finished above (Tonga and Germany) to slip up.
Hong Kong men's coach Jevon Groves said: "We are disappointed in our performance this weekend. We were outplayed by Tonga. We couldn't control possession and we missed our tackles. We started poorly and we couldn't make it up against them. Mostly, we are disappointed because we felt well prepared in terms of what we expected Tonga to do, but we just failed to stop it.
I was pleased to come out of it (the bronze match) with the win in extra time, and with the way that we managed that occasion.
We have given ourselves a sliver of hope now. It's been done before in this competition with third place and first place good for a series win, but now we have to rely on other teams. Ultimately, it is up to us to address the issue of our performance. Next week, we have a second chance to put things right and put in a performance we can proud of, and that is what it is all about at this level," added Groves.
China Women
South Africa scored the only try in the first semi-final against China to book their place in the cup final of the World Rugby Sevens Challenger Series 2023 which they won when Simamkele Namba crossed the whitewash.
China had their chances, but the SA defence was excellent. As we wrote the day before, South African women have come on strongly since the RWC Sevens last year. These were the first points China conceded and it's a game they know they could have won, so they will still be confident of the second leg. Ultimately it was a cagey game with a high number of knock-ons and silly mistakes by both sides and the combination of nerves and two evenly matched teams battled it out but it was an error-ridden match with such high stakes.
Nadine Roos was a star at the Sevens RWC for the hosts and also played for SA at the RWC XV at the end of last year. She has spent the past few months in Japan on a professional contract and she was influential all weekend.
China narrowly defeated Poland 14-10 to claim the bronze which will help ease confidence as they head into the second leg knowing they are still in contention.
Thailand Women
Thailand started the final day with a hard-worked win over Colombia and the Thai players moved the ball well scoring twice to lead 12-0. Colombia worked their way back with a score on the half to make it 12-5. In the second half, the Thais managed a well-worked third try after another strange held-up maul situation in sevens rugby and held out for a solid 19-5 win.
Unfortunately, in their final game of the weekend, Thailand put in their worst performance and lost 10-34 to Czechia in the 5th-place playoff.
Czechia was strong but too easily beat the Thai defence on numerous occasions. Combined with the poorest hand and ball skills they displayed in the first leg, the situation was compounded by a yellow card and a 0-22 deficit at the halftime break. The team just made far too many poor decisions and loose passes and did manage to score some points late but were well outplayed by the Europeans.
Hong Kong China Women
In their opening match on the third day against Mexico, Co-captain Natasha Olson-Thorne was inspirational – and like she had all weekend – was busting tackles, making crucial cover hits in defence and generally leading from the front. She has also been instrumental in many of the team scores this year.
The match was tense and entertaining against Mexico and the second half produced five minutes of end-to-end action, but neither team could convert their attacks into points.
Hong Kong secured the vital win via a well-taken outside move from an attacking scrum highlighted by a delightfully timed inside ball from Nam Ka-man to Olson-Thorne who put the game out of reach at 15-7 with her second try (even though Mexico scored once more) for a final score of 15-12.  Hong Kong China women claimed ninth in the first leg.
Hong Kong head sevens coach Paul John said "The girls have shown a lot of spirit by winning their last three games. As a team, they have shown more confidence in every match, and our defence has improved game-by-game. We built well off of our performance yesterday."
South Korea Men
South Korea was playing to avoid the wooden spoon and had some good early chances against Jamaica. However, it was the Jamaicans that scored first and led 5-0 but a yellow card to Jamaica saw the Asian team create chances but they fell short a couple of times before finally managing to earn a try and lead at the half.
A second yellow for the Jamaicans in the second half and more wasted chances for the South Koreans before they finally converted a try by utilising the space and lead 12-5.
A South Korean blunder saw them with possession on halfway kick the ball out thinking the match was over time but it was not, so Jamaica played a lineout on 22m and luckily for South Korea – knocked the ball on for the South Koreans to win their first game and claim 11th in thefirst Leg of Challenger 7s Series 2023.
World Rugby Sevens

Challenger Series 2023 Leg 1 – Final Standings

All Fixtures and Results can be seen here.
China Women – 3rd
Thailand Women – 6th
Hong Kong China Women – 9th
South Korea Men – 11th
Hong Kong China Men – 3rd
Day #3 First Leg of Challenger 7s Series 2023 Results
Women's Results 
5th SF – Thailand 19-5 Colombia
Cup SF – South Africa 5-0 China
9th Play-Off – Hong Kong China 15-12 Mexico
5th Play0ff – Thailand 10-34 Czechya
3rd Play0ff – China 14-10 Poland
Men's Results
11th playoff – Jamaica 5-12 South Korea 
Cup SF – Hong Kong China 0-33 Tonga
3rd Playoff – Hong Kong China 26-21 Belgium
All teams will participate in Leg 2 from 28-30 April 2023 at the same venue.
Challenger Sevens Rugby 2023 News
---
Trending Now