Which Teams Are Likely To Qualify For RWC 2023 Quarterfinals
Posted On September 12, 2023
---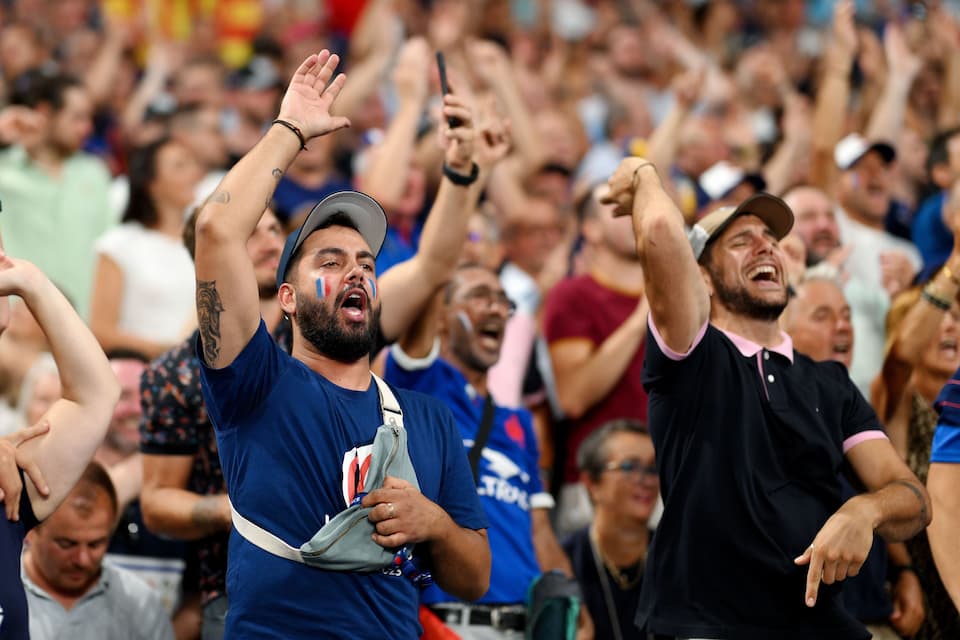 The men's Rugby World Cup 2023 got underway in France and the first round of eight matches took place on the opening weekend of 8-10 September 2023 which already helps paint a clearer picture of which 8 teams are likely to progress to the RWC 2023 quarterfinals of the tournament.
Feature Photo – Photo by David Ramos – World Rugby/World Rugby via Getty Images
Feature Photo Credit: TOULOUSE, FRANCE – SEPTEMBER 10: Kotaro Matsushima of Japan jumps over the tackle of Clemente Saavedra of Chile during the Rugby World Cup France 2023 match between Japan and Chile at Stadium de Toulouse on September 10, 2023 in Toulouse, France. (Photo by Justin Setterfield – World Rugby/World Rugby via Getty Images)
The Rugby World Cup 2023 in total featured 20 teams split into four pools of five teams each (A, B, C and D) and the final round of pool fixtures will only be completed on the 8th of October, which will be followed by the  Rugby World Cup 2023 quarterfinals on October 14 and 15, 2023. 
The 51-day tournament is the longest yet as it offers all teams the same rest time and there are also a record number of fans expected to attend – over 600,000 will be heading to France until the final on 28 October 2023.
The teams that will qualify for the quarterfinals are not yet determined, but pool stage matches are high-stakes as the top three teams of each pool will gain automatic qualification to RWC 2027 in Australia, so every game counts. This will also ensure more nations have a greater opportunity to qualify for future tournaments.
The RWC 2023 teams play each other once in the pool stage, and the top two teams from each pool advance to the quarterfinals, which are knockout matches. The winners of the quarterfinals will proceed to the semifinals, and the winners of the semifinals play in the final to determine the champion to lift the Webb Ellis Cup.
So which teams are looking likely to reach the RWC 2023 quarterfinals?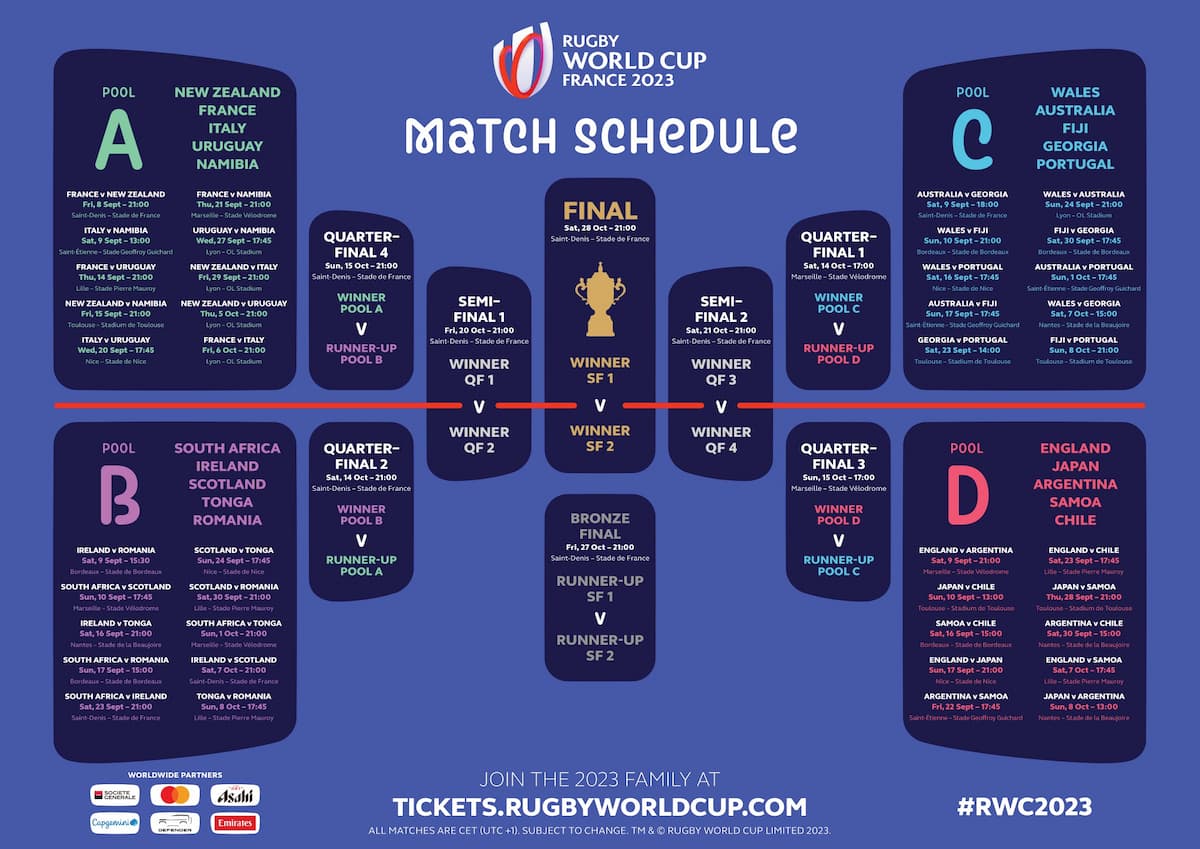 Pool A – RWC 2023
France and New Zealand are still the likely top two qualifiers from Pool A at RWC 2023. Despite the All Black's first pool loss in World Cup history against France on the opening night at Stade De France (in which they capitulated quite easily), they should still have the better of Italy, Namibia and Uruguay to progress.
France will now likely top the pool as it's unlikely they will lose their remaining matches. In the past, a French implosion could not be written off and although red and yellow cards will be a key factor of this Rugby World Cup compared to previous editions, they are good enough to see out the pool.
We can't see Namibia or Uruguay troubling the European teams in this pool and Italy would have to have two of the best games in their history to overcome both NZ and France.
Les Bleus are aiming for a first-ever title and this may be their best chance ever at home, while the All Blacks would win a record fourth World Cup if successful 
Pool B  – RWC 2023
The so-called 'pool of death' features Ireland, South Africa, and Scotland (ranked #1, #2, and #5 at the start of the tournament) as well as Tonga and European minnows Romania – this is still one of the toughest pools to call.
Ireland easily dispatched Romania with a bonus point 82-8 win in their first game, and South Africa overpowered a good Scottish side to pile the pressure on the Scots who will need to win all remaining matches to have a chance of qualifying.
Our predictions are that the Irish and Springboks should go through but that's not a guarantee, and actually, we think it's possible all three teams could suffer a loss in Pool B. 
Much like in Pool A, the Irish are chasing records by trying to reach their first-ever quarterfinal and have pressure on them as the number #1 ranked team and current Six Nations champions, while the Boks are defending champions and also in search of an unprecedented fourth Rugby World Cup title.
Pool C  – RWC 2023
In THE match of the first round of RWC 2023, Wales just edged out Fiji in a tense, exciting and brutally physical game.
Fiji now has the most pressure on them as they will need to win their remaining matches in Pool C – and next up are the Wallabies. It will be a tasty encounter after the Pacific Islanders were hard done by in 2019 in the same fixture and will feel they had tough calls go against them in the Wales loss. Fiji did notch up two pool points with a four-try haul and by finishing within 7 points which may be crucial.
Australia beat Georgia in their opener with a bonus point win but will be targeting the Fiji and Wales games as finals. The team has struggled under Eddie Jones but knows a win against either two should be enough to get them through to knockout rugby.
Portugal will be combative and do have a lethal backline but again are not going to challenge the others for qualification to the quarterfinals.
We think it will be Wales and Australia who come out on top with Fiji just missing out.
Pool D  – RWC 2023
England has taken a giant leap in securing promotion out of the pool with the hard-fought win over Argentina, which was done with a man down for much of the game.
Japan also secured a bonus point win over RWC debutants Chile – who might have picked up a legion of new fans with their spirit and tenacity but will likely lose all of their pool matches.
Japan will have to beat either (or both) Los Pumas or England to have a chance for quarterfinal qualification and it's going to be tough. Argentina were as poor in their opener as we can remember in the loss to England, so it might be time for the Brave Blossoms to pounce and notch up their first wins against Argentina or England.
Samoa is yet to play and could well be a dark horse to mix up the quarterfinal race but realistically it's still England and Argentina who are likely to progress based on their experience and depth – although we feel some pool upsets are very likely in Pool D.
This is an invited post not written by Rugby Asia 247.
---
Trending Now