Brave Blossoms Win RWC 2023 Opener Against Chile – More Required Against Pool Favourites
Posted On September 11, 2023
---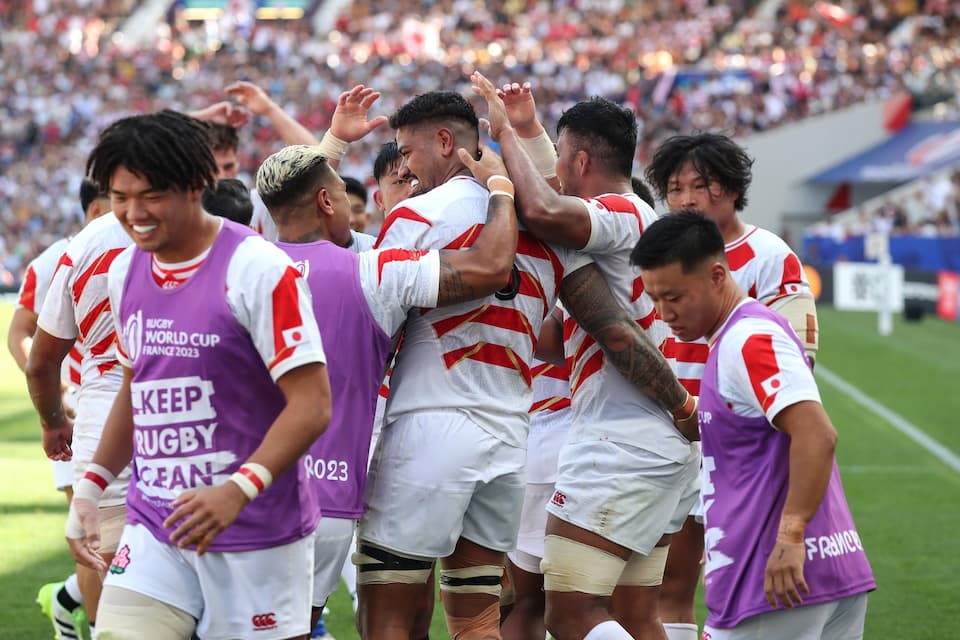 The Japan Brave Blossoms men won their opener at the RWC 2023 in Toulouse, dealing with the late withdrawal of their captain Kazuki Himeno, to beat a very energetic and proud opposition in Chile, who have added a new spice to the tournament. But for the Japanese to reach the quarterfinals, they will need to do much better against Pool D favourites England and Argentina. 
Feature Photo Credit: JRFU
Amato Fakatava bagged a brace of tried to claim the man of the match performance in the 42-12 win over debutants Chile in front of a sun-drenched capacity crowd at Stadium de Toulouse on Sunday 10th September 2023. Other try-scorers for Japan were Jone Naikabula, Michael Leitch, Ryoto Nakamura and Warner Dearns, while Rikiya Matsuda added all six conversions.
The crowd was boisterous and the mix of Japanese, Chilean, and neutral fans were treated to an early score from the South Americans (although rather dubious as were some decisions over the weekend)  but the two yellow cards and Japanese fightback combined to see the RWC 2019 quarterfinalist get the job done.
Martin Sigren, the Chile captain, said of their performance,"We gave it everything and we can be proud of our performance. We gave a good fight, maybe not right to the last minute, but we really enjoyed it, which is a really important part of it as well. There were little opportunities that you have to take advantage of and that is where we lost it."
Of the Brave Blossoms, he said "The Japan team were what we expected – fast, seeing opportunity and managing the ball. But defence-wise we played well. We were able to hurt (them) and put pressure on their lines. We played until the last 20 minutes. Our hope gave more energy to the game."
The Japan Head Coach Jamie Joseph was full of praise for the Chileans too, "Chile came with a really spirited performance, really hearty, tackled like demons, turned our ball over, really put us under pressure. We had to deal with that without losing confidence. The support for their team was amazing. They cheered for everything, as the Japanese do, so you really feel that they had a whole bunch of people behind them today."
On their own performance and final result, Joseph added "I am really proud of our guys. To score 40 points in the end if a big victory for us but we have no doubt that we have been in a test match."
The Head Coach admitted they would need to improve with tougher pool games to come and highlighted tackling as one area, hinting that there would be tackle training to come.
England, Samoa, and Argentina to Come in Pool D
Joseph said of the lessons learned and preparation for the remaining pool D matches, "It's been a good learning experience for us. Next week we are playing a tier one team, one of the best nations of rugby. We saw them dismantle Argentina.
Physically, intelligently and they play a different kind of rugby. We don't play that way, we can't win if we play that way against England so we will have an enjoyable week this week because you guys won't be expecting that we can do anything."
Late stand-in captain Yutaka Nagare, added of the lessons they can take away from the Chile win; "The pressure was on us at some points but we did not panic. We were about to conserve the ball and this allowed us to win. I didn't know we would win by such a margin, we just focused on the result. Chile had a very physical game so we have learnt from that."
Japan take on England in Nice on September 17th, before facing Samoa on the 28th in Toulouse and ending with Argentina in Nantes on October 8th.
RWC 2023 News
---
Trending Now