Algarve Sevens 2022 Review and Future of the Tournament – Jose de Moraes
---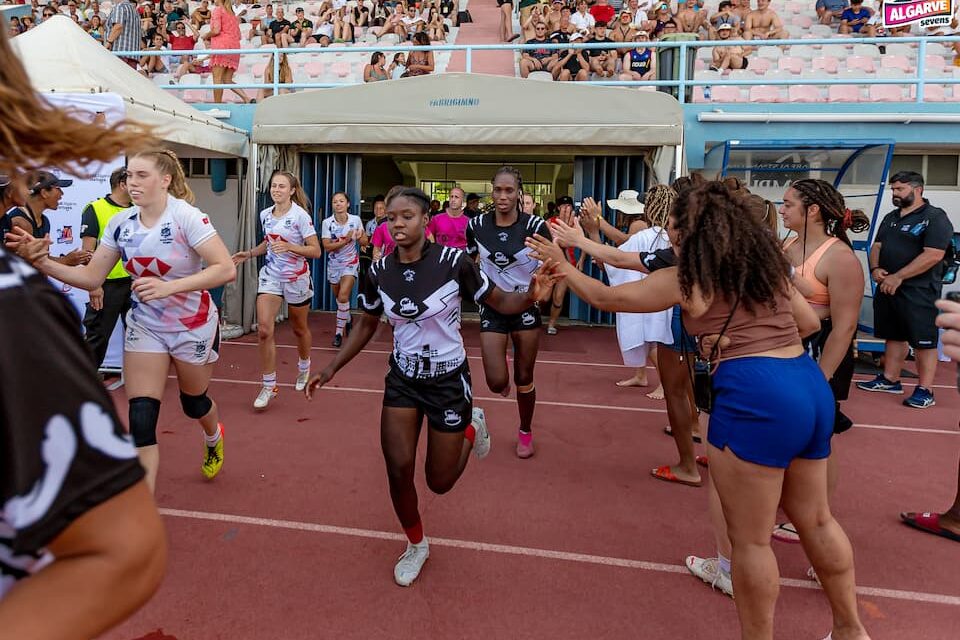 After a pandemic-induced break of a couple of years, the Algarve Sevens made a sensational return in 2022, with more teams than ever before, fantastic closely-fought finals at the end of the second day, surging temperatures and so much more.
The tournament has nowhere near reached its maximum potential according to José Diogo Trigo de Moraes – Founder & CEO of Sports Ventures, who first organised the two-day rugby tournament in 2018.
Near the end of another successful Algarve Sevens competition, we spoke with Jose to hear more about his plans for growing the rugby tournament, the need for public and private partnerships with World Rugby, and the obstacles he hopes can be overcome to one day see Algarve appear on the HSBC World Sevens Series circuit.
We also explore why this tournament is a great destination for national and touring rugby teams from Asia, with its prime location, level of competition, facilities and time of the year all ideally suited for Asian rugby.
(All photo credits – Sports Ventures/Algarve Sevens and Luis Cabelo)
Algarve Sevens 2022 Review
How happy are you with the tournament this year?
Jose: Everything has gone well, we had a fantastic first day and the temperature was a little bit higher than we wanted but some things you can't control. Overall there were very few injuries and the teams were really excited with the way things have progressed. 
All of the competitions have been very competitive and nobody knows who will win the Cup finals which is what you want.
In terms of off-the-pitch, it has been great and no issues and it has been very smooth transporting 800+ people which is not an easy operation but it's also one of the reasons why I think the Algarve is the perfect destination because you have easy access to most of the European airports and it's easy to travel from the airport to the venue.
The Algarve is also a very safe destination and everyone can easily walk around and explore after a training or match day, the players and fans can go and do some recovery at the beach which is very nice.
I think we have a great product here at Algarve Sevens, with a great competition and level. I don't want to sound arrogant but I think we have the best product in Europe, excluding the HSBC World Series events. 
So we are going to keep investing and keep pushing for better terms and conditions and we need more private sponsorship, which is still a consequence of COVID, as we lost some sponsorship. 
You can also see Jose talking on the official Algarve Sevens platform about the 2022 edition.
And for those who have not been here (and this was our first time); the facilities are amazing with the stadium and two close-by external fields, a really good supply of refreshments and water for the players in this heat, first aid and management at each field etc.
There is a social and a top-elite team element so what are the goals in attracting teams at both levels and more teams globally?
Jose: I love sports festivals but I am also for high-performance. So I want to keep trying to combine high-performance with a social element and I think it's possible to have both.
It's a huge end-of-season rugby party for Europe and I want to keep attracting good teams, national teams, including invitational and semi-professional teams; teams from South Africa like we have the Blue Bulls this year, but from all over the world, American teams who now are starting a professional rugby sevens league.
Of course, I want all teams to feel welcome from all over and when they come here, they have a great time playing sevens rugby and then relax at the end of their season. 
Other positive aspects of the Algarve as highlighted to us are:
The management's vision is "to bring the HSBC to Europe's favourite holiday resort".
The Algarve is the 2nd safest area in the world according to the ONU index.
There is a great hotel infrastructure, and a local strong rugby community including expats the from UK & France who have chosen to live in the Algarve.
How can Rugby Europe and World Rugby Partner with Private Rugby Tournaments?
Jose: To have more first-tier teams like the Hong Kong Rugby Union and others, we need help. We need Rugby Europe and others to just look at this as a private tournament. I don't think World Rugby should ignore private organisers, they should work with them and try to help them.
Rugby Sevens has had a very tough couple of years, so they should try to help organisers like us, to help them. These teams need to play and the Algarve is a great option for Asian teams for example with the timing in the year, as well as American teams (US) and South American teams.
What World Rugby needs to do is look at the calendar and advertise and promote events way before what they are doing now. Rugby Europe is scheduling rugby sevens tournaments only a month before they take place which is ridiculous. They are not delivering a good service and they are not helping organisers like us as we can not change the dates when hundreds of people are booked and flights are booked and then they kill us when they announce tournaments at the same date with such late notice. 
It's a positive criticism for them for what we would like to see in the future.
(Editor's Note: Jose is referring to the Rugby Europe Sevens Trophy first leg in Zagreb which was played at the same time as the Algarve Sevens and denied teams like the Portugal Women's national team playing in Algarve. 
We have seen the same situation with Asia Rugby on a few occasions – even this year organising a Sevens Series in Thailand the same weekend as the Singapore Sevens World Series event – so the men's and women's national 7s teams from Singapore were not even in-country when the HSBC Singapore Sevens 2022 took place.)
We could not agree more in terms of scheduling and World Rugby has pinpointed pathway development and a long-term XVs calendar but it's also needed for Sevens.
Why Asian Rugby Teams should Play at the Algarve Sevens
For Asian rugby, the Hong Kong Rugby Union women and men, as well as the Kazakhstan Nomads women's sevens teams are here this year.
There is no reason Unions from China, Thailand, the Philippines, Singapore, Korea etc don't send national or representative teams to play the Algarve Sevens as they can use this to launch their sevens seasons and will face better quality opposition than they might face in Asia.
It's really a global event, so in terms of the growth of the tournament, what other areas do you think can be improved upon.
Jose: I think it's going well but for the schedule, we will try and work one year ahead to give the rugby unions enough time to prepare, as well as the organisers and promotion for the event. 
I also don't understand why World Rugby only works with the official rugby unions (another point we have raised in Asia before). Many national rugby unions are skint (don't have the financial resources) especially second or third-tier national unions. 
They might not have the money to organise an event like this and they should be focused on organising their national competitions or domestic competition and national teams. 
They should be working with private promoters as it's a win-win. For example, if the Portugal Rugby Union was less worried about putting together a Rugby Europe tournament, they could focus on putting together their best teams to compete in these competitions, so instead of focusing on performance, they are focusing on arranging a tournament at the end of June. And they don't have the resources.
I think as long as there is accountability they should work with the private organisations that can be more efficient, and there is no reason not to work with them.
Most national rugby unions we speak to are spread very thin in terms of their workload and resources like you said. 
It is also a great opportunity for their teams to be exposed to other high-quality rugby teams and social teams enjoy watching those quality matches.
Match Officials At Algarve Sevens – Opportunities for Exposure
One last aspect is the officials – you are using an outsourced organisation from the UK to supply and run the match officials for the Algarve Sevens, can you tell us more about that and do you think there might be officials from regions like Asia in the future?
Jose: Yes, 100%. Referees are a big problem in Portugal and it's one of the areas the union needs to spend more of their limited resources on is training and developing more young match officials coming into the game.
So we had to outsource as we don't have enough referees in Portugal. I wish we had enough, but we need at least 22 referees for this tournament. 
So we are using a company from the UK called Sevens Referees and we want them to work with the local referees and help them improve and to help them have exposure to these high-level games.
We think they are loving it, we have a mix of foreign referees and local referees and they are really enjoying it. In the future, I would love to have, not just from the Unions in Asia and from other regions, but have referees here and we can look at doing workshops and training camps just for the match officials. I can't imagine a better facility and region to do that.
It's another aspect World Rugby could look at, to use this tournament as a training camp to train new coaches, match officials, and have some of the best-established referees come and train others.
We are all for this in the future and any referees or union who want to be involved at the Algarve Sevens and form a partnership with us and help us improve the level of referees please get in touch with us.
Find out more about Mike Mulroy and the Match Officials at the Algarve Sevens here.
Asian Teams Performances at Algarve Sevens 2022
As we wrote in our first-day review, all three Asian teams (HK Women, Kazakhstan Women, HK Men) all had undefeated first days' but the final days were a step up in competition and intensity.
The HK women fell to their first loss in the semifinal to eventual Cup winners Fantastic 7s 12-10 but managed a real gutsy comeback win to claim third place with a 12-7 win over a very good Rugbans. The ladies had opportunities in their semi-final but were not as clinical as day #1 and were up against much better opposition.
The Kazakhstan Nomads women won their first match (semi-final) but it was a very tough and close game, running out 26-21 over Rugbans before falling short in the very good Cup Final, narrowly losing to an impressive Fantastic 7s 17-14 to claim second place.
The HK Men managed a good win in a tight game in their semi-final,  beating Viator Baabaas 14-5. The Men's Cup final was the final game of the tournament and had a boisterous crowd cheering on the teams although more were in favour of the HK opposition, Seventise. The full-time ended 7-7 and although we felt HK were unlucky with some decisions, the match ended win a golden point ET with a penalty try awarded to Seventise.
It was still a terrific display from all three sides and a great advertisement for Asian rugby.
Algarve Sevens News 2022
---
Trending Now