Asian Teams Go Unbeaten on Day One of Algarve Seven 2022
---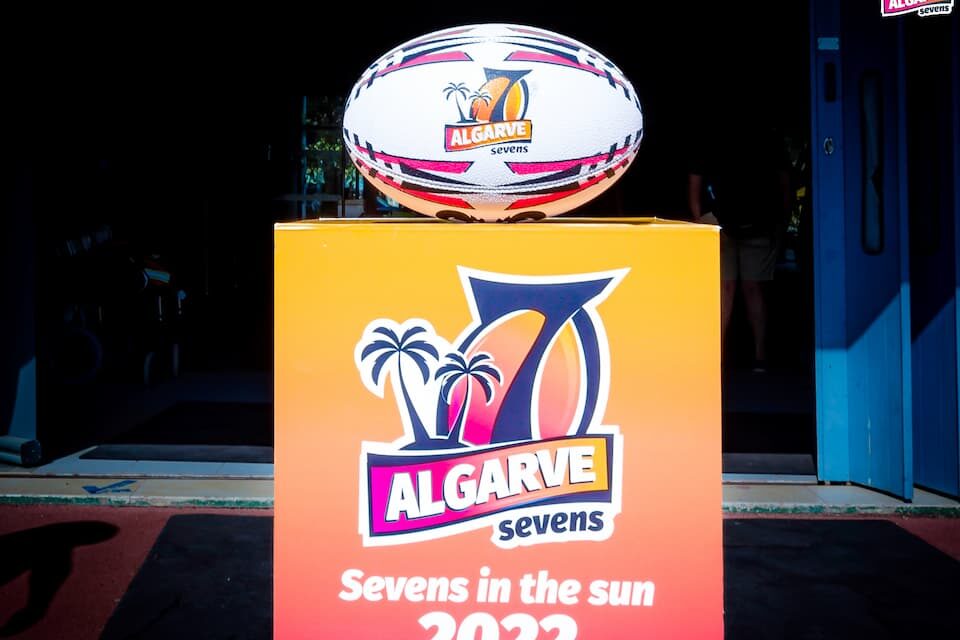 The HKRU women and men as well as the Kazakhstan women all won three games each on the opening day of the Algarve Sevens 2022 with some big performances and scores. 
We caught up with some of the coaches to find out their thoughts before we enter the knockout stages on Sunday 12th June in the Algarve.
(All photo credits – Sports Ventures/Algarve Sevens and Luis Cabelo)
Day One of Algarve Seven 2022 – HKRU Women
Interview with Hong Kong Rugby Union Women's Coach Iain Monaghan:
So how are you feeling after day one at the Algarve Sevens 2022 – three good wins?
Iain: Yeah three strong wins and I think we have had areas of our performance grow which is great. We have managed to play all fourteen players in the squad and spread the game time across the matches today. It was really nice to see the combinations and the fruits of their work from the past few weeks come through, especially in key areas like kick-offs,  set-piece attack and defence.
Yes, you talked to us about the six key areas of improvement before this tournament and watching them today it felt like those key areas were strong. Most of the games were played in the opposition 22m or their halves.
Iain: I am pretty pleased with the girls and we have been clear with what we have to do. Our big challenge today is when we were clear by three or four tries ahead, we had good accurate players maintain their discipline to continue performing. They might kick themselves a few times from today's games but you don't want to be heading into tomorrow (Sunday 12th June- Finals day) thinking you are perfect as we are far from that.
We will have some really tough matches now but having three from three is good and hopefully, it puts us in a really good position for the seeding for the knockout stages.
We are still waiting at the time of publishing for those game schedules on Sunday but the matches should be streamed if they are played on Field 1 (the main field in the stadium via the Algarve Sevens social channels).
You told us prior to the Algarve Sevens that your other events on tour had been one-day events, so the big test will be tomorrow. How will you help them prepare for that?
Iain: We have a good support team and they are very switched on to what we need to do recovery-wise. The girls are experienced enough too – we have a core of about ten players who have been to a lot of tournaments and they know what is expected of them from getting into the sea, ice, eating well, hydrating and that's critical – sleep will be important too. 
We will have a couple of reviews which will be short and sharp and really just get excited. That's day one done as we said, and we have achieved what we set out to do which was win three from three and really look forward to tomorrow.
Have you kept an eye on any other teams you might potentially play in the knockouts? Kazakhstan also recorded three big wins today.
Iain: I had a good view of the games played this morning and I was really impressed with some of the other pools – there are some strong teams in there with fast, skilful players and that poses really good challenges for us but that's what we want to be taking part in the tournament. We want to play those teams as it allows us to discover our strengths and areas to develop.
We are really looking forward to it. With Kazakhstan, it's always a really good battle with them and  I'm sure we will have a good hit out with them at some point, hopefully in the final so we get to play some other teams along the way before we face them.
A potential all-Asia final is on the cards.
Iain: Yeah exactly and it's great for Asian rugby. I think it just shows that we can get out of the region and into Europe and play different teams and show what's going on, and we are the ambassadors for the region, so it's nice to have that responsibility and hopefully, those back in Asia who are watching or following it are enjoying it. 
Day One of Algarve Seven 2022 – HKRU Men
The HKRU Men were also undefeated and still have one match to complete the pool games on Sunday 12th June HK Men's Head Coach Paul John told the Algarve Sevens that they had a good start and a good day one but that "it doesnt matter what day one is like, as day two is always the important one but for this tournament, we still have one more knockout game to complete in the morning and then hopefully a semi-final."
Find out more about what Coach Paul John told Rugby Asia 247 leading up to the Algarve Sevens.
Hong Kong Women – Algarve Sevens 2022 Results Day One
Hong Kong 37-0 Costa Blanca

Hong Kong 34-5 Livonia

Hong Kong 51-0 Ubuntu
Hong Kong Men – Algarve Sevens 2022 Results Day One
Hong Kong 38-7 Georgia

Hong Kong 19-5 Seventise

Hong Kong 56-0 Durham University
Kazakhstan Women – Algarve Sevens 2022 Results Day One
Kazakhstan Women 17-7 Nouvelle Aquitaine

Kazakhstan Women 38-0 Belas/Cascais

Kazakhstan Women 57-5 Sketty Hoops
Schedule Day 2 – Algarve Sevens 2022 (known games and times) *
Men's Elite – Final Pool Game – Hong Kong Men vs Fantastic 7s at 10:00 am Field 1 *HK won 19-7
Women's QF –  Hong Kong v Sketty Hoops at 11.20am (local time) Field 2 *HK won 62-0
Women's QF –  Kazakhstan vs Ubuntu at 11:20am (local time) Field 1 *Kazakhstan won 62-0
We will bring you more from the Kazakhstan camp tomorrow as well as further score updates on Twitter, so stay tuned! 
You can also follow the Algarve official FB, Instagram and website for updates.
Where to watch the Algarve Sevens 2022?
Officially the live stream will start from 1PM local time and for FIELD 1 ONLY.
Rugby Tournament News 2022
---
Trending Now