Hong Kong Rugby Sevens Men Aim for a Big Year – Algarve Sevens 2022
---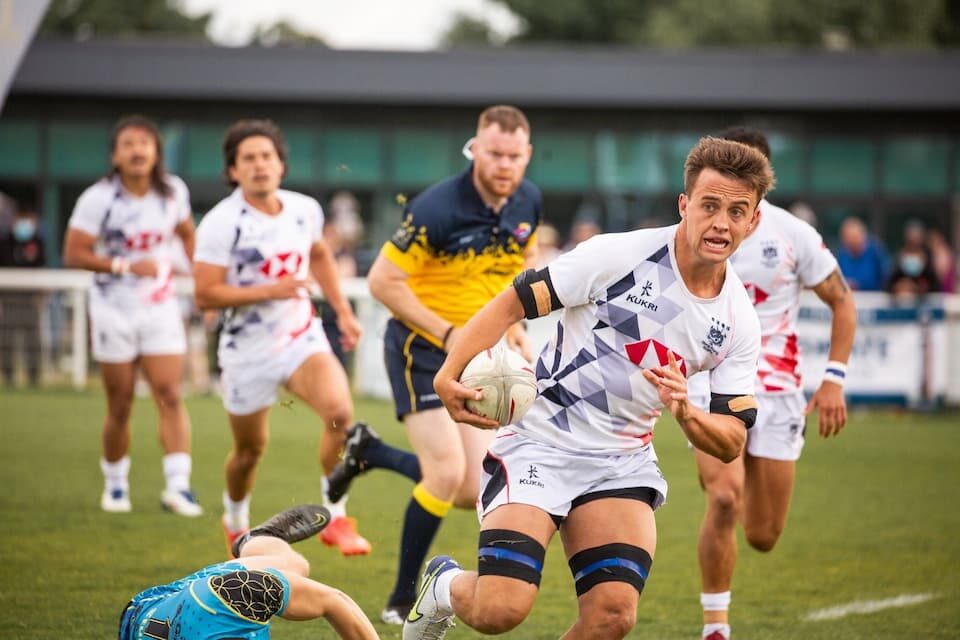 The Hong Kong Rugby Sevens Men were fortunate to still have some top quality rugby during the pandemic. Aside from successfully qualifying for the Rugby World Cup Sevens in Cape Town at the Asia Rugby Sevens Series in Dubai in December 2021, the team also participated in two World Sevens Series events in Canada as an invitational team.
We caught up with HKRU Head Sevens Coach Paul John to find out about the plans for a big year ahead, the lessons learned on this tour, and the objectives for the Algarve Sevens 2022.
Paul: We have played three or four tournaments during the pandemic but we had the same squad so we have some players that did not play for a few years on this tour. The tour has been great to be competing and playing competitive rugby again, as ultimately that is what you need to do to keep the interest in the game and keep interested in the programme, otherwise – why do you train?
Thankfully we have been able to get everything sorted on this trip, probably one of the longest trips lots of people in our group would have done and I'm probably the only one that has been away for 5 weeks before as that is what we used to do a long time ago (he says laughing).
You can read more about the Algarve Sevens here:
It's needed though if the aspirations are to join the World Sevens Series, so for young and experienced players, these trips are good preparation? How has the management and players enjoyed it so far?
Paul: I think it's been excellent for coaching – and preparing for competitions and sessions again – and providing feedback to players, it's what we love doing. 
The players were part of a very high-profile environment in Loughborough as well as the facilities are very impressive there, they are excellent. We stayed in the Elite athlete centre which is where boxer Anthony Joshua is based.
The competitions we played in (UK Super Sevens Series) were perfect for us I think. Everyone had an opportunity to play in those two events. It was the first competition for some of the players in three years. We should have won both events where the men were concerned and the women were very unlucky to not win the first one, and they could have well won the second event too.
So it's learning those lessons in the competition which you don't get from playing one another. We were relatively lucky in the HKSI (Hong Kong Sports Institute) as the facilities supported the athletes while we were in closed camps. And we replicated competitions by splitting the men and women into two teams and playing one another, but honestly, after two years of doing that, the time was right for us to play competitions.
Why the Algarve Sevens is a great tournament for HKRU
You mentioned to the Algarve Sevens that playing other competitions is key for the upcoming tournaments such as the RWC, the Sevens Challenger Series and others. How would you rate the standard of competition you have faced and coming up at the Algarve Sevens?
Paul: I think these competitions have attracted some very competitive teams as they always do. There were Spanish development players in the first competition who went on to play at the Toulouse and London World Sevens events. 
Obviously, China had a big group in the two events but we didn't face them in any games and Samurai, British Army had several Fijians – so to play different teams and the physicality is good. 
What we had to deal with here which we have not dealt with before was playing six games in a day which is not the norm for player welfare etc. We were allowed to use 13 players and a 14th if there was an injury and there were unlimited rolling subs which made it easier but it is hard on the players.
You find out a lot about people and players, and mentally resilience wise in those situations as there is no getting away from the situation. It is hard. Perhaps you learn some things you didn't know before and it was good for the non-playing players who were not involved to observe from outside the circle a little bit. It was interesting for us all to see how people coped with it. 
Hong Kong Rugby Sevens Men's Team Confirmed – Algarve Sevens
Max WOODWARD (c)
Mike COVERDALE
Alessandro NARDONI
Pierce MACKINLAY-WEST
Callum McCULLOUGH
Kane BOUCAUT
James CHRISTIE
LEE Ka To Cado
Hugo STILES
Russell WEBB
Liam HERBERT
Harry SAYERS
KWOK Pak-nga Eric
YIU Kam Shing
Hong Kong Men's Sevens Pool- Algarve Sevens 2022
Hong Kong men are playing the Elite Division at the 2022 Algarve 7s and find themselves in Pool B:
Hong Kong Rugby Men
Georgia Men's Sevens
Seventise
Durham University
7 Fantastics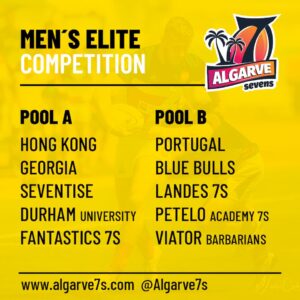 We asked the Head Coach what he knew about the pool opponents:
For the Algarve, there are always good teams and Georgia (men) were from my memory always strong and our girls will renew their rivalry with Kazakhstan as I'm sure they will meet somewhere along the line.
You also have some other teams in the men's pool, do you know much about them?
Paul: We played 7 Fantastics a couple of years ago in Amsterdam I think and look the people who tend to play at these tournaments tend to be experienced players who play on the sevens circuits all Summer, so they won't be easy and they understand the game very well and how to slow the game down and play Sevens.
That's the challenge for us is to play the best we can no matter who we play; get our set-piece right, get our kick-offs right, get our defence right and get our attack with purpose. If we get all those things right, it's irrelevant who we play against. 
That's the challenge in sevens as you have three games in a day and if the first one does not go right, maybe the second one goes better and the last one could determine if you are first or second in the group. 
There are challenges throughout the whole day and some guys or girls might not get some game time and it's all about recognising they will play their part as it's about the squad and two full days of sevens rugby. 
Durham University will be decent as well and they have some very decent players who have signed professional contracts so it will be a tricky game.
Why does Hong Kong keep returning to Algarve Sevens – what makes it appealing to HKRU and potentially other Asian teams?
Paul: It's important on a few fronts. The teams in Asia play each other a lot in a normal calendar year and the option to go and play European and other teams offer us a lot in terms of competition – you develop your game a lot more and you need to maintain interest as well for staff and players. If it becomes the same it is difficult to keep the motivation going.
When we went on our first trip outside of Asia a few years ago to Amsterdam Sevens and here to the Algarve, it was important to experience different cultures in some ways and to play teams and people which develops our game and coaches and investment in the programme. 
The great thing from our point of view as well as some of our players have not seen family for 2-3 years so for them to come and watch is fantastic for mental well-being too.
They are doing what they love doing but Europe and the UK are very different to HK with the COVID situation and it's not the same as seeing people on zoom and online.
Algarve Sevens Match Schedule can be seen here (all times are local). The live-streaming is on Sunday 12th June only.
Saturday 11 June 2022:
Field 1 – 10AM – Hong Kong Men vs Georgia
Field 1 – 13:40 – Hong Kong Men vs Seventise
Field 1 – 15:40 – Durham University vs Hong Kong Men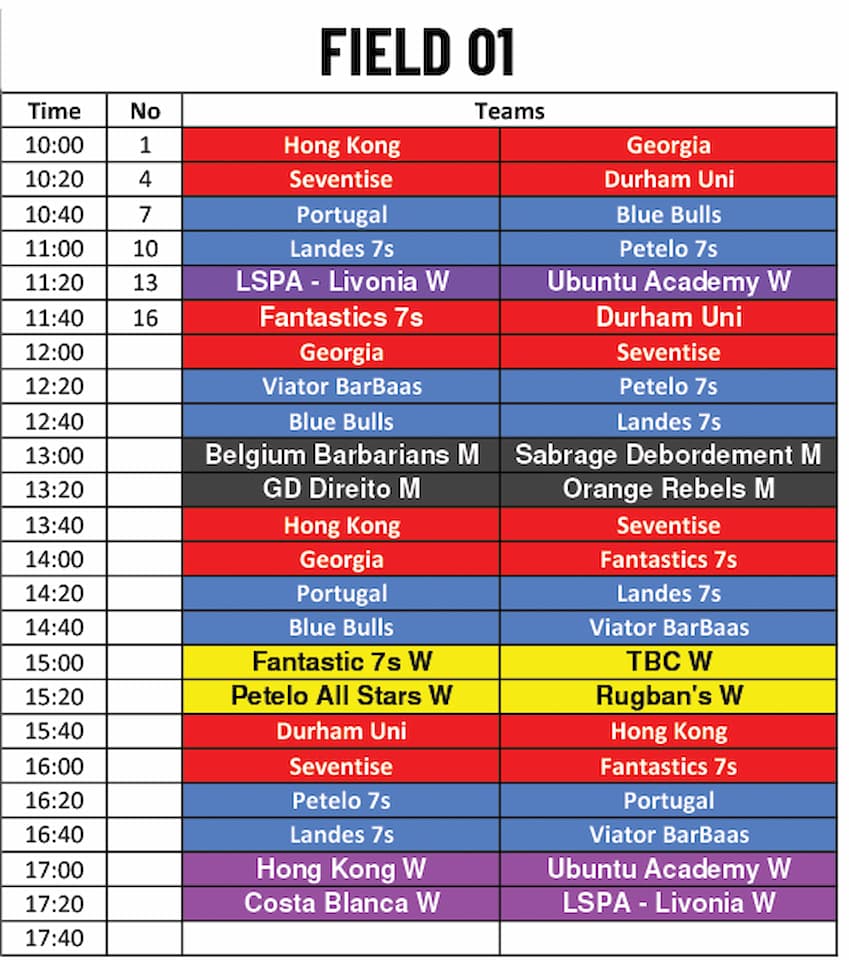 Challenger Series and RWC Sevens 2022 – Hong Kong Men
Post-Algarve Sevens there is the Challenger Series and the RWC Sevens 2022 in South Africa in September – what the plans as they stand for those?
Paul: We have had confirmation the Challenger Series will be in Chile the weekend of 12-14 August 2022 and yes following on from that, the men's squad will go onto South Africa – so there is no point in us going back to Hong Kong as we will have to quarantine. So we will fly to Chile around the 5-6 August, play the Challenger Series in Chile, then fly to South Africa and it will be a couple of weeks before the RWC Sevens 2022 but it will give us time to have a camp and train to prepare.
It's an exciting and competitive couple of months – the aim for a few years now has been to make the core Sevens World Series after falling just short for a few years.
And of course, we are waiting for the Asian Games to be reorganised.
And the new schedule for HSBC World Sevens Series has been announced for 2022-2023 – do you know if there is a chance to be involved from an invitational aspect if you don't qualify as HK is hosting two events on the new schedule.
Paul: Well obviously our aim is to be there as a competitive core team especially with ten events and Hong Kong being the first event which is exciting. Rugby wise and supporter wise everyone in HK is expected to have the Sevens back and it would be perfect to raise interest and funds for Hong Kong and hopefully it will happen twice.
For the core sevens situation, my understanding is that two teams will drop down this year and two will go up.
Rugby Asia 247 will be at the Algarve Sevens 2022 from June 10-13 to cover the action and will bring you more news and interviews over the coming weeks! Stay tuned for more.
You can buy your ticket online and watch all the action live at the Algarve 7s 2022. 
Rugby Tournament News
---
Trending Now