Asia Rugby Interim CEO Announced & Rizly Illyas Suspended from Rugby Activities
---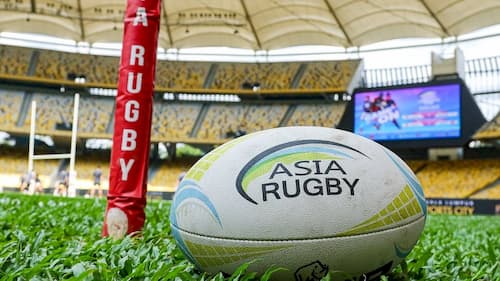 This past week, Asia Rugby surprisingly announced the appointment of Benjamin van Rooyen as an interim Chief Executive Officer of Asia Rugby on its social media and the suspension of Rizly Illyas, Sri Lanka Rugby President, from rugby activities.
Asia Rugby Interim CEO – Benjamin van Rooyen
Initially, no reason has been given for the appointment of Van Rooyen or what had happened to the current Asia Rugby CEO – who by all accounts should be Johny Stavrinou (appointed to the position in 2020).
Asia Rugby said online "Benjamin has been with Asia Rugby since May 2016 and will continue to also look after the development portfolio since he has played a key role in the growth and development of rugby across Asia."
We asked the organisation on Twitter what had happened to Stavrinou and if Van Rooyen's appointment was in line with transparency – and if the role should not be advertised for applications but there has been no response or clarity on why Stavrinou has been replaced.
Good luck to Ben. Any reason Johny Stavrinou left the role? In terms of transparency, should the position not be made available to outside members or will a vacancy be posted?

— RugbyAsia247 (@RugbyAsia247) June 15, 2022
Stavrinou was the CEO as recent as the Pakistan Asia Rugy Division 3 matches played in Pakistan at the start of June 2022 –  we have sources tell Rugby Asia 247 he resigned last week.
We wish Ben good luck as there seems to be a lot to deal with currently – read on.
Rizly Illyas Suspension – What's going on with Sri Lanka Rugby?
On June 17th 2022 Asia Rugby said "In line with Asia Rugby principles of Equality, Transparency and Accountability; due to investigations into a potential breach of Asia Rugby's Code of Conduct by Mr Rizly Illyas, Asia Rugby Executive Committee has approved the suspension of Mr Rizly Illyas from any rugby duties, activities and responsibilities within the jurisdiction of Asia Rugby until the pending investigation is concluded."
Illyas has been involved in the very messy and drawn-out saga with Sri Lanka Rugby since April 2022 – which reads like a horrible soap opera, but also very little has actually been announced by the relevant governing bodies to shed light on the situation.
There have been many speculative and accusatory posts on social media over recent months, some of which were posted by Illyas:


Mr Rizly Illyas was elected as the new Sri Lanka Rugby President in 2020 at the Annual General Meeting (AGM) of Sri Lanka Rugby but over the past months, there has been accusation and counter-accusation in Sri Lankan government ministries, NOCC, and mixed statements from Asia Rugby and World Rugby on what the status of Sri Lanka Rugby Union is.
When Sri Lanka Rugby was initially suspended by Asia Rugby in April 2022, Illyas made his feelings well-known online:
"Asia Rugby Temporary Suspends SLR without notice or inquiry…..Conspirancy is headed by AR President who has not touched the oval shaped ball. We wish to ask in line with the Olympic charter where is good governance transparency and accountability.

Together with the AR President the Executive Committee has voted in favour of this suspension at the hurried meeting in Bangkok….We Sri Lanka Rugby has a history of almost 150 years and to be treated like this is a suprise even without hearing us out.

This decesion is very dangerous to the Asian Rugby region ……

Sri Lanka Rugby Hullaballoo: A conspired piece of work – Rizly Illyas
This all happened as the SLRU still held training sessions and announced squads for the national sevens men's and women's teams to prepare for the Commonwealth Games 2022 which falls outside of Asia Rugby's control as it's a NOCC event.
What has the timeline been for the Sri Lanka Rugby suspension in 2022?
April 2022
Rizly told the Daily FT: "This is a blind side move by the Sports Minister and Ministry Secretary. How can a competent authority suddenly take authority of any sport, without a valid cause or reason? They haven't properly told SLR what's the real reason behind this so-called suspension and even the Gazette Notification does not explain how matters will be handled. The competent authority does not have the power to appoint sub-committees as they were duly appointed by the Council of SL."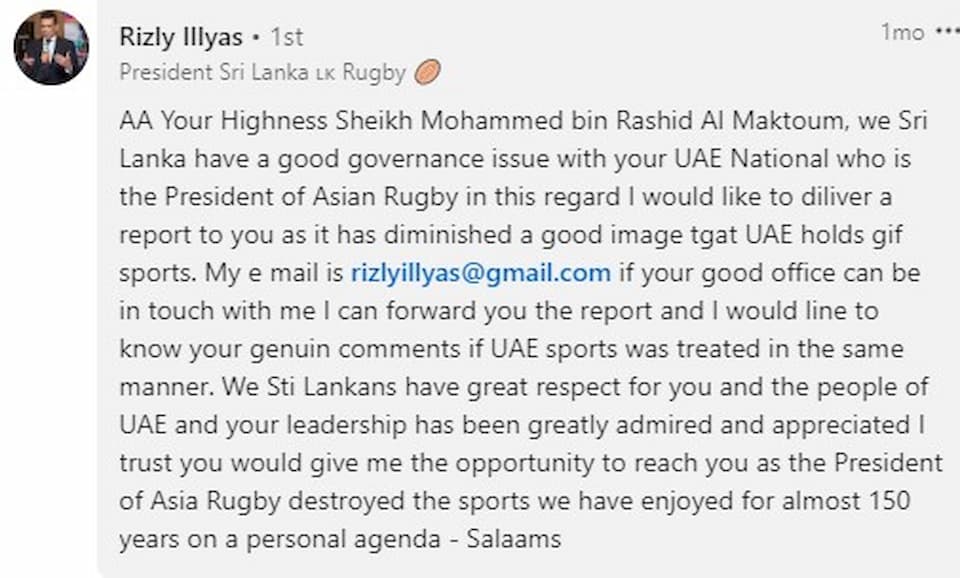 May 2022
On May 1st 2022, Asia Rugby announced the suspension of the membership of Sri Lanka Rugby and called for new elections at the SLR.
On May 13th 2022, Sri Lanka's Court of Appeal issued an Interim Order suspending the enactments of the Gazette issued by Ex-Minister Namal Rajapaksa temporarily suspending Sri Lanka Rugby (SLR) following the Sri Lanka Rugby President Rizly Ilyas and Sri Lanka Rugby filing the application with the court.
Asia Rugby President Qais Al Dhalai met Sri Lanka Olympic Committee President Suresh Subramaniam on 20th May 2022 in Dubai to lend support. The Asia Rugby President said at the time "In accordance with Asia Rugby's Article of Association and Regulations, Sri Lanka Rugby will be readmitted to the regional association's membership as soon as the Sri Lanka government's suspension of SLR is officially lifted". (Editors Note-seems an odd way to show impartiality while the decision was pending from the AR President?)
June 2022
This week – 14th June 2022 – the Pakistan High Commission was announced to sponsor the Sri Lanka Rugby provincial tournaments with Illyas agreeing on the deal, while Papare Rugby announced that Schools Rugby would resume in Sri Lanka – "Dialog Schools Rugby 2022 is set to commence later this month". This all falls within a season that started with the announcement of Nippon as the title sponsor for the season. 
Asia Rugby suspends Rizly Illyas from all rugby activities on June 17 2022.
Editors Note – We tried to speak with Illyas at the end of April but he put us in touch with a Sri Lanka investigative journalist who had been covering the saga in a series of podcasts – but we wanted to hear from the SLR President himself.
Asia Rugby coverage of this ordeal has not been great, and it's also not the first time we have heard allegations of the organisation not being as transparent and accountable as they project from sources inside AR.
We hope to hear more from Asia Rugby, World Rugby and SRL on the matter.
Rugby News 2022
---
Trending Now