Asia Rugby Championship Division 3 East-South 2019
---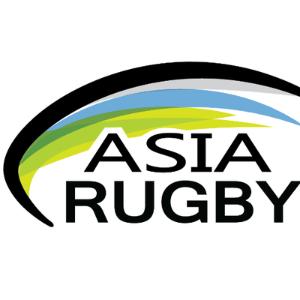 The 2019 Asia Rugby Championship Division 3 East-South is kicking off this weekend and will feature the national men's XVs teams from India, Indonesia and China.
The matches were originally listed on the Asia Rugby website to take place in at the Belapan Stadium in Brunei but in fact, Indonesia Rugby will be hosting the event in Jakarta at the GBK Rugby Field. The AR website has been updated.
Indonesia is the lowest ranked team (102) of the three, with India (81) the highest-ranked and China ranked at 87th in the World Rugby rankings.
A "Get Into Rugby Festival" will take place prior to the Indonesia-India match on the 29th June which will be attended by junior participants from Jakarta and the surrounding provinces.
Indonesia Rugby
Indonesia (the national rugby team is known as the Rhinos) will host and participate in the Asian Rugby Championship Division 3 East-South Tournament for the 4th time according to a statement from Indonesia Rugby.
Since participating in ARC in 2006, Indonesia has played 22 official matches has 11 wins and 11 losses. Their biggest win was a 55-3 victory against Cambodia in 2008.
Former Indonesian captain Bobby Orlando is now the National Head Coach and assisted by Coach Subaru Higa.
Rhino manager Yudha Ramon said "It is wonderful that we can have this tournament at the same field that was used in the recent Jakarta Asian Games and we will also be hosting the Asian Rugby Series Trophy and Asian Rugby Women's Series Trophy here in August before being host to the Asian Rugby AGM later in the year."
India Rugby
India Rugby had previously announced a star-studded South African coaching setup, but they will with the ladies team in the Philippines this week for the ARWC which makes for a tough job if they need to be in Jakarta for the first men's game on Wednesday for their opening game against China.
China Rugby
Much like for their ladies team, who are also involved in the Asia Rugby Women's Championship this week in the Philippines, very little information about the Chinese men's team is available.
Match Schedule ARC Division 3 East-South 2019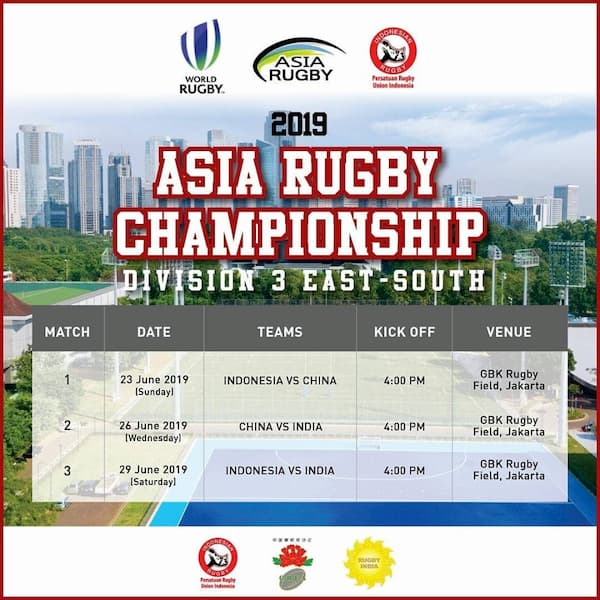 Reviewing the match schedule, it seems a bit unfair that Indonesia has the home ground advantage as well as the longest recovery time between games.
Game #1
Date: Sunday 23rd June 2019
Match: Indonesia vs China
Game #2
Date: Wednesday 26th June 2019
Match: China vs India
Game #3
Date: Saturday 29th June 2019
Match: Indonesia vs India
We assume the winner is based on the team that has the most table points accumulated from the 2 games played.
World Rugby rankings
India #81
China #87
Indonesia #102
Source: World Rugby
Countries: India, Indonesia, China
Due Date: 23-29 June 2019
Location: GBK Rugby Field, Senayan, Jakarta
---
Trending Now