Brian O'Driscoll: On HSBC Sevens and rugby development
---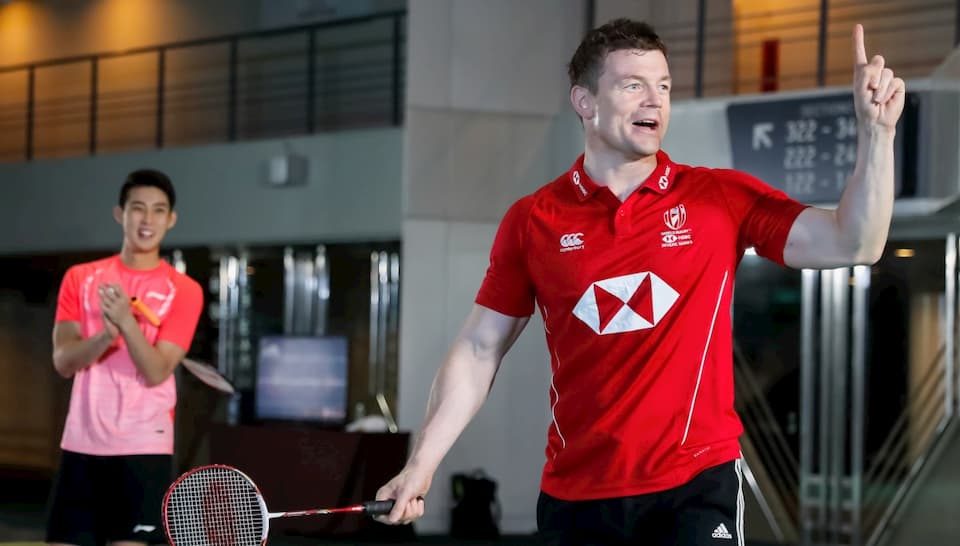 RugbyAsia247 had the pleasure to sit down with Irish legendary rugby player  Brian O'Driscoll over the course of the recent HSBC Singapore Rugby Sevens. Brian's rugby record speaks for itself, having captained Ireland from 2003 until 2012, and the British and Irish Lions for their 2005 tour of New Zealand.  His 141 international caps and 46 tries also speak volumes of his longevity and skill set.
For the past few years, Brian O'Driscoll has been involved in TV punditry but also as an HSBC ambassador for the Rugby Sevens World Series. We spoke with him to ask about the recent HK and Singapore 2019 events, Ireland's progress in 7s as well as global rugby moving forward through development.
Brian O'Driscoll as a HSBC ambassador
Hi Brian. Thanks for taking the time to speak to us here in Singapore, and you obviously were in Hong Kong last week in your role as an HSBC Ambassador. So what has your experience of the two tournaments been like?
It's my 5th time in Hong Kong, I think, but my first time in Singapore. I have been on the HSBC Sevens circuit for five years now and it's funny, I have seen the growth and I have seen the two different sides between Singapore and Hong Kong. But every location offers something new and something different. They don't try and be something else, they each try and be their own version which is brilliant.
That's why you can get excited if you go to Vancouver in Winter or Sydney in the Summer and it's a brilliant vibe wherever you go. The tournaments are also so well spaced out you know, it's not overkill as well from a players perspective, as it takes a real toll on their bodies. On day 2 of the 2nd consecutive weekend, their bodies are feeling it, and you can see the players walking around and hobbling.
Yeah, you can often see on the second day the legs aren't quite there and the teams look tired.
The juice, it just gone. It just shows how physical and difficult the sevens game is and how competitiveness has gone through the roof. What I love about it is, the fact that 10-12-15 teams could win an event.
Kenya won here in Singapore and Canada won here and France was in the finals the last couple of events in 2019 and the US is smashing it up this year. It's brilliant that we are not having the same winners time and time again.
The unpredictability is good. Even yesterday Scotland taking out Fiji in the group games was great.
And Spain beating New Zealand in Vancouver. I am just shocked that didn't get more publicity. It was a huge huge result. Even if it's only 14 minutes, that speaks volumes about what is capable when a "minnow" takes on bigger teams.
So that brings me to the next question. Ireland qualified for the first time last week for the main Sevens Series in Hong Kong. Why has it taken a while for 7s to catch on in Ireland? They seem to be latecomers to the game.
Ireland had a sevens team when I was growing up and we had one when I turned professional. But in about 2001 they decided to cancel it and we had a 13-14 year sabbatical and they decided to start it back up. I think it was about four years ago that they restarted the program, and to be fair to them, they have made great inroads.
To form a team that was finding its way and finding players available to them, and now qualifying for the Sevens Series for next year… It's a great result and based on a lot of hard work from the players.
And I'm sure World Rugby is happy that the Irish are back on the Sevens circuit as we love to support our own, wherever in the world. We come out from every crevice and part of the world to come to support the Irish team, so to have them back on the circuit will bring a big rush of fans for sure.
And what about the possibility of Ireland hosting a leg of the Sevens. They have just announced the Series legs for the next few years but you would think Ireland would want to look at that at some stage?
First of all, its brilliant that HSBC has signed on for a few more years. They have grown with the game and had the foresight to see the growth, and with 7s being an Olympic sport as well, and seeing the US and China taking attention, and Germany and Russia etc.
So from an Irish perspective, it might be a push to expect trophy lifts in year one, but last year in London as an invitational side they got 3rd, and beat the host nation in the 3rd/4th playoff. So they are very capable of beating certain teams in one-off games. Can they string together 5 or 6 games? I don't know. But I think they can get to an occasional quarter final or semifinal.
As you say, it's incredibly competitive with the promotion and relegation system and that is in the back of everyone's minds
I think survival is important, that's what you have to do. It's a bit like Premiership football, your first and foremost thought is to survive. And that's not thinking negatively, its just a different standard and trying to cope with that and trying to improve yourselves and stay with the pack.
World Rugby Nations League
So let's discuss something else. World Rugby and this new proposed format of XVs rugby Nations League. Talks of promotion and relegation have been ongoing for a few years with the Six Nations and changes in the Southern hemisphere too. What are your views on the best way forward as rugby seems to be at a bit of a crossroads at the moment?
You know, I understand it from both sides. And I do understand it from a player welfare standpoint which has been a real initial stumbling block from the players prerogative.
And just before I get on to it from World Rugby's perspective, the need to encourage Tier 2 nations to get more game time and against Tier 1 nations, that's the only way we are growing to grow the game.
World Rugby, I guess they are trying to de-risk the Rugby World Cup and I think 90% income over a four year period comes from the Rugby World Cup which would otherwise be catastrophic. So they are trying to have this Rugby Nations League with two out of every three years being slightly different with the RWC and the Lions years. But then there are also sponsors. If you have a World League over the course of the other years in the cycle that makes sense for them.
I'd like to think idealistically it means there is more money and funding to support developing rugby nations, as that's where there needs to be more growth.
We want it to be like the Sevens is, with having new winners and new opportunities for teams to come in and be successful. The reality is we have had 8 World Cups and four winners, so there is a good chance a new winner could win this year but there is also a good chance New Zealand or England could win again.
We want to be able to give more teams and opportunities to grow and for us to get into new territories, that when they see the game of rugby and see there is something in it, they can expand it and bring the joy for example that I have had in my life through rugby.
Rugby development in Asia
World Rugby and Asia Rugby have a responsibility to grow the game in Asia at events like this. However there has been criticism that not enough local players or local people are involved, and that it is expat-heavy. I don't know if you have a view on that but what do you think can be done to grow the game and get into new territories?
I think you have to remember this is only the 4th year of the HSBC Singapore Sevens, so like all things, for example, Hong Kong has been going for 30+ years and the Six Nations over a 100 years, so these things do take time.
The only way to get locals involved is through word of mouth and getting friends to come along and watch rugby,  encouraging them to go out and watch and not just sit in hospitality and to be able to watch the games live. We are not trying to sell 7s vs XVS, as both can live in tandem with each other but for the newcomer, to watch 7s, with 3-4 basic rules they can get the just of it, whereas XVs is a bit more complicated.
Sevens is exciting, its end to end, it's fast and frenetic, it's dynamic. It's everything people the world over enjoy watching. And then its party and its dress-up and it's family. There are not many sports that manage to achieve that.
Last question: grassroots rugby. Did grassroots rugby have much of an impact on you and your career when you were starting? As this is the basis of getting players into the sport.
Yes it did and I think that's what I do with coming here and getting involved with training sessions, like this morning which I'm probably still sweating from (not that a shower or no-shower makes
a difference). But yeah I was training with Singaporean children two nights ago in the stadium, so we are going to invest and look at sustainability in the sport and give these kids a passion, like what I have enjoyed.
That's why so much time and effort goes into the HSBC Ambassadors, the kids get to train with George Gregan and Waisale Serevi and myself, players that maybe some of these kids have seen growing up, or some of their parents have. We try to give a little bit of knowledge and give them something to go away with and talk to their friends about and it helps spread the game we love.
The next leg of the HSBC World Sevens Series for the men takes place in London from the 25-26th May 2019. You can read our review of Day 1 and Day 2 of the HSBC Singapore Rugby Sevens 2019.
All photos credits to HSBC Singapore Rugby Sevens.
---
Trending Now