ChildFund Rugby 2023 Updates
Posted On February 20, 2023
---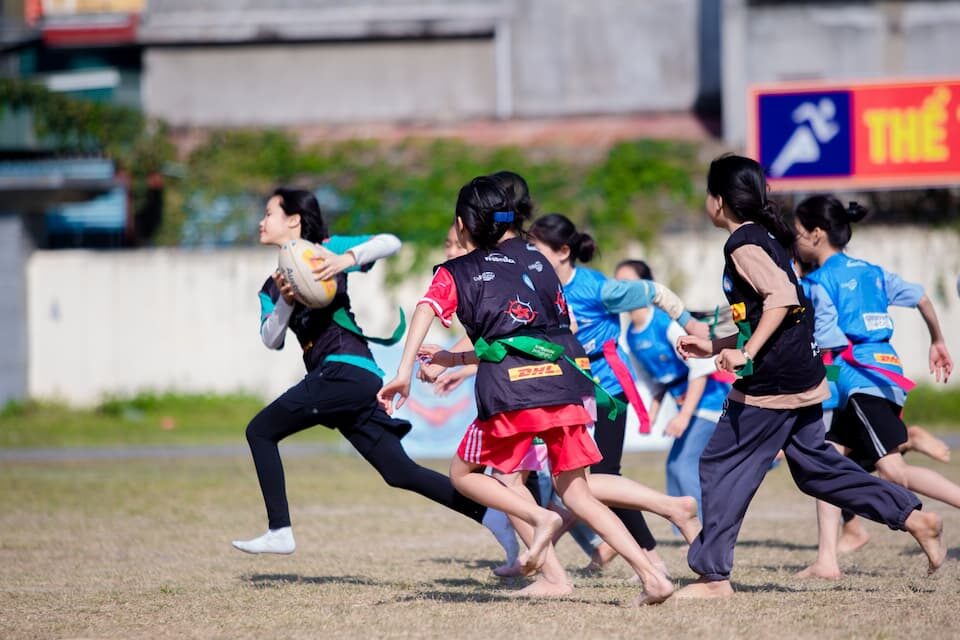 Following the successful partnerships with both the RWC Sevens 2022 and the Women's RWC 2021 (held in 2022) in New Zealand, ChildFund Rugby has released the latest details and provided updates on their partners in the Asia-Pacific.
Feature Photo Credit: Kim Boi Rugby Association/ChildFund Rugby
ChildFund Rugby – Asian Partner Updates
Vietnam – ChildFund Rugby 2023
CF has been operating for several years now in Vietnam, where still no rugby union or federation exists and they have achieved remarkable results and progress. (We often wonder if having no Union has made it easier and provided fewer obstacles!)
Together with the Kim Boi Rugby Association and Tan Lac Rugby Association, a successful Pass It Back season of Understanding Gender was completed at the end of December 2022.
The organisation claim thousands of players participated in end-of-season competitions and as many as five teams of mothers and grandmothers also joined competitions, in tag rugby.
Both associations are preparing for the Coach Training in February 2023, to get new candidates up to speed on rugby and life skills.
Lao Rugby Federation (LRF) & ChildFund Rugby
The LRF and ChildFund started the rugby and life skills programs many years ago now and they continue to develop players and coaches through the Pass It Back rugby and life skills curriculum.
More than 100 teams completed the Understanding Gender learning season during the second half of 2022.
LRF and key leadership received the inaugural ChildFund Rugby Partnership Award in November 2022 in New Zealand.
Lao Rugby Federation also hosted the first rugby sevens exhibition match in the Lao National Games.
Cambodia Federation of Rugby (CFR) & ChildFund Rugby 2023
The CFR claims to have introduced two new clubs, the Lotus Women Rugby Club and the Battambang Rugby Club,  at the end of 2022 – both run  by "young female leaders with a mission to grow and make rugby inclusive for all."
ChildFund claims they have been involved in "club development workshops, organised one domestic competition in their respective areas, and participated in their first international tournament, the Vientiane 10s, in Laos."
(Editors Note – Being based in the region, Cambodia Rugby and its rugby development has been a rollercoaster. Local social rugby clubs, NGO's, schools, the CFR and ChildFund all have activities but little cohesion.
The CFR voted in a new Board in late 2022 but mostly it's the same personnel who have been in charge for years. The Federation did announce a new CFR President, Madam Sum Sokha (a military two-star general and two-time shooting event SEA Games medalist, as well as being a Vice-President of the Cambodia Tennis Federation).
Philippines Rugby Football Union (PRFU) & CF
ChildFund Rugby confirmed it was involved with the PPRFU Club Champions project, which includes the Albay Bulkans Rugby Football Club, Negros Island Rugby Club, and Manila Nomads, to deliver the CF Reconnect rugby and life skills curriculum to young people.
The Club Champions:
Support the growth and development of their youth rugby community.
Assist club capabilities around finance, fundraising, inclusion and safeguarding.
Showing the important leadership role young people can play in building community clubs.
ChildFund Rugby is also involved with rugby and other sports in the Pacific, and Africa offering programs such as Grassroots to Global Series and Grassroots to Global Connect.
In January 2022, USA Rugby announced it had partnered with ChildFund Rugby to bring the Grassroots to Global Series to the United States – the country will host the RWC 2031 (Men) and RWC 2033 (Women).
RACE TO RWC 2023
Following the completion of the RWC 2019 and RWC 2021 "Race To RWC" cycle rides to raise awareness for ChidFund, Ron Rutland embarked for France and left NZ on 12 November 2022 to cycle 300 days and 22,000 km to deliver the whistle for Rugby World Cup 2023's opening match taking place in France on 8 September 2023.
Adam Nunn, who completed the Recent Race to RWC in NZ is expected to join for the final three months of the journey.
Ron will cycle across four continents and 25 countries!
And across 9 participating nations of RWC 2023: New Zealand, Chile, Argentina, Uruguay, Ireland, Scotland, Wales, England and France.
Rugby Tournaments 2023-2024
---
Trending Now