The Best Social 2023 Rugby Tournaments In Asia
Posted On January 2, 2023
---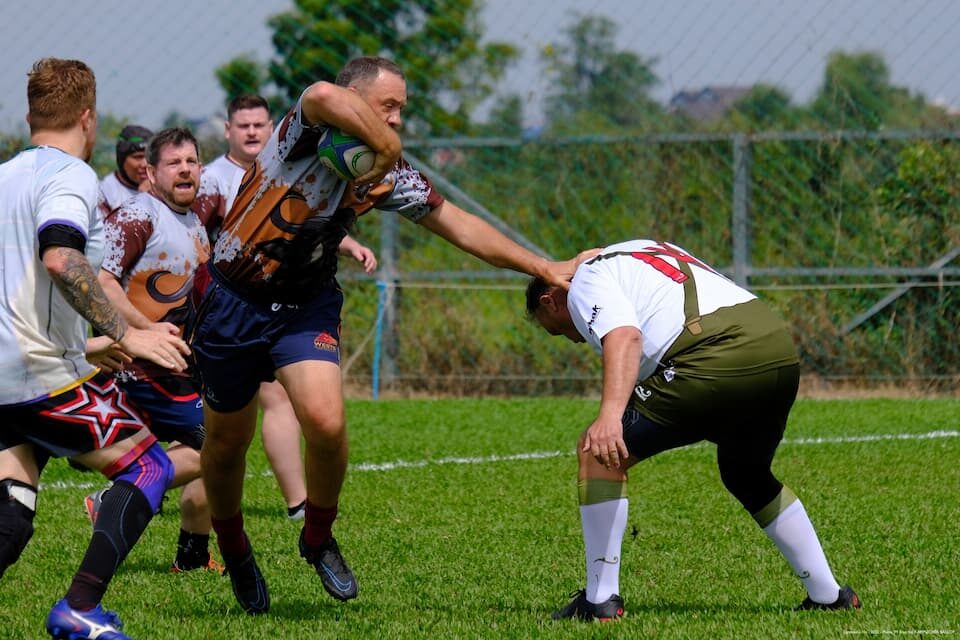 Social tens rugby is hugely popular across Asia and the number of tournaments seems to grow annually, while sevens is a natural pathway to national representation in Asia. Now with the post-pandemic era in full swing, we look at some of the best social 2023 rugby tournaments in Asia with the return of many club and fan favourite social Tens, Sevens and some XVs rugby events. 
Feature Photo Credit: Jean-Marie Brun @ Cambodia Tens
Bangkok International Rugby Tens 2023
The popular social tens rugby tournament is set to include a number of women's, men's, vets, and youth rugby as well as mixed touch rugby in 2023.
The tournament takes place from 24-26 Feb 2023 at the Patana School in Bangkok, with matches scheduled to take place on Saturday and Sunday only – this will be the first Bangkok 10s in a few years and tends to attract international, local and regional talent with some high calibre rugby on display come finals day.
Its also known to bring in some former internationals, pro and semi-pro players as well as a healthy (or unhealthy) mix of social players.
Date: 24-26 Feb 2023
Venue: Patana School in Bangkok, Thailand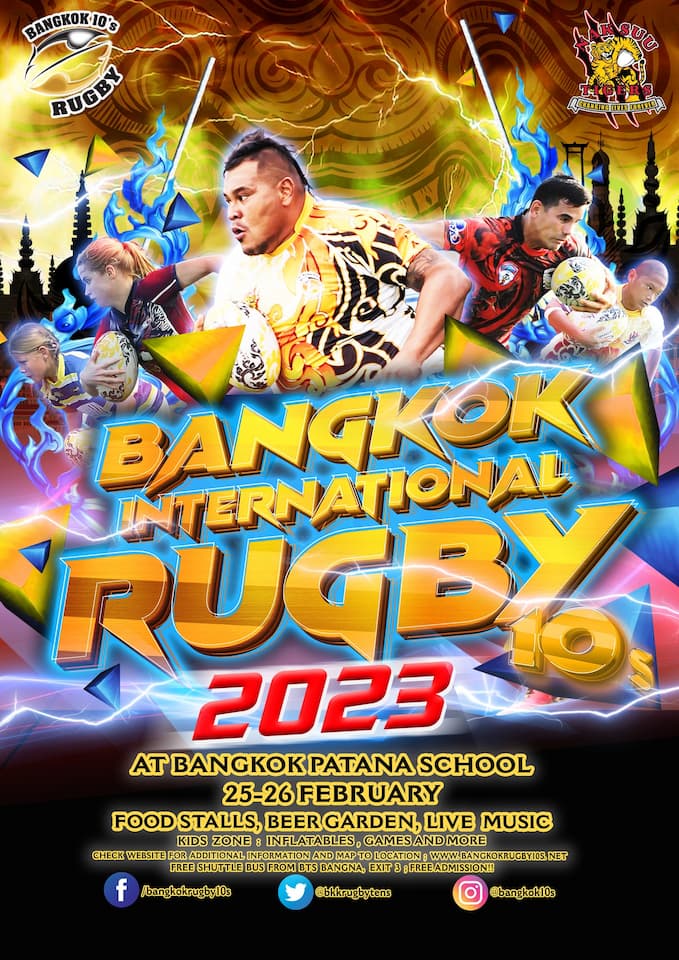 Borneo Sevens 2023
The 'greenest sevens in the world' will be played from March 17-19 2023 at the Eagles Rugby Club and is open to 12 women's and 12 men's teams. In the past (such as the 2019 edition which is the last time the tournament was held), the tournament has attracted high-calibre touring 7s teams and national 7s teams.
Date: 17-19 March 2023
Venue: Eagles Rugby Club,  Sandakan, Malaysia

Manila Tens 2023
The return of the popular social tens Manila tournament will also see the addition of touch rugby in 2023. Tournament registration indicates there will be Men's Cup Elite, Men's Open Social, Men's Vets  (Over 35) and Women's Open contact tens rugby.
This is the biggest tens tournament in the Philippines and in the past has included a long lunch preceding the tournament with well-known former players as guests in attendance.
Date: 25-26 March 2023
Venue: Alabang Country Club in Metro Manila, the Philippines
HKFC Tens 2023
The popular pre-HK sevens tournament returns for the first time in more than three years in 2023. The HKFC Tens has a new title sponsor and expanded format, and for the first time – a women's division!
The Tradition HKFC Tens 2023 already has confirmed some invitational sides including 2019 runners-up Samurai International, two-time finalists Tradition YCAC, Hong Kong Football Club, HK Scottish Exiles, Overseas Old Boys, and Shanghai Delta Blues.
The tournament also has a new partnership with global charity group Laureus and all funds from ticket sales will go to Laureus Sport for Good programme.
The quality of rugby is top-notch and many many current and former international stars tend to play.
Date: March 29-30 2023
Venue: Hong Kong Football Club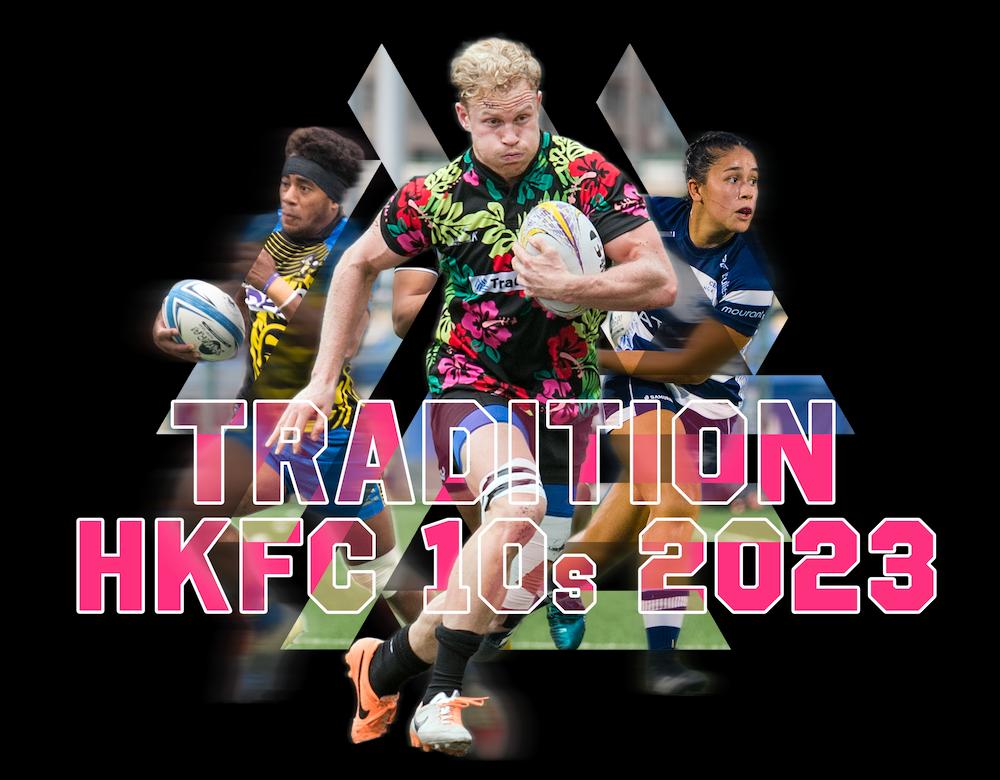 Phuket International Tens 2023
A regular attraction to regional and international sides, the Phuket 10s runs for three days, although the Friday only sees the Vets playing.
The organisers said in December 2022, that the 2023 Phuket International Rugby 10's Men's Open Tournament is almost full as is the Athena Siam Coffin Dodgers O35s (Vets) with the dates for 2023 already set.
Date: 9-11 June 2023
Venue: Phuket, Thailand
Other social tens tournaments around Asia in 2023
Details for 2023 TBC* – There are also many other club and youth tens tournaments that are held throughout the year, so it's best to keep tabs on our socials and the rugby clubs for more information.
There are numerous more tournaments in the Philippines, Hong Kong, Malaysia, and across China etc.
Some of the tens tournaments worth keeping tabs on include:
Pattaya Tens 2023* – The Chris Kays Memorial tournament is annually organised around April or May by the Pattaya Panthers Rugby Club. The 10s tournament features Women, Men, and Vets rugby.
Vientiane 10s & Hanoi Tens 2023* – Usually held in January each year but they hosted the tournaments late in 2022 with no international teams.
Fat Boy 10s 2023* – This tournament was held in the Philippines for many years but during the pandemic has been held in Hong Kong twice. The event raises funds for many development programs in the Philippines and around southeast Asia.
Kowloon Fest– It has been confirmed that the popular tens tournament will not take place before the Hong Kong Sevens in 2023 as it traditionally did so pre-pandemic. Usually, the one-day event sees dozens of teams compete as a warm-up for the crazy week in Hong Kong. The tournament hopes to be back in 2023. *UPDATED
Bangkok International Rugby Sevens 2023 – The tournament has not run for a few years due to COVID and was cancelled late in 2022 due to a clash with TRU fixtures. The tournament usually is held in November in Bangkok attracting local, regional, and international 7s teams.
Bali 10s 2023* – Another tens tournament that saw a return in 2022 following the pandemic, the event usually takes place in October and included women, men, and vets 10s rugby.
Cambodia Tens 2023* – The annual tournament is usually held at the last weekend of October each year with men and vets and sometimes women 10s or touch.
Chiang Mai Tens 2023* – The new tournament was held in November 2022 with women's, men's and vets tens contact rugby.
Youth Rugby Tournaments 2023
There are also several youth-based rugby tournaments which include:
If there are more local, regional or international tens rugby tournaments being hosted across Asia or featuring national Asian teams, please do get in touch!
2023 Rugby Tournament News
---
Trending Now