Dinesvaran 'Duke' Krishnan – Tracing The Career of Malaysia's Most Succesful Rugby Player
Posted On September 20, 2023
---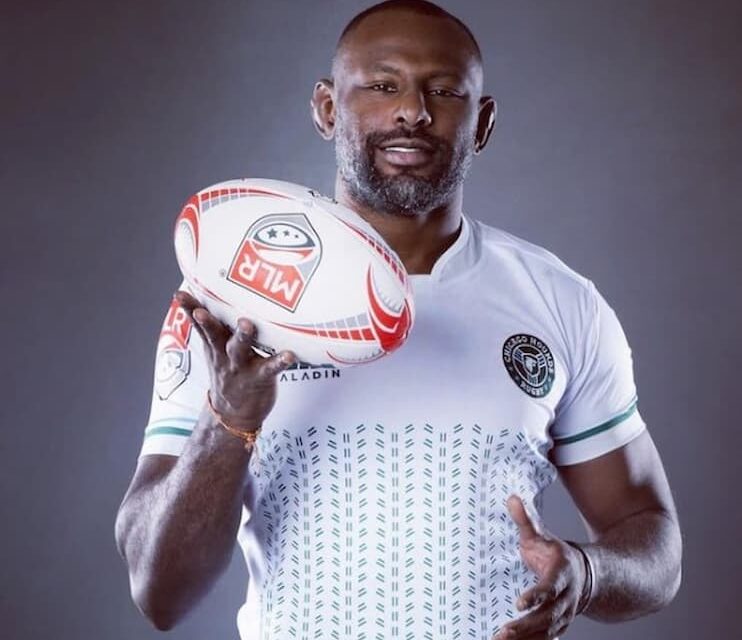 Just before departing to the Rugby World Cup 2023 in France, we finally managed to speak with Malaysian rugby icon Dinesvaran Krishnan, affectionately known as "Duke". The rugby player is one of the very few Asian players outside of Japan to have played in the Japanese top flight of rugby, but also the first Malaysian to have played in the MLR – North America's professional league – with the Chicago Hounds. In addition to having a long pro rugby career, Duke represented his country in 7s and fifteens rugby and is about to embark on a new exciting chapter of his career.
Feature Photo Credit: MLR Chicago Hounds
Speaking from his home in Kuala Lumpur, after rushing home from the physio to speak with Rugby Asia 247, Duke's wide grin and disarming manner got us quickly talking of rugby war wounds and the toll the game takes on all bodies.
"I've been having physio since I got back to Malaysia from the MLR (Major League Rugby) – one of the reasons it was tough is the artificial fields used at some grounds. I play in the second row. So I jump all the time at the lineout and every time when you land there is the impact, even if they say it is soft, but underneath it can be like concrete, so that impacts the joints." 
We got easily distracted swapping injury stories but that is the price rugby players knowingly take on, but also piqued our interest in how this gentle giant from Penang got into the sport in the first place, and how he managed to carve out a long professional career which very few players outside the top few unions in the region manage to achieve.
From Rugby Roots To Pro Rugby Contracts – 'Duke' Dinesvaran Krishnan
"I got to know rugby after I moved from secondary school to high school. I've always been in love with sports, I ran 100-meter sprints, played soccer, and even played hockey before rugby.
Actually, the Samoa Sevens national team were on a tour to Malaysia and they came to Penang to do some rugby coaching clinics. They did their version of what we know commonly as the haka and they inspired me, even though I didn't have any idea about rugby, I knew those guys all played rugby so that's where I first got to know rugby when I was 13 years old.
I kind of played a few tournaments but when I changed to a new school, they didn't have rugby, so I stopped playing. After I finished high school I had to work and my education was not really that good so I was trying to live and support my family and living paycheck to paycheck to make ends meet.
I bumped into one of my old teammates and he was like, "Bro you are huge and can you still run?" He hadn't seen me for a while and when I was 18 years old I was bigger and fatter," Duke said laughing.
"He asked if I wanted to play, which I did but working and providing for my family was important. His father was a man with a little bit of power in Malaysia, so they got me a job and I said I would play and I told my family 'I'm gonna go and play rugby, and do this job in Penang and work there for three months.'
"It was funny," Duke added. "Everybody in Malaysia thought I was an important player from Fiji because back then they used to bring a lot of Fijian players over and they thought I was one too but I didn't know anything, I was just chasing the ball, and trying my best but one of the coaches saw me playing and thought I had some talent."
Duke was asked to move again but this time to Kuala Lumpur and try out for the Malaysian U20 national team and they helped him relearn the basics and understand the game better.
Duke made the squad and went on tour to Brunei but another iconic Malaysian club called COBRA Rugby Club (Combined Old Boys Rugby Association) approached him to play with them, and they already had several Fijian players, and good local talent, and wanted to help him improve his game.
Malaysia National Team Call-Ups
When Duke first got called up to the national team training he said of the experience; "Man, I don't know, I thought what am I doing here. I could run, I could run fast but even my passing and handling were really bad – but I was 19 years old and only had been playing for a few months."
Duke said support was a key feature throughout his career. "At Cobra the Fijian brothers actually helped me a lot to grow – they said with my physique and my face, I looked Fijian, and they said I could play like a Fijian, all I needed was to work hard and believe in myself. So I followed them, if they went to the gym, I went with them, if they ate something, I started to go and eat with them. So I just try to become like them."
But other local players were also proving to be inspirational and the winning culture at the club, "Some local players motivated me when I saw how the clubs and how the people around them treated them when they did something for the club, so I wanted to play – I want to be like one of those guys."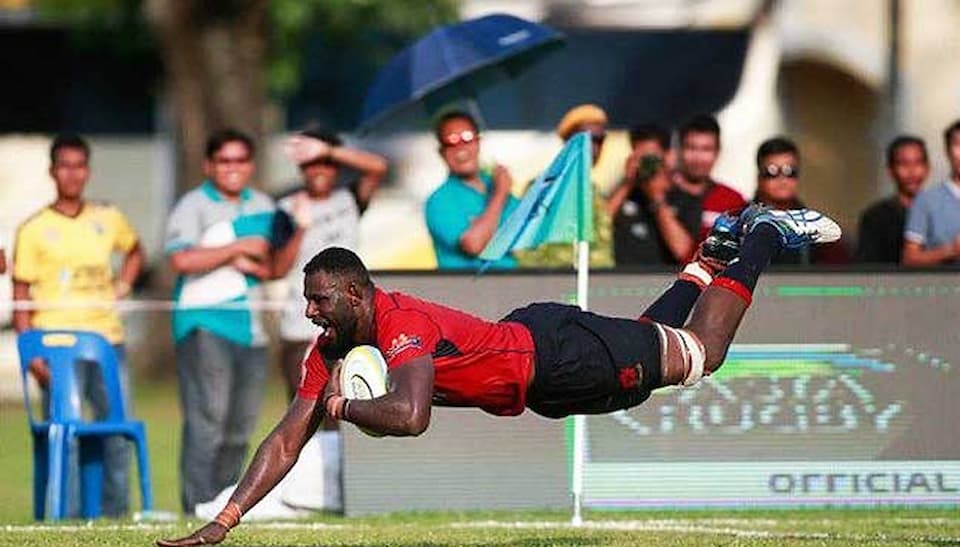 Duke had to learn quickly as he was playing XVs, Sevens and Tens rugby – some people might not know this but Cobra Rugby Club is the birthplace of tens rugby.
"I'm blessed with my spirit and my height. So I get to play second row in 15s rugby and when it comes to sevens I play outside on the wing. It was really helpful for me to be able to play any position as I needed to adapt to the game really quickly."
Ultimately, Duke played for COBRA for seven years, and he has also played in the Malaysia National Sevens team in tournaments in places such as Shanghai in China and in Thailand, as well as representing his country at the Commonwealth Games in Delhi, India.
Duke played for the national XV team and was a part of the squad which earned Malaysia's promotion to the top tier of the Asia Rugby Championship in 2017.
Duke Playing in Japan's Top Flight Of Rugby
Duke was the second player from Malaysia to sign a pro contract in Japan, with Mark Lee preceding him and actually helping him get a foot in the door in Japan. 
"Going to Japan from Malaysia was like a do-or-die scenario for me because players in Malaysia are always in a comfort zone. I had played for COBRA for seven years and it got to a point where I was not improving anymore. We were winning all the tournaments in Malaysia and I was in my mid-twenties with no stable job – but playing rugby had become my passion."
He said of the signing the contract, "Mark Lee introduced me to his agent and he gave my footage to a few clubs and Yamaha Jubilo (now called Shizuoka Blue Revs) asked to go for a trial. They could see, and I knew after going, that I was not fit enough to play straight away in the Top League but they saw I was putting in the effort.
After I signed, in my first year I couldn't even play 10 minutes of a match in Japan, the rugby in Japan is really quick so I needed to adapt to that speed of rugby which took me the whole season. I just tried to keep pushing myself – getting up at 5:30 in the morning in the gym and finishing up at 9 pm."
South African Venture – Blue Bulls Rugby
For the off-season, Yamaha told Duke he could go back home but there was no guarantee they would sign him for another year. They also gave him a chance to go overseas and keep training and playing. "So I had two options, go to New Zealand or South Africa, but I decided to go to South Africa to play for the Blue Bulls in 2014."
The Blue Bulls had won the Super Rugby Championship in 2007, 2009 and 2010, and when Duke joined, legendary Springbok Victor Matfield had just come back from retirement.
"That was a dream, with dream players. When I was there, Victor Matfield made the choice to come back and I was thinking, man I made the right choice. I actually sat down with him and the other boys at meal times, and Matfield taught me so much about lineout calls. The coaches were great too and believed in my ability and told me to focus on improving what I was good at and not just focus on my problem areas. It really changed my mindset and how I trained.
Dinesvaran Krishnan – Japan Top League Career 
Duke went back to Japan for the preseason, started the two games and in the end, stayed with them for six years. 
On his experiences and memories of Japan, he said, "The people I met during my time in Japan – I'm still looking up to them."
Duke added, "The bonds that we formed in Yamaha Jubilo during my time were like a family, we always looked after each other. You know, you can have 15 best players in the world but if they don't bond well you can win the game."
In 2016, Duke scored a career-high five tries while starting all 15 matches he appeared in.

He played 67 matches with the Júbilo team until he switched to the Hino Red Dolphins in 2019. 

He helped Jubilo to second position in the 2016-2017 season.

Duke joined the Red Dolphins and

played 12 more Top League matches during disrupted pandemic seasons.
Duke Playing In The USA MLR – Chicago Hounds
With the global pandemic disrupting the rugby leagues globally, Duke was offered an opportunity to join the newest MLR team in Chicago for the 2023 season.
"It was like a whole different and new world for me in the USA. And I will say, if you're going to the USA, it will toughen you up. Compared to Japan, we each had to be in survival mode but luckily I had a few brothers who were close to me there and they helped out, otherwise, it would have been even harder as I was completely lost at first."
On the level of rugby, Duke said it was of good quality but very different approaches and systems to what he had experienced in Japan. "They are really good athletes and there is a really good energy for rugby but there's a lot of space to grow. The energy and the support is the one thing that I really was inspired by and the fans just love sports."
He said of his one season, "I had a really good time and I wished I had more time in America, but unfortunately, I just signed for one year with the Chicago Hounds."
Duke also had other plans already on the go and a vision for returning to Malaysia.
Duke Krishnan – On Giving Back To The Game Of Rugby  
One of the reasons Duke wanted to be back in Malaysia was to give back to the game in his home country. Just before he signed with the MLR, he had started a project on which he is now concentrating.
"Over the past years, and with Chicago, not only did I play rugby, I learned how to manage a new team, I've learned what is needed and what we shouldn't do for a new team. With the players – how to make them want to play more for a team. I learned more about the types of problems that I will face if I just started a new team in a new city."
On his current plans, he says, "I think it's my time to go to these young kids and teach them why we like this sport. I started this project in 2022 and put it all on hold because I went to the USA so now that I'm back I'm focusing on my company called Performance Empire. I want to talk to the Malaysian Rugby Union and help with Get Into Rugby and other programs to grow the game. With the Chicago Hounds, I was introduced to and got involved with ChildFund Rugby too."
"I personally believe rugby is very effective. I want to give kids the chance to experience it and run around, playing rugby. If you think you're good enough to play, but play it if you think the sport is fun."
For me, rugby was a way out of my financial struggles – where was my life going? I was just going to end up working in a carwash or as a bouncer in a club. I'm still alive because of this game. I will say rugby saved my life from going down the wrong path so I don't want to be selfish and maybe I can open that door for another person who might be struggling and looking for the pathway out. 
Duke is positive about the growth opportunities for the game and players in the region, but education is important to help them. "Even for players already in the game in Asia, there are a lot of weekend warriors, they just come down and play and then go back to work. So if I can structure something more professional, bring them from an amateur to a semi-pro level and help them with player welfare, how you need to take care of yourself. So my plan is to grow this grassroots sport but also teach them on how to be more professional in taking care of your body."
On retirement, Duke said "I don't know if I will ever retire fully, even if I mean I stop playing rugby I will want to go down to the field coaching the kids. My dream is to give back to the community. When I first started to play rugby in Malaysia, so many people had no idea about the sport and that still is the case today."
Asian Rugby News
---
Trending Now