Hangzhou Asian Games Rugby Sevens Teams And Pools
Posted On September 22, 2023
---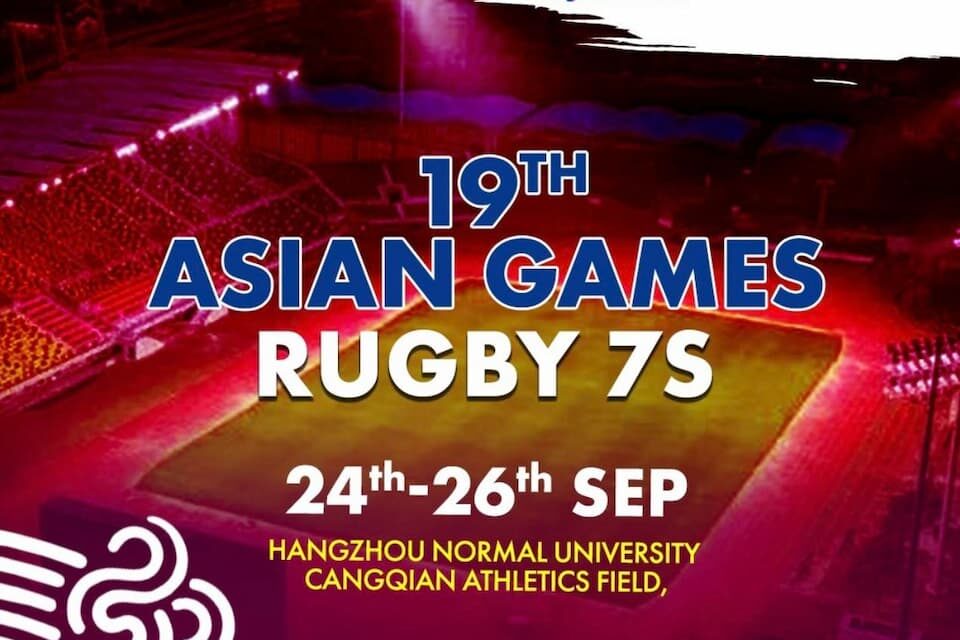 The delayed Hangzhou Asian Games 2022 will go ahead in 2023 and Asia Rugby confirmed the rugby sevens teams and pools via a live draw with unions confirming their squads.
Updated 22nd September 2023 – Team announcements 
The Rugby 7s at the Asian Games are played from 24-26 September 2023 and the 19th Asian Games will take place in Hangzhou, the capital of Zhejiang province, which is located 175 kilometres southwest of Shanghai.
In total, 12 men's teams and 7 women's sevens rugby teams are set to compete with pools announced for each. However, this might not be the final version as Sri Lanka Rugby is appealing their men's sevens side omission via the National Olympic Committee of Sri Lanka (NOCSL).
The Asia Rugby Sevens Series 2023 precedes the Asian Games with legs in South Korea and Thailand. Following the Asian Games, the 2024 Olympic Qualifiers will be hosted from November 18-19, 2023, at Mikuni World Stadium in Kitakyushu Fukuoka prefecture in Japan.
Sri Lanka Rugby Ommision – Asian Games Rugby 7s
Following the virtual draw, a full schedule of games was also released by the region's governing body, but since then, Sri Lanka has appealed the draw as their men's team was committed. This has been a long-standing stand-off between Sri Lanka Rugby and Asia Rugby, with World Rugby also having been pulled in to try and help resolve the matter.
Sri Lanka Rugby (SLR) is currently going through a suspension from the world governing body but it has been alluded to that they would compete under the National Olympic Committee (NOC) Flag following confirmation from World Rugby and the Sports Ministry.
It's baffling to understand why Asia Rugby went ahead with the draw without SLR if they had officially submitted their sevens team's application, or if indeed SLR has got this wrong.
Many local media reports from Sri Lanka have expressed surprise at the commission from the Asian Games as the team has been in camp and preparing. The Executive Director of SLR Hasan Singhawansa said that he is "surprised with this draw as they were given a confirmation of Sri Lanka's participation at this event by WR, IOC and the Sports Ministry last month."
Nepal is believed to have been the team that has taken the SLR Tuskers spot in the Men's pool. The Daily Mirror even suggested that Nepal was asked to withdraw at the last minute to make room for SLR but we can't verify this.
The NOCSL released an official statement suggesting they are "working on getting Sri Lanka Rugby sevens included at the Games."
Men's Pool Redrawn – September 2023
There was no statement from Asia Rugby on this matter at the time of the draw even though these dramas were being played out, and then literally while the opening ceremony of RWC 2023 was underway Asia Rugby released a statement and a redraw of the Men's Asian Games Sevens to include Sri Lanka as playing under the OCA banner.
"Numerous meetings and discussions were held between Asia Rugby, the Sri Lanka National Olympic Committee (NOC SL), and the Ministry of Sport and Youth Affairs in Sri Lanka to ensure that these athletes wouldn't miss out on an event that occurs only once every four years."
The Sri Lankan athletes will compete under the OCA flag.
The team will wear the OCA's colors, which are white, yellow, and orange.
The team will participate in the opening ceremony under the OCA banner and will not be part of any NOC contingent.
In the event that the OCA Rugby 7s team secures a medal, the OCA anthem will be played during the medal presentation.
Asian Games  Hangzhou Rugby Sevens Pools
* These pools changed on 8th September 2023 and have been updated.
Men's 7s Rugby –  Asian Games 2023
There are some tough pools with only the top two of each of the four pools proceeding to the quarterfinals.
Hong Kong China Rugby are the defending Asian Games and Asia Rugby Sevens Series champions were arguably the form men's 7s team in Asia at the time of the draw. They find themselves in Pool A with the Philippines (likely the other qualifier from this pool), as well as Malaysia which has a new coach at the helm.
The Philippine Volcanoes Men's National 7s Team have been preparing at the PRFU new state-of-the-art New Clark City facilities in an intensive training camp with Coach Darryl Suasua getting the team ready. Suasua said, "The team has been working hard, and we are determined to compete at the highest level, striving for excellence and aiming for a podium finish."
Pool B features South Korea as the likely pool winner but it's tough to know which of OCA or Chinese Taipei will join them. Its been reported that KRU is offering big cash incentives to the players if they bring back a medal from Hanhzhou with a Gold medal earning 70,000 euros, a Silver medal 35,000 euros, and a Bronze medal 21,000 euros per player!
Japan, newly relegated from the HSBC World Sevens Series but victor of the 1st leg of the ARSS 2023 in South Korea, should be pool C winners, but both Singapore and Thailand offer tough opposition. Japan has also been in Australia for a training camp to prepare for the Asian Games. The Thai men, funnily enough, have been in camp in Japan.
Pool D is arguably the pool of death, with China and UAE probably favourites to proceed but they beat each other in last season's Asia Rugby Sevens Series, while Afghanistan (still competing despite the odds) can not be written off, and newcomers Nepal likely in for a tough time in a competitive pool. The UAE team has been in a preparation camp in Hong Kong to prepare for the Games.
Pool A
Hong Kong China
Philippines
Malaysia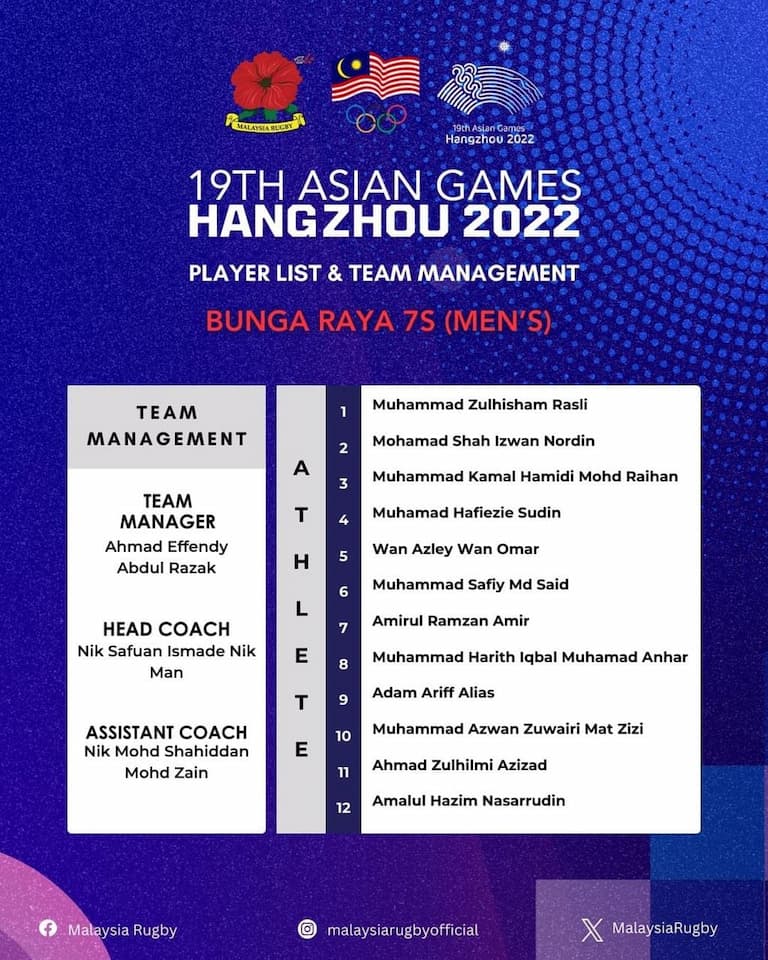 Philippines Men Squad: Tommy Kalaw Gilbert (cc), Kai Ledesma Stroem (cc), Donald Canon Coleman,  Joe Palabay Dawson, Luc Villalba, Smith, Jerome Padillo Rudder, Vincent Amar Young, Raphael Concepcion Barberis, Robert Luceno Fogerty, Nicholas Gaffud Robertson, Justin Villazor Coveney, Rafael Julian Phillips
Pool B
South Korea
OCA (Sri Lanka)
Chinese Taipei
Photo Credit: KRU
Photo Credit: KRU
Pool C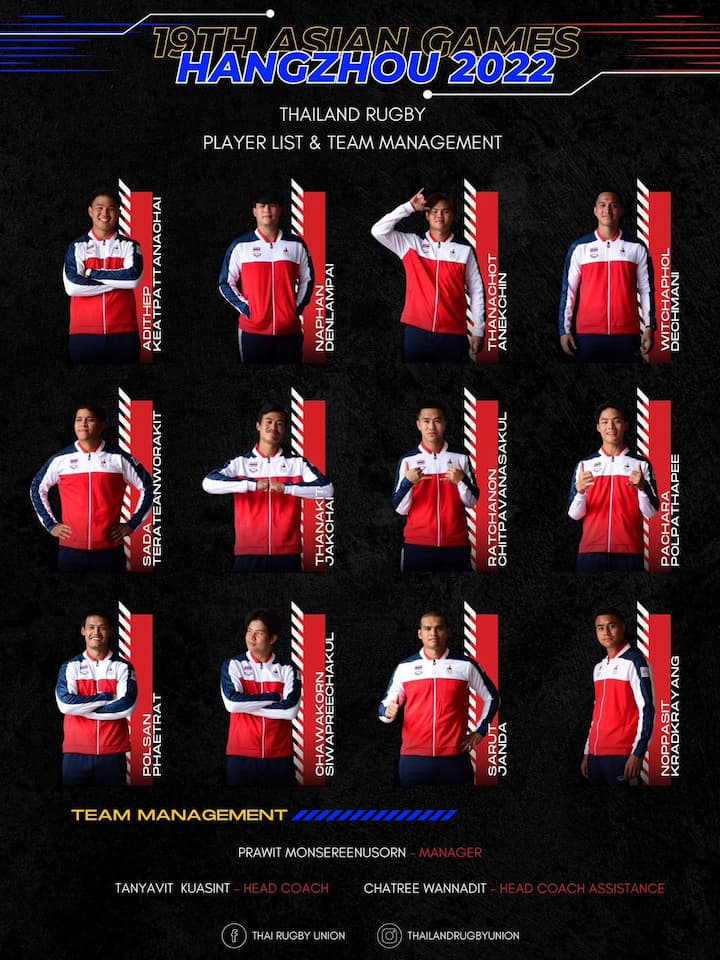 Pool D
UAE
China
Afghanistan
Nepal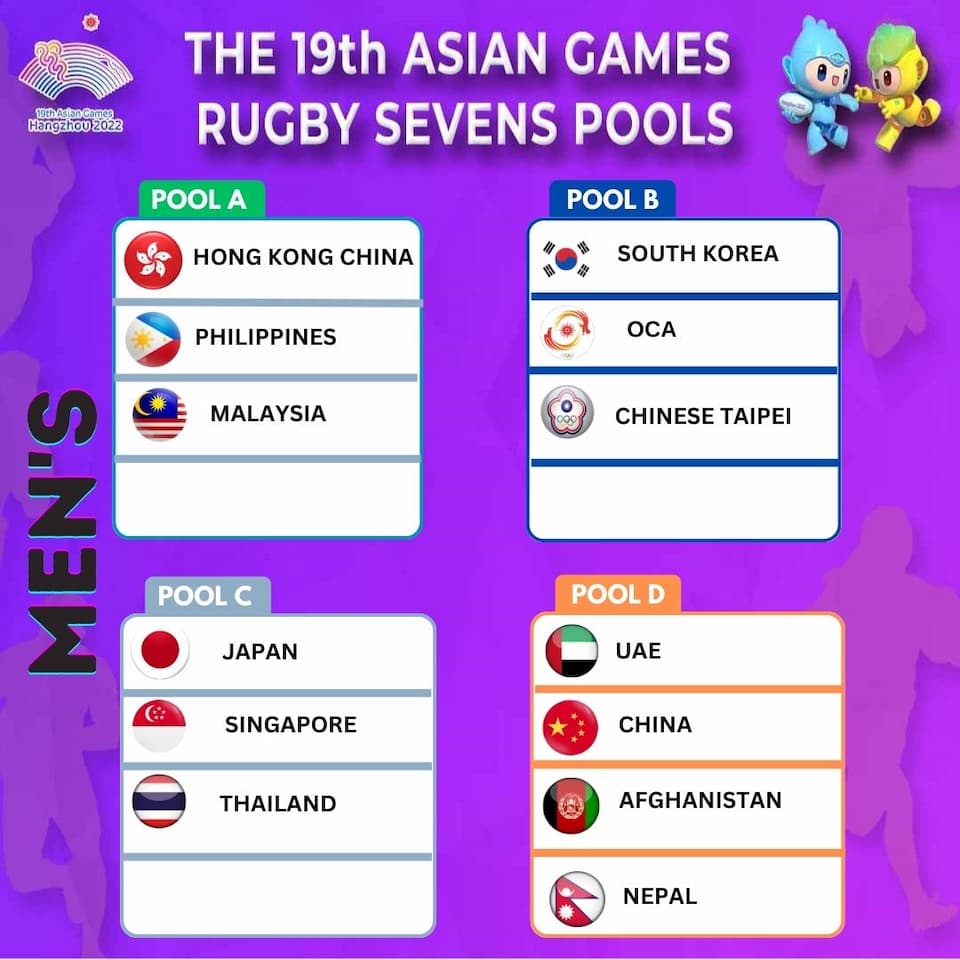 Women's 7s Rugby –  Asian Games 2023
Due to the lower number of teams, each match will be of even greater importance among the women, as the top side from each pool will play the final, the 2nd placed from each, for the bronze, and the 3rd from each pool for 5th.
Pool E is incredibly tough with Asia Rugby Sevens Series 2022 champions China (runners-up at the 2018 Asian Games) having to take on both Thailand who finished 3rd in the ARSS, and Kazakhstan who are regularly among the top Asian women's teams. Kazakhstan also beat Thailand to bronze at the 2018 Asian Games and both teams have new coaches to help them improve their game, while the Kazakh Nomads also had the assistance of two consultant coaches from England Rugby – Scott Beamard and Guy Lewis – to prepare. Every match in this pool is like a final, especially with one team less in the pool compared to Pool F.
Pool F features Japan (who retained their spot in the HSBC World Sevens Series) and are the women's Asian Games defending champions, as well as an HKCR team that is rebuilding and has a new coach in Andy Vilk. Both will be in contention for the top spot in the pool. India and Singapore can't be discounted but are a step behind the other women's teams in this pool – but with rugby sevens, nothing is guaranteed.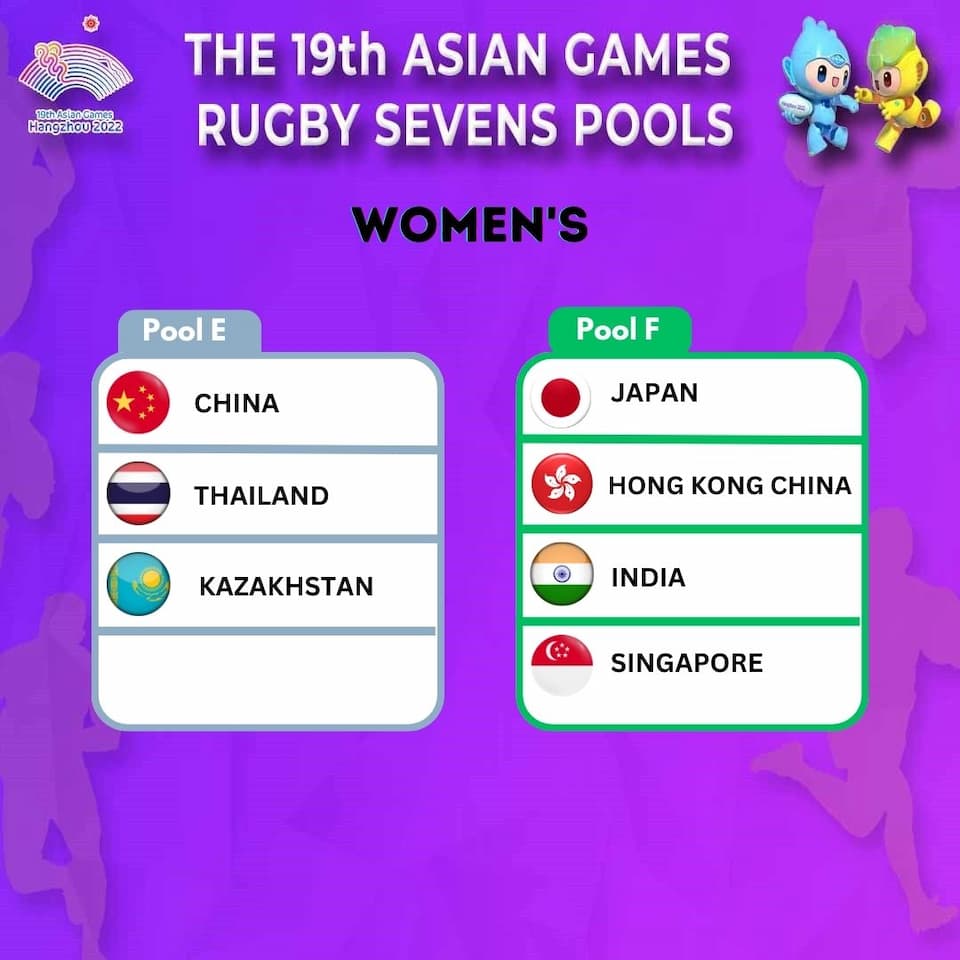 Pool E
China
Thailand
Kazakhstan
Pool F
Japan
Hong Kong China
India
Singapore
Match Officials – Hangzhou Asian Games Rugby Sevens
Asia Rugby confirmed the team of match officials that will run the Asia Games Rugby 7s in Hangzhou and who represent a number of federations from the region.
Referee/ Assistant Referee – Asia Games Rugby
There are 13 referees and ARs; 1 from China Rugby Football Association (CRFA), 2 from Hong Kong China Rugby (HKCR), 5 from Japan Rugby Football Union (JRFU), 1 from Malaysia Rugby Union (MR Union), 3 from Singapore Rugby Union (SRU), and 1 from UAE Rugby Federation (UAERF).
Qu Sheng Gang – CRFA
Craig Chan – HKCR
Morgan White – HKCR
Ano Kuwai (F)  – JRFU
Eri Kamimura (F) – JRFU
Ibuki Tetsuka – JRFU
Ryoji Hirose – JRFU
Hibiki Ikeda – JRFU
Jefri Mustafa – MRU
Leow Wei Liang – SRU
Christobelle Lim (F) – SRU
Just Wang – SRU
James Fairbourn – UAERF
TMO (Television Match Official)

Shane Barr – SRU
Matt Roden – HKRU (TMO)
PR/CMO (Performance Reviewer/Coach of Match Officials)

Taku Otsuki – JRFU
Greg Hinton – MRU
Referee Manager

George Danapal – Asia Rugby
Citing Commissioner

Chris Galea – SRU
Rizwan Malik – Pakistan Rugby Union
Judicial Officer

Ramesh Lachmanan – MRU
Hiroyuki Komyo – JRFU
Proposed Asian Games Sevens Rugby Match Schedule 2023
Updated 11 September 2023


Asian Rugby Sevens News
---
Trending Now