HSBC Singapore Rugby Sevens Ambassadors run rugby clinics
---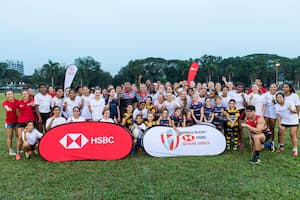 The HSBC Singapore Rugby Sevens Ambassadors have been keeping busy in the build-up to the HSBC Singapore Sevens this week by running a number of youth rugby clinics.
HSBC All girls rugby clinic: Ministry of Education (Evans) Stadium
More than 100 girls between 5-18 years old attended an all-girls rugby clinic lead by HSBC Singapore Rugby Sevens Ambassadors Huriana Manuel and Waisale Serevi.
The girls came from various rugby clubs, schools and academies in Singapore. The ambassadors coached a series of drills to sharpen the girls 7s rugby skills.
Manuel, the New Zealand Black Fern said "It's a fantastic idea, which HSBC along with Singapore Rugby have combined to bridge the gap between grassroots rugby and national rugby, it shows how much the women's game has grown and its really exciting to see in the Asian part of the world.
It's been an amazing journey and I look forward to seeing some of these girls in the Rugby World Series in a couple of years' time."
Tanglin Rugby Club clinic
HSBC Singapore Rugby Sevens Ambassadors Huriana Manuel, Waisale Serevi and DJ Forbes were at the Tanglin Rugby Club at Turf City on Thursday 11th April 2019. One hundred children (between the ages of 6 to 16) were treated to some world-class rugby mentoring as they built on their fundamental rugby skills.
DJ Forbes said of the clinic: "The kids really got stuck in, they're having heaps of fun. We're not trying to promote all the specific rugby stuff but this is more about some of the values, some of the things you can learn from rugby."
SCC Clinic
In the afternoon the ambassador headed to the SCC Dempsey Field. This time organisers and coaches from SportCares joined the ambassadors to mentor 50 children. The session included a series of drills, coaching a skill set specific to the Sevens rugby. In addition, the coaches and ambassadors addressed the mental strength needed to be successful in this format of rugby
Rugby Sevens legend Waisale Serevi commented on the session by saying:
"They're full of energy and if this energy is channelled towards the sport, it could lead to developing useful skills.
I want to thank the organisers and sponsors for giving us the opportunity to work with SportCares, to help youth channel energy into something positive and express themselves through the sport."
All Photo credits: HSBC Singapore Rugby Sevens
For a full guide on all rugby and social events read more in our Singapore Sevens Rugby guide.
---
- Advertisement -

Trending Now