HSBC World Rugby Sevens Series 2022 Seville Pools
Posted On January 26, 2022
---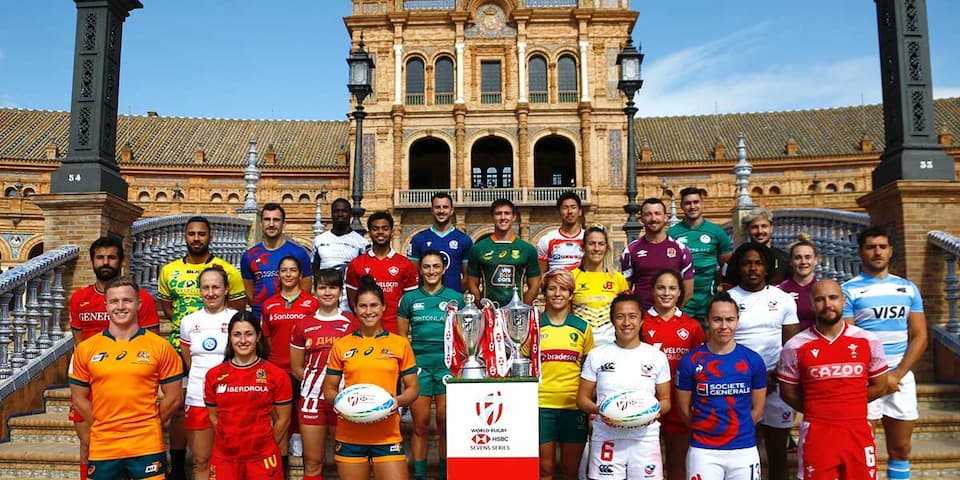 The next leg of the HSBC World Rugby Sevens Series takes place in Seville from Friday 28th until Sunday 30th January 2022.
Following the events in Malaga last weekend, in which the SA men continued their extended unbeaten run to claim gold, and the USA women won the women tournament, with favourites Australia losing out to Russia.
The Blitzboks have now won all three Series events this season, and five tournaments in a row. Their final win over Argentina was their third-best winning streak of all time – a 29th straight victory!
USA Women clinched gold by beating Russia (they only had nine players left by the final!) and they had beat Series leaders Australia in the semi-final, ending their 15-match winning streak.
HSBC World Sevens Series 2021-2022
The two Spanish events are part of a revamped HSBC World Sevens Series – but NZ, Samoa and Fiji were still unable to attend.
Jamaica Men also replace Samoa
Germany Men replaced NZ
Belgian women replace NZ
Portugal will replace Fiji in the women's event to complete a full 12 team line-up.
In total,12 women's teams will be competing, and 15 men's teams.
Japan Sevens Men have had a torrid few months. After failing to qualify for the RWC Sevens 2022 they have picked up just 11 HSBC World Rugby Sevens Series.  Japan's men lost all three of their pool fixtures in round three in Malaga but did end with wins over Kenya and against Jamaica
Simon Amor is the new technical director of Japan's sevens programme and World Rugby spoke with him recently about the challenges
HSBC World Rugby Sevens Series 2022 Seville Pools
Women's Sevens Pools
Pool A: USA, Canada, England, Portugal
Pool B: Russia, Ireland, Poland, Brazil.
Pool C: Australia, France, Spain, Belgium
The women's standings can be viewed here.
Men's Sevens Pools
The same 15 men's teams will take to the field in Seville as Fiji and Samoa are confirmed as unable to participate in Spain while Germany and Jamaica continue as invitational teams.
Pool A: South Africa, USA, Spain
Pool B: Argentina, Ireland, Germany, Jamaica
Pool C: England, France, Wales, Japan
Pool D: Australia, Canada, Scotland, Kenya
Where to watch the HSBC World Rugby Sevens?
Rugby sevens fans around the world can watch the action via live stream on World Rugby digital platforms including world.rugby, YouTube and Facebook in countries where there is no national broadcaster covering the event.
Rugby News in Asia
---
Trending Now