HSBC's World Of Opportunity Creating Rugby Opportunities For The Future
Posted On December 2, 2021
---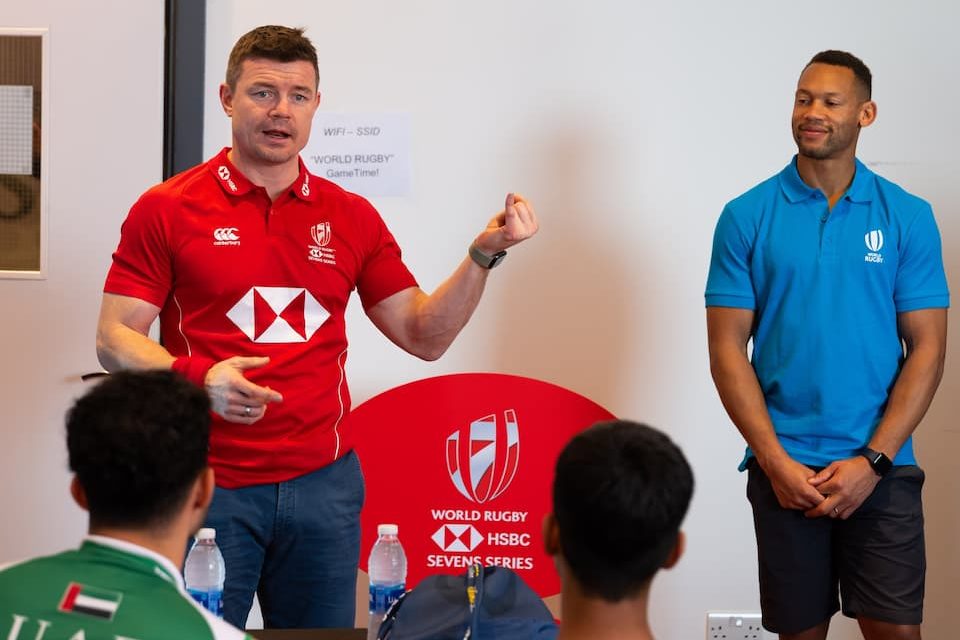 HSBC's World Of Opportunity saw Ireland and British Lions legend Brian O'Driscoll, and former England women's rugby star and RWC winner-turned-commentator Nolli Waterman, mentor a group of enthusiastic rugby youths at the Sevens Stadium for the Emirates Dubai Sevens 2021.
The HSBC initiative is aimed at helping "drive young people towards their career ambitions", said the organisers, and they hosted a unique coaching course for local teenagers eyeing a career in sport.
We sat down with Brian O'Driscoll to find out more about the HSBC-backed young person's work experience programme, and how the rugby star also dislikes boring questions and answers from the media and professional players in the game.
O'Driscoll's views of the HSBC World Of Opportunity sessions
The new programme provides group workshops spanning a variety of topics including journalism, coaching, event management, promotion and operations. The group at The Emirates stadium were a mix of Emirati and expat kids (England, Ireland, South Africa etc).
"They were very interactive and really came out of their shell, which was great – it's what you want," said O'Driscoll.
As ever when we have spoken to him, O'Driscoll puts you at ease and has an effortless charm discussing all things rugby and life. He will also tell you as a child he was shy, but the limelight found him when his rugby stardom rocketed after he was appointed as a young captain of the Irish national team.
"I spoke a little about myself (to the youths), and I don't recognise that kid who I was for the first 17-18-19 years of my life compared to the person I am now. Getting out of your comfort zone is important".
"The sessions were quite long but we held their attention for a long time. They are all rugby players but have different interests. I can say from a genuine personal perspective, I never thought of professional rugby as a pipedream – it kind of fell in front of me. But I knew I would be doing something in sport – that's what I wanted – I couldn't quite figure out what – but I knew it was in sport."
Asking the Tough Questions and future careers in sports
"Its important to let the next generation know there are multiple viable opportunities, even if they can't reach the ultimate competitive level. You can still be aspirational – but the reality is a very small percentage achieve that."
Special guest Dan Norton, together with Nolli Waterman and O'Driscoll, held theoretical player interview sessions with the youth group and they 'poked and prodded' Norton with follow up questions and interviewing skills. "Don't let them (players) off the hook. If they are going down the rabbit hole, then get after them," added BOD (as he's sometimes known.)
We joked about his advice which might have gotten the player himself in trouble during his playing years, but O'Driscoll concurred that players often enjoy the tougher questions from the press.
Norton told him at the sessions that 'you have to be mindful of the tricky questions" but he much preferred them and to be asked challenging questions even though it "has the potential to get you into trouble."
O'Driscoll added, "When you are doing so many vanilla interviews, the last thing you want to do is answer just the mundane questions, so if you get asked something you have to think about, or is of better quality, you enjoy it. It does sound bland at times and it's hard to get good quality soundbytes."
We discussed the variety of roles that younger generations have through sport, with an ever-increasing number of content producers and platforms, which even kids are remarkably good and savvy at. A former female Irish international player (now a lawyer) also spoke to the youth and the appreciation and enthusiasm of the younger generation of rugby fans.
"Finding a passion and finding a role in it, is key. In the world we live in now, you can create roles for yourself. If there is a genuine need for it, go and find something you love and make it your job", said O'Driscoll.
We asked about the legacy of this HSBC World Of Opportunity programme and whether it would be a one-off for the youths. "We want to have follow-ups – the last thing you want is to have a splatter gun effect of information and not know where it's going."
Anthony Scammell, who works on behalf of HSBC on the Partnership Marketing of the programme, added: "What's been great is working with the local organisers to tap into the local community and get kids from the local rugby teams. We also really want to do it at the other World Series legs, COVID permitting. We think it adds a real dynamic element to HSBC's activation at the tournaments."
Emirates Dubai Sevens
"This is a different one (7s event) because of the men, and women and golden oldies playing. That is the beauty and the differentiator and makes this a phenomenal event. From the first time I was here about seven years ago, it feels like it's grown every time. Even the increased excitement about being involved."
(Brian had an invite from a former teammate to have a run at this year's Sevens, but he said that fire no more burned inside of him and the threat of injury also was off-putting".)
What is HSBC's World Of Opportunity programme?
HSBC has been a partner of the HSBC World Rugby Sevens Series for over a decade and has played a "crucial role in the coming together of the men's and women's series to position rugby sevens as a leader in gender equality in sport."
Waterman said she hoped to instil self-belief in the Dubai teenagers with her own powerful story. She said: "When HSBC first asked me if they could share my story in a documentary, Finding Her Voice, I hoped that by sharing my personal journey in the world of sports media, more young people would gain the confidence to step outside of their own comfort zone and believe they can do whatever they want."
She added, "I have been given a number of incredible opportunities, but it is important that we continue to open up the pathways to jobs in the sports media, sports promotion and coaching to as wide a group as possible. That's the simple idea that sits at the heart of this pilot, which I hope to see grow in 2022 and beyond." 
The partnership means "the global rugby grassroots programme has opened up opportunities for tens of thousands of girls to pick up a rugby ball and play the game, often for the very first time."
Sven Gloor, Senior Manager, HSBC Global Brand Partnerships, said: "Opportunities should be available to everyone and the goal here is to give young people a taste of the different career opportunities available in the sport beyond the pitch. This is something that sits very much at the heart of our business. HSBC has always tried to use its global network, capabilities and perspective to create new opportunities for the communities it operates in.
There are workshops planned to be run at each stop on the HSBC World Rugby Sevens Series tour calendar confirmed Gloor, "If this pilot goes well, we'll be looking to do something similar at future Series legs".
(Let's hope Singapore and Hong Kong reap the benefits in 2022).
Editors Note – This is our first visit to the Emirates Dubai Sevens and we were incredibly impressed with the quality and number of teams, and the facilities. After a two year break from such events, we, like everyone, are so excited and relieved to finally be at a large scale fan-attended rugby event.
Even during our chat with Brian O'Driscoll, we naturally touched on the issues of travel and restrictions (Bryan Habana, like so many from southern African, was prevented from attending due to the latest COVID strain). 
We look forward to the next few days and seeing more known and unknown rugby legends on the field around Emirates Stadium.
Asian Rugby News
---
Trending Now