Nicholson Memorial Rugby 10s 2019
Posted On October 3, 2019
---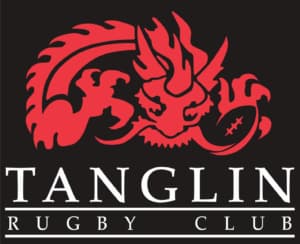 A Memorial Rugby 10s has been announced in Singapore to honour and celebrate the lives of 3 the members of the Nicholson family; Anita, Alex and Annabel,  who were tragically killed in the Shangri-La hotel bombing in Sri Lanka earlier this year.
Ben Nicholson, who was the only one of his family to survive the attack, will be at the Memorial Rugby Tens on the 5th November at the Singapore Cricket Club.
On a Tanglin Rugby Club FB post a statement said: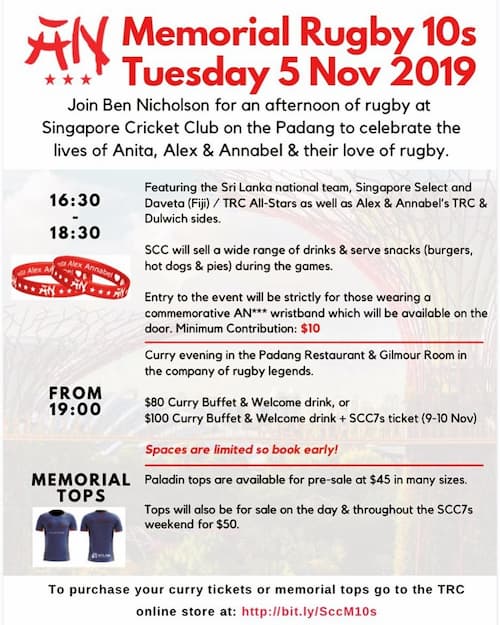 "I am really pleased to be able to now share full details in the attached flyer….
It will be an evening of two parts – the Memorial Rugby games will run from 4.30 pm to 6.30 pm and there is effectively unlimited space for this around the Padang ground at SCC. The more the merrier.
That will be followed by a curry buffet and auction in the SCC Padang Restaurant and Gilmour Room where space limits us to 350."
The organisers expect the event to be a sell-out.
Which rugby teams will be at the Memorial Tens?
Rugby teams include the Sri Lankan national team, a Singapore Select team, a Fiji Daveta/ Tanglin Rugby Club (TRC) All-Stars side as well Alex & Annabel's TRC, and Dulwich teams.
How will monies be raised?
The event costs as little as a (Singapore) $10 contribution which will allow you to attend with a commemorative wristband. In addition, food and drink will be on sale during the games and a curry buffet spread will be put on from 7 PM. Memorial tops will be available at the event, and during the SCC 7s 2019 which takes place from the 9-10 November 2019.
Atlas Foundation and Tanglin Rugby
Anita was "a hugely popular member of the Atlas Foundation family" and she set up and ran their first ever fundraising dinner in Singapore in October 2018.  In addition Ben told Atlas Foundation website that "in addition to Anita's role with Atlas, rugby has been a significant and important part of their family life, driven in particular by Alex and Annabel's love of the game."
Alex and Annabel playing rugby and touch for TRC (Tanglin Rugby Club) in Singapore.
The Easter Sri Lanka bombings killed 259 people and injured at least 500 on the 21st April 2019.
Venue: SCC, Padang, Singapore
Date: Tuesday 5th November 2019
The SCC 7s takes place the same time as the Cobra Tens and Bangkok 7s this year.
---
Trending Now