Pedal To Paris – Race To Rugby World Cup 2023
---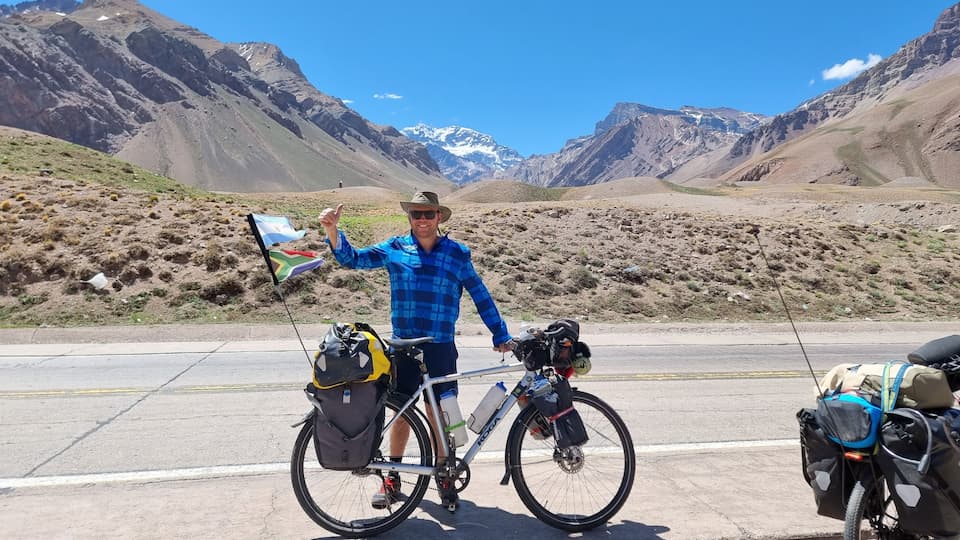 Race to Rugby World Cup 2023 is offering the chance to join for the final leg of the bicycle ride from Twickenham to Paris to deliver the whistle for the opening match of RWC 2023 while raising awareness and funds for ChildFund Rugby.
What is the Race to Rugby World Cup 2023?
Ron Rutland has previously completed two historical Race to Rugby World Cup adventures, both times benefitting ChildFund Rugby who were the official charity partner of RWC 2019 and RWC New Zealand 2021.
For RWC 2023 in France, Ron Rutland is cycling 300 days and 22,000km to deliver the whistle for Rugby World Cup 2023's opening match, which takes place in France on 8 September 2023 between the hosts and New Zealand.
Along his journey, he will be engaging with rugby communities while raising support for ChildFund Rugby.
In total, Ron will have travelled across four continents and 25 countries, including 9 participating nations of the RWC France 2023: New Zealand, Chile, Argentina, Uruguay, Ireland, Scotland, Wales, England and France.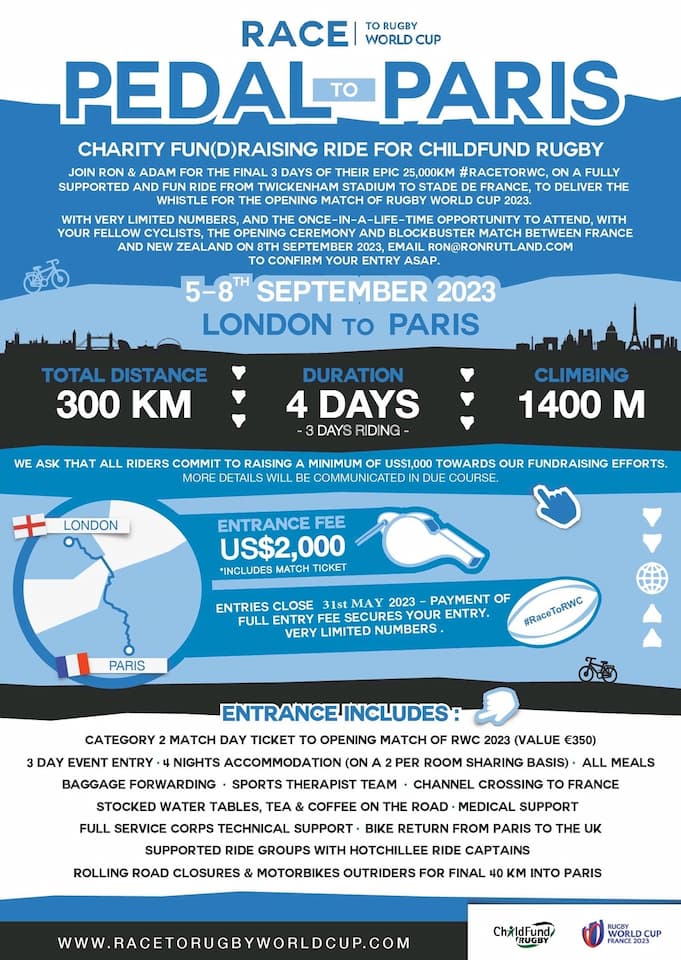 'Pedal to Paris' – Race to RWC 2023
Ron says of the final leg of his journey, which members of the public can join to help raise funds and be part of the group that delivers the whilst for the opening match at RWC 2023 in Paris.
Rutland says "we have put together the most incredible fun(d)raising opportunity to coincide with the final few days of the 2023 RaceToRWC – a 3-day, 300km ride from Twickenham Stadium to Paris, to help deliver that special match whistle to the referee of the opening game of RWC 2023. We're inviting anyone in the FatKidOnABike and RaceToRWC 'family' to join us…"
The ride leaves Twickenham Stadium in the UK on 5th September 2023 and ends in Paris on the 7th September 2023.
If you sign up here:
All riders get to attend the opening ceremony and match of RWC 2023 on Friday night the 8th of September.
A bicycle ride through the English and French countryside but also commit to raising a minimum of $1,000 for our fundraising efforts for ChildFund Rugby.
Last opportunity to join Ron as it's his last big expedition of this nature!
Please see the poster above with all of the benefits.
You can also join Ron on other sections and he has asked for anyone from "northern Mexico, the US, Ireland, Scotland, Wales or England, and want to ever join in for a few miles"
Rugby Development News
---
Trending Now