Brian O'Driscoll – Safeguarding Rugby & Promoting Its Values
---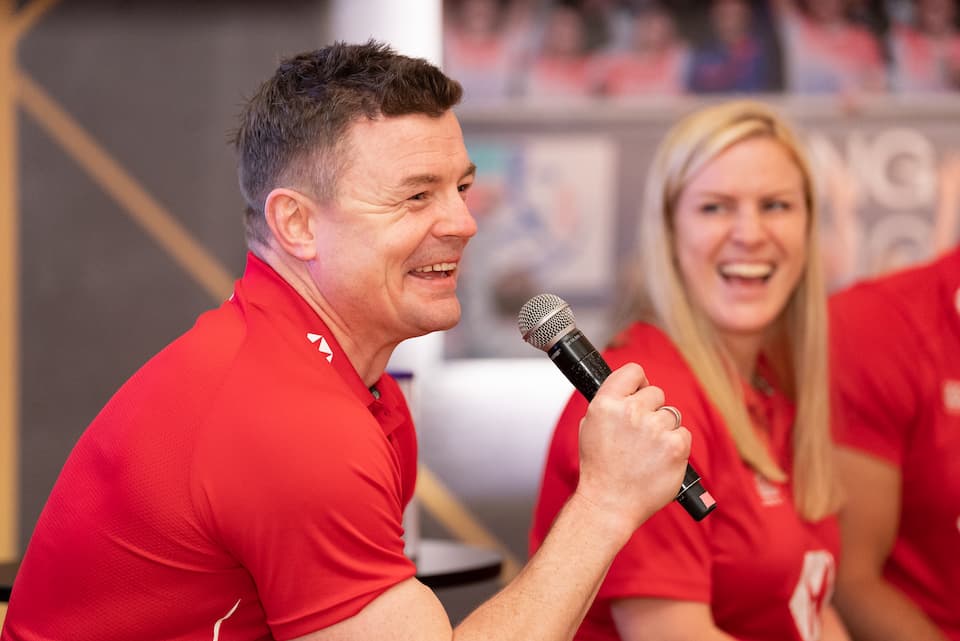 We spoke with HSBC ambassador and former Ireland and B&I player Brian O'Driscoll at the Cathay Pacific/HSBC Hong Kong Sevens 2023 to complete a trifecta of interviews after he kindly gave up some time at previous Sevens events in Dubai and Singapore.
He was equally excited at a near-full return to the iconic Sevens in Hong Kong and pointed to a revived South Stand, the impromptu catch-ups while walking around the stadium concourse, and the introduction of the women's event for the first time as highlights. 
We spoke about the values of rugby, what is being done to support players making the transition to post-rugby playing, as well as the conversations around safeguarding rugby while holding at its core the ideals that make this sport so unique. 
New Wave of Superstars in Sevens
Brian O'Driscoll: I think the Olympics was just so big. I'm not just talking specifically about rugby sevens, but just the general movement of women's sport over the last four or five years, and the various campaigns. That realisation that there was not the same level of participation and attendance because there isn't the same level of reporting on women's sports. 
To get it working in unison, to develop any future interest and have it aligned with commercial partners and the responsibility that comes with them promoting female sports as well as male sports, which maybe wasn't always done in the past. 
I think it helps elevate it to the forefront of everyone's mind and we have some really terrific athletes and the very top teams are really brilliant. But the levels below are developing and will come with time. That was the same in the men's game 15 or 20 years ago too.
Just look at the Ireland men, that is a great example.
Brian O'Driscoll: A great example, right? And the way the sevens are working from a pathway point of view and players going on and getting international honours at 15 but they have built their foundations on the sevens game.
And having players to look up to and aspire to is important?
Brian O'Driscoll: Sure, you look at the Women's game, a player like Charlotte Caslick – I think you're looking at a superstar. I remember seeing her for the first time at the Rio Olympics in 2016, and just her athleticism and her rugby intellect were very striking. She has this engine and the ability to stay at the top level – and there are others like Levi sisters in Australia.
It is about how you develop the grassroots interest levels from people, maybe visually they haven't seen much sevens rugby in the past. Well, you create superstars, and you give people role models to aspire to be and it's been happening forever in men's sports – going back to Bobby Charlton, or whatever sport you want. The Jonah Lomu's, Gareth Edwards. 
So finally, we've got these brilliant athletes, brilliant global superstars for people to aspire to be one day.
Opportunities in Sports & Planning for Retirement
Over this week you have been working with the HSBC ambassadors helping young adults look at the different opportunities around sports. Maybe they won't be a professional athlete, but there are so many other avenues to get into. And especially with social media and the metaverse – there's so much happening.
Brian O'Driscoll: There are so many new roles, right? It's just the New Age world that we live in. So I think as one of the fortunate ones, I've been able to play and do what people aspire to be. But unfortunately, only a small percentage of people actually manage to achieve that dream. 
But people don't have to go and do something they don't want to do and work at something they hate. Go and find a passion within the sporting context, be it in media or TV or administration, or behind the scenes and social media, or whatever it is that really captures your imagination, push hard to try and have a career in that because you will generate so much more satisfaction from doing so. Rather than checking and checking it out. 
Why would you do something you hate to defer to go and test yourself and to really take a risk on something that you enjoy – or would you settle for something that was mediocre?
I would have hoped that the pandemic would have forced people to get out of their comfort zone and get people motivated. With this being a Men's World Cup year, many players will also be thinking about changes after hanging up their boots.
Brian O'Driscoll:  Players that have played professionally coming towards the end of their careers, they've taken the time to kind of see like, what's next in my career. I always find that the World Cup cycle is a strange one because a lot of these players will think about what they do next year – do they go to coaching to pick up new skills, a new business interest?
We did a documentary a while ago, on BT Sport (called "After The Roar") which focussed on sportsmen and on the crisis in men's mental health and the suicide rate under 50 being so high.
I think it's massively important that, first of all, there's a commonality to missing the game. Irrespective of whether you were – professional or amateur – you've left an environment that you love being involved in, and there's a grieving process that comes with that. We need to equip our players to allow them to make a smoother transition, empowering them with the knowledge that it's going to be a challenge, that they're going to find that difficult. 
I think it's so important to find something that you're truly passionate about.
Has The Game Transformed Enough To Support Players
Do you think there's enough support in the men's or women's game for players that are making that transition? Mental health aspects are talked about more, but obviously, there are still lots of issues to tackle.
Brian O'Driscoll: I think it's significantly improved, I'm on the International Rugby Player board so I get a close look at what the different relevant unions are doing and some are more impressive than others. 
Certainly, the work that the RPA (Rugby Players Association) have done, and that's in Australia, New Zealand, South Africa, and Ireland etc –  they are really preparing players for an unfortunate injury and making sure that that "life after rugby will happen" at some point. 
Even in the nine years since I've retired, you don't have all the answers because life changes and players need change, they've got to be adaptable as well to fit those needs.
Safeguarding Rugby
I think last time we spoke about the crossroads rugby seems to be at (consistently) in terms of law changes, head injuries, etc. Do you think the right conversations are happening to take the game forward? 
Brian O'Driscoll: I think there are lots of conversations going on behind the scenes and I think that's the comforting thing – that I do know World Rugby and the international rugby players associations are trying. A lot of it might not be publicly known, but there are continual conversations about trying to safeguard the game to protect players, and also make sure that we don't lose the ideals of what the game is about. 
It's trying to find that alignment that guides and navigates us through different problems; the head injury process and concussions. We got to talk openly about it. You can't sugarcoat and pretend it's not there, It is and it's a potential major stumbling block to continued growth for the game. 
So how do we go about changing and fixing and modifying the laws to allow for a reduction in injuries and make sure that we have this great game in 20 years' time.
Parents want their kids to be active because maybe they've been bottled up at home over recent years. But we've spoken to so many youth clubs and parents, and there is that concern because the spotlight in the sport is on the head injuries of players. 
Brian O'Driscoll: A lot of it is about letting parents know that these discussions are ongoing to keep the sport safe for people and enjoyable; keep it social, and put all the processes in place and it's also really important in the overall context of concussions and the perceived negatives of the game all of the good qualities, the values in this sport.
I'm always asked, "Would I allow my kids to play?" For me, the upsides significantly outweigh the downside. There are risks – for example, my son broke his collarbone last year, and you do still have moments as a parent, we all feel the need to protect our kids and make sure they are confident to go back and by channelling that in the right way and equipping them with the techniques and make sure they know how they will make themselves safe. 
Like, staying within the laws and the confines of the sport, but yet still play with an intensity that we enjoy.
Those values that we constantly talk about in rugby. I still think there's no sport that comes close to matching that community aspect and social aspects at its core. 
Brian O'Driscoll: I think it does bring the best out of people. And I think there's lots of stuff that goes on – amazing stuff within rugby communities that I never get to see. That's good stuff. That's real-life stuff and when you hear about the stories, it reinforces your belief that it's a really great addition to our lives.
We would like to thank Brian O'Driscoll for his time and you can follow more of the ambassador's work on HSBC Sport.
Rugby Asia 247 Interviews
---
Trending Now