Phuket International Tens 2019
---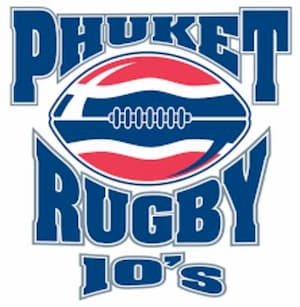 The Phuket International Tens 2019 takes place next weekend from the 24-26 May 2019. We had previously reported the teams set to take part but the final list of teams and pools have now been finalised.
The 21st edition of the Phuket International Rugby 10s features 8 women's teams, 15 men's open teams, 8 vets teams (over 35's) and 4 legendary One Foot in the Grave O' 45s teams.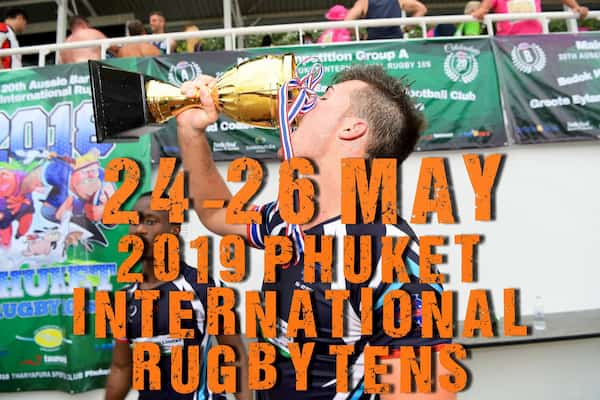 In the men's Open section, the home team, the Phuket Vagabonds are looking for a 3rd straight Cup win. Two of the
semi-finalists from 2018 are back again, however, to topple the Vagabonds from the top; East Admiralty from Hong Kong & the PAC Barbarians. PAC Barbarians picked up the Bangkok Tens Cup in February this year.
The Ladies section is as big as its ever been with 8 teams and sees some seasoned regulars from SEA as well as newcomers like the Emirates Firebirds who are comprised of staff and cabin crew of the airline. The Phnom Penh Sparkling Rahus, Chinas Shenzhen Dragons, Wahine RFC, Vientiane Buffaloes & KL Tigers Ladies are all making their debut Phuket 10s. The Bangkok Belles are the defending ladies champions.
Phuket 10s 2019 teams
Women's tens rugby teams
Pool A
Phnom Penh Sparkling Rahus – Cambodia
Emirates firebirds –  Dubai
Vientiane Buffaloes Ladies – Laos
Southerners Ladies – Thailand
Pool B
Bangers Belles – Thailand
Wahine RFC – Japan
Shenzhen Dragons –  China
Kl Tigers Ladies – Malaysia
Men's Open tens rugby teams
Pool A
Groote Eylandt Mudchooks – Australia
Vientiane Buffaloes RFC – Laos
Bedok Kings – Singapore
Phuket Vagabonds – Thailand
Pattaya Panthers – Thailand
Pool B
East Admiralty Football Club – Hong Kong
Phnom Penh Shining Rahus – Cambodia
Yomitan Beach Boys – Japan
Old Man Mix – Thailand
PAC Barbarians
Pool C
Vagabonds Rabbitohs – Thailand
Bangkok Bangers – Thailand
SA Scorpions – South Africa
KL Tigers – Malaysia
Athena Siam Coffin Dodgers O 35s Tournament
Group A
The Stray Cats – Australia
Hong Kong Bulls – Hong Kong
KL Tigers – Malaysia
Yangon Low Flying Dragons – Myanmar
Pool B
Phuket Viagrabonds – Thailand
San Miguel Wrinklies – Singapore
Old Bangkok Bangers – Thailand
Bucks Bunnies
One Foot in the Grave O 45s vets
Asian Japanese Dragons – Japan
Moorabbin Rams – Australia
Old Gulls – Australia
KL Tigers – Malaysia
The scores will be available via the Macoocoo website and app.
Date: 24th-26th May 2019
Venue: Thanyapura Sports Club Phuket, Thailand
---
Trending Now