Rugby Concussion Return to Play Protocols
Posted On February 4, 2021
---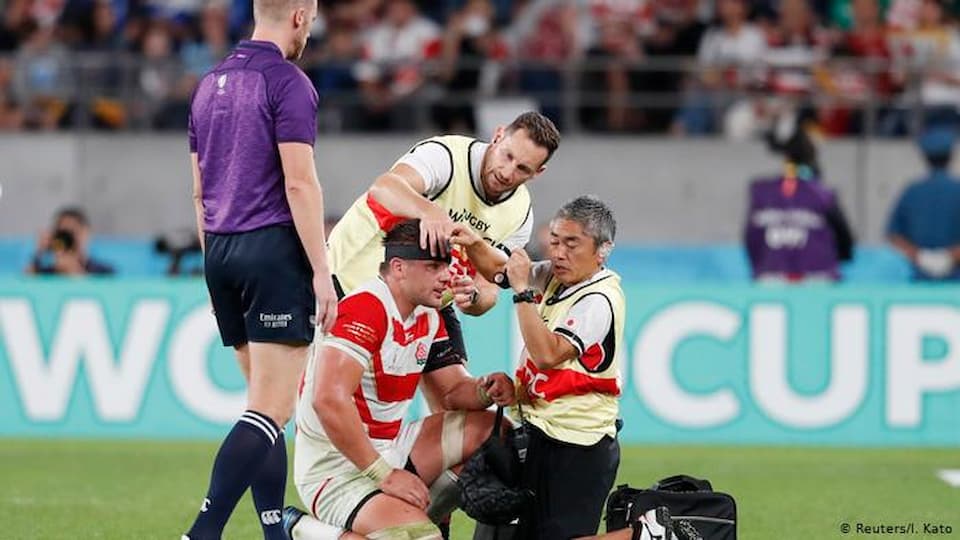 World Rugby this week has re-iterated rugby's Concussion Return to Play Protocols as the international season returns in 2021 with the Six Nations kicking off this weekend. Asia Rugby has also announced its plans to support its member unions with their Return to Rugby Roadmap.
(Photo Credit: Reuters – Rugby Concussion Return to Play Protocols)
World Rugby Concussion Return to Play Protocols
World Rugby said that player health and safety is always a top priority. "All our medical protocols are centred on research and reviewed annually to ensure players are receiving the care that reflects the latest medical consensus, including the sport's Head Injury Assessment and Graduated Return to Play protocols."
What are the concussion protocols?
According to World Rugby, there is no set timeframe for completion of their six-stage Graduated Return to Play protocol. A player needs to progress through each stage without the presence of any symptoms or signs of a concussion.
The average time to complete this process for a player in the English Premiership in 2018-19 was 22 days.
Key features of the World Rugby Concussion Return to Play Protocols include:
After a player has been diagnosed with a concussion, they are monitored and may only commence the return to play protocol when symptom-free.
Progressing to each new stage also requires that the player remain free of symptoms. Should any of the activities defined in each stage trigger recurrence of symptoms or signs of a concussion, the activities should be discontinued and the player must return to the prior phase in the protocol.
Every player is treated as an individual and objective decisions about treatment are made based on the current injury, past medical history, risk profile of the player and the player's response to each stage of the return to play protocol.
This return to play protocol features a medically supervised six-stage process, starting with complete rest followed by light exercise with gradually increasing intensity culminating with contact training. Each stage is a minimum of 24 hours but often longer.
The player must remain at the pre-concussion baseline level clear of signs and symptoms during activities outlined in each phase and remain so after before being cleared to move to the next stage
Having completed the six stages, a player may only return to play when they have completed a comprehensive neurocognitive test.
For non-elite or professional players, the process may only commence once the player has completed the requisite physical rest period (this means beginning the return to play process after seven days for community-level adult players and after 14 days for children and adolescent players) and only if the player is symptom-free.
All players should be cleared by a medical practitioner or approved healthcare provider prior to starting the process.
You can read more here and download the Graduated Return To Play (GRTP) Programme for the Community Game here.
Asia Rugby Return to Rugby Roadmap
Asia Rugby is starting the third season of its Asia Rugby Live online series on February 4th 2021 with a discussion on return to play as well as their plans to support member unions with their Return to Rugby Roadmap.
The web-series is free to watch on the Asia Rugby social platforms such as Facebook.
The guests include:
Benjamin Van Rooyen: Asia Rugby Development Consultant
Ghaith Jalajel: Asia Rugby Competitions Consultant
Anatoliy Shirov: Asia Rugby – Central Asia Development Consultant
Mahfizul Islam: Asia Rugby – South Asia Development Consultant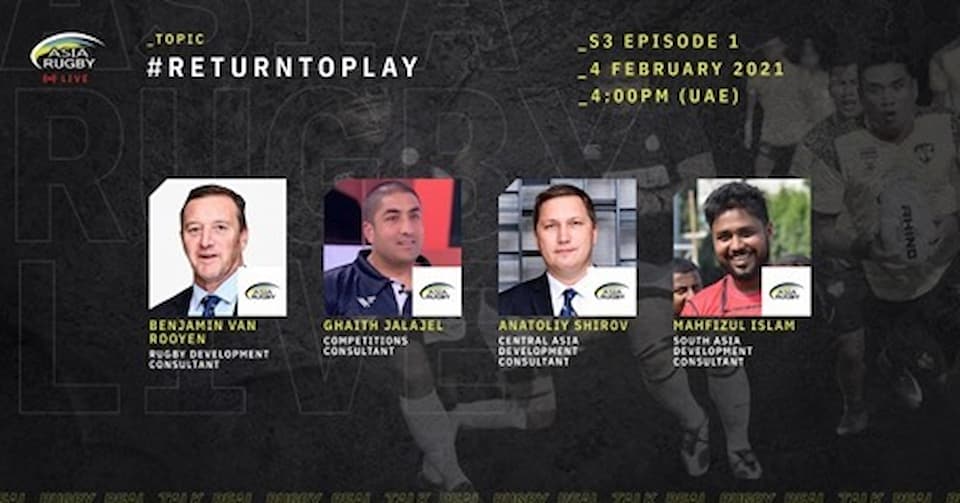 Asia Rugby Tournaments 2021
---
Trending Now