Rugby World Cup 2023 Draw
Posted On November 26, 2020
---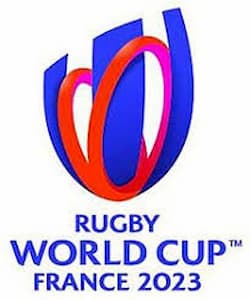 The draw for the Rugby World Cup 2023 in France will be held on 14 December 2020 at the iconic Palais Brongniart, and streamed online. This is scheduled to be the tenth men's Rugby World Cup and will mark the 200th anniversary of the 'invention' of rugby by William Webb Ellis.
Rugby World Cup 2023 Live Draw
The 2023 tournament is set to take place from 8 September to 21 October 2023 across France. World Rugby announced that "Due to local COVID-19 restrictions, all team representatives (with the exception of France) will be participating in the much-anticipated event remotely. A live video stream will be made available on World Rugby digital channels to share this exciting moment on the road to Rugby World Cup 2023."
Global rugby fans will again be able to enjoy the pool draw for the showpiece event on World Rugby's digital platforms.
A dedicated online show starting at 11:45 AM (Paris time) will be hosted by Elma Smit and Ugo Monye – The social show will feature international players from all the qualified teams giving their insights and reaction before and after the RWC 2023 Draw.
RWC 2023 Pools seeding
All national rugby teams will be seeded based on World Rugby Men's Rankings as of 1 January 2020 and placed into three bands of four teams.
The Rugby World Cup 2023 will be contested by 20 national men's teams, of which 12 are automatically qualified by virtue of a top-three place in their respective Rugby World Cup 2019 pools:
South Africa
England
New Zealand
Wales
Japan
France (host)
Australia
Ireland
Scotland
Italy
Argentina
Fiji
The remaining eight teams will come through the regional qualification process and will be allocated into bands four and five based on relative strength. They consist of:
Americas 1
Americas 2
Europe 1
Europe 2
Africa 1
Oceania 1
Asia / Pacific 1
Final Qualifier Winner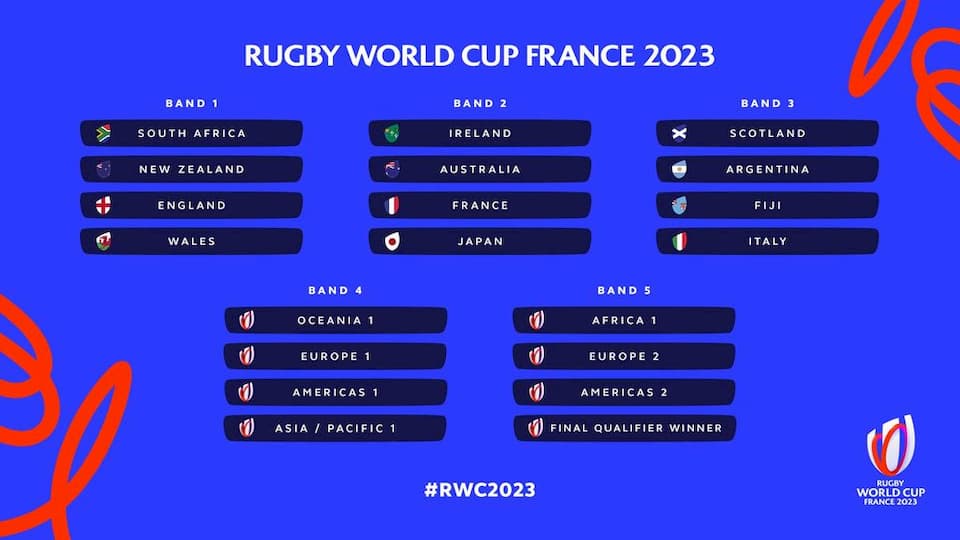 What Asian nations will play at RWC 2023?
Japan has already qualified for the Rugby World Cup 2023 based on their performances at the RWC 2019.
For another Asian team to qualify, they will need to win the Asian Rugby Men's Championship 2021 and then take on the  Oceania runner up for play-off games home and away. The winner on aggregate will qualify while the loser will go to Final Qualification – Asia / Pacific 1 in the final qualification tournament in 2022.
Asia/Pacific: The winner of the Asian Rugby Men's Championship 2021 will play Oceania 2 home and away. The winner on aggregate will determine the qualifier and the loser will go to Final Qualification – Asia / Pacific 1.
Men's Rugby World Cup winners
1987: New Zealand
1991: Australia
1995: South Africa
1999: Australia
2003: England
2007: South Africa
2011: New Zealand
2015: New Zealand
2019: South Africa
2023: ?
The men's RWC draw follows the pool draw of the RWC 2021 held recently in Auckland, New Zealand.
World Rugby News
---
Trending Now