World Rugby launches new 'Women in Rugby' campaign
---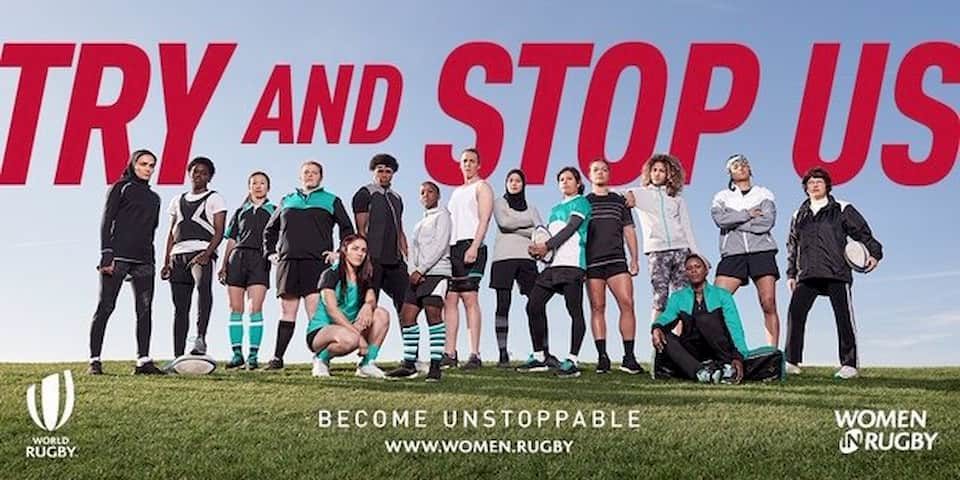 World Rugby has launched a new campaign on 21st May 2019 to specifically highlight and target female participation in the sport with their Women in Rugby campaign.
With a new website and a flurry of social media activity as well as inspirational videos, World Rugby has used a very 'Nike" approach with the latest initiative to push the "Women in Rugby" brand identity and the campaign with the slogan of 'Try and Stop Us'.
What is the "Try and Stop US" campaign?
The campaign, according to World Rugby, is aimed at "driving increased participation and engagement among fans, audiences, players and investors in the women's game." In the manifesto video, 15 inspiring women recite the manifesto to empower women participation in rugby.
The 'Try and Stop Us"  campaign is designed to be a call to action, showcasing unstoppable women in rugby around the world. This is also in line with the 2017-25 strategic women's plan from World Rugby to accelerate the growth and development of women in rugby around the world.
Growth of women's rugby participation
World Rugby says that women's rugby is "one of the sport's great success stories, experiencing unprecedented growth around the world."
2.7 million female players globally.
28% increase in registered female players since 2017.
For the second year running, more young girls have got into rugby globally than boys.
More than 40% of rugby's 400 million fanbase is female.
World Rugby Chairman Sir Bill Beaumont said:
"From the highest levels of the sport's governance to grassroots participation, we are wholly committed to driving gender-balance and ensuring that women have equal opportunities both on and off the field, driving increased involvement and engagement in the women's game from fans, audiences, players and investors."
Who are the 15 Unstoppable global ambassadors?
15 'Unstoppable' global ambassadors include USA Sevens player Kiki Morgan; World Rugby Council member and English women's rugby pioneer Deborah Griffin; and Ireland international Leah Lyons. Read here for the full list of Unstoppables.
Asian Unstoppable representatives include:
What is the Try Stop Us Manifesto?
FIRST RULE: TRY. SECOND RULE: TRY AGAIN.
LIFE WILL HURT SOMETIMES.
THIS GAME WILL GIVE YOU STRENGTH.
TO NEVER GIVE UP, GIVE IN, OR GIVE AN INCH.
WHATEVER YOUR SIZE, SHAPE, OR STORY.
THERE'S NOTHING YOU CAN'T TACKLE.
NO LINE YOU CAN'T BREAK.
NO OBSTACLE YOU CAN'T GET OVER.
OR POWER STRAIGHT THROUGH.
THERE'LL BE JUDGERS, DISAPPROVERS, NON-BELIEVERS.
FEARLESS. PLAY MORE.
BECAUSE ONCE YOU'VE STARTED, YOU CAN'T BE STOPPED.
What is Women in Rugby?
The new website from World Rugby, Women.rugby features the stories of the ambassadors and also the manifesto. In addition, there are articles about growing the women's game. Interested members can also sign up to a newsletter. Targeting women specifically, players can search for rugby in their region and country.
However, these appear only to be links to rugby federations and unions, so any country not affiliated to World Rugby, or programs (grassroots, clubs or otherwise) at a local level are not mentioned as far as we can see.
Stay tuned for RugbyAsia247 as we have some exciting interviews coming soon with women in rugby in Asia.
---
Trending Now