2022 Fat Boy 10s Tournament Confirmed
---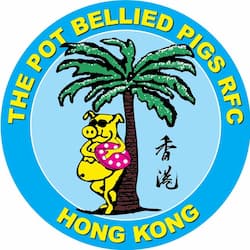 The Pot Bellied Pigs RFC & Hong Kong Rugby Union have announced that the 2022 Fat Boy 10s Tournament is scheduled to take place on September 10, 2022, at Kings Park Rugby in Hong Kong.
The announcement on the social touring and charity club's Facebook was made in mid-June 2022 with the Pigs saying "Given the continued COVID restrictions and quarantine and the associated uncertainty we experience in Hong Kong, it only makes sense to hold the tournament in Hong Kong for a second straight year.
Our mission and vision regarding the tournament and our support of the development of rugby in Asia remain the same, and we very much look forward to the day that we can hold the Fat Boy 10s in the Philippines again.
At the time of the announcement, the Pot Bellied Pigs RFC  say it seems likely that travel restrictions will continue and hoped that the Fat Boy 10s 2023 will again be held in the Clark / Angeles City area, in the Philippines.
The 2021 Fat Boy 10s tournament was a locals-only Hong Kong tournament and was held across two pitches. This was their first such tournament held outside the Philippines, but it still remained a social tournament. The 2022 edition of the tournament will again be a one-day tournament that will follow the same format as 2021 and played on two fields.

There will be:
Women's Open
Men's Open
Men's Vets
The number of women's representation at the 2021 tournament increased to 5 women's teams participating, up from two at the 2019 tournament. In total there were 27 teams and for 2022 the organisers are hoping for a maximum of 36 teams!
The tournament raised $558K HKD for the Pot Bellied Pigs RFC various charitable partners, including:
Clark Jets Rugby
RSL AC Medical Missions
Philippine Rugby Union Development Fund
Lao Rugby Union Development Fund
Vietnam Rugby Union Development Fund
HKRU Charities Fund
Duyan Ni Maria Foundation
They added: "We strive to continue growing the Fat Boys 10s and to surpass these results at the tournament in 2022."
More details are set to be announced soon.
Asian Social Ruby tournaments 2022
---
Trending Now