Arab Rugby Sevens 2023
Posted On February 17, 2023
---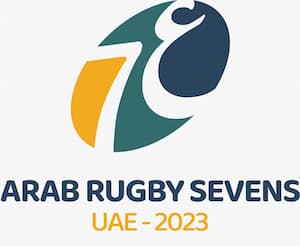 The Arab Rugby Sevens 2023 takes place in Al-Ain, UAE from 18th-19th February with 9 men's and 6 women's Asian and African national teams involved.
*Updated 17th February 
Arab Rugby Sevens 2023 Teams
This is the 8th edition of the tournament for men and the 3rd edition for women, which ScrumQueens has confirmed will feature Libyan women who become the 150th women's rugby 7s nation to play international rugby.
The participating women's teams will play a round-robin format in one pool and include:
UAE

Egypt

Tunisia

Syria

Jordan

Libya
The hosts (UAE) never lost a match in this competition added ScrumQueens and their U18s Girls recently won the Asia Rugby Championships. The full match schedule can be found on the Arab Rugby Facebook page.
The participating men's teams are split into two pools, which are:
Pool A
Tunisia
UAE
Syria
Palestine
Sudan
Pool B
Egypt
Libya
Jordan
Saudi Arabia
Arab Rugby also unveiled the new logo for the sevens tournament which the tournaments marketing partner (The PRO Company) confirmed "was inspired by the beautiful colours of Al-Ain, as well as elements representing the letter "ع" in Arabic, number "7" as well as a rugby ball."
How To Watch The Arab Rugby Sevens 2023?
Syria and Tukey Earthquake 2023
Syria became a World Rugby Associate Member at the end 2022, but in February 2023, it was one of the victims of the earthquake that struck also severely impacting Turkey and resulting in massive loss of lives and destruction.
World Rugby announced it is supporting the United Nations World Health Organisation's (WHO) relief efforts with World Rugby Chairman Sir Bill Beaumont adding: "We stand in solidarity with the people of Syria and Turkey at this difficult time. As a family, we support our family members and working with our regional associations we will support the unions where required and promote the international aid effort."
Asian Rugby Tournaments
---
Trending Now