Asia rugby results: 4-5th May 2019
---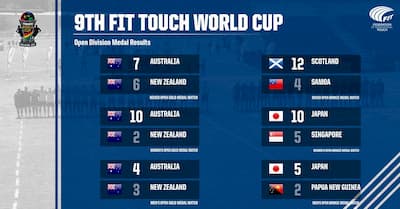 May 2019 is a very busy rugby month across Asia and we will try out best to bring you a recap of the rugby union and touch rugby results from throughout the region. This is our summary of results from the Touch World Cup, Asia Rugby Championship, warm up international games, social rugby tournaments and cups from 4-5th May 2019.
Federation of International Touch: Touch World Cup 2019
A number of divisions were contested at the Touch World Cup 2019 in Malaysia over the past week. There have also been a number of Asian medal winners. Australia won the Open, Men's and Women's Open Divisions, beating New Zealand in all 3 finals. In total Australia won all three opens and five seniors divisions.
All the scores and results for all of the divisions can be seen here on the FIT website.
Men's 50s Division: Singapore Bronze (beating Ireland 4-3)
Open Women's Division: Japan Bronze (beating Singapore 10-5)
Open Men's Division: Japan Bronze (beating Papua New Guinea 5-2)
Women's 27 Division: Singapore lost the Bronze medal match to England 4-2
Men's 40 Division: Japan Bronze (beating France 6-5)
Asia Rugby Championship
Division ARC Div 3 C Game 1 results
Pakistan and Uzbekistan contested the second game of their Division 3 C Championship decider after he 1st game was won convincingly by Pakistan 44-13 in Lahore in April. In the 1st week of May, the second game was won by Uzbekistan 38-24, however Pakistan are promoted to Div II on the aggregate score across the two games.
Pakistan 24-38 Uzbekistan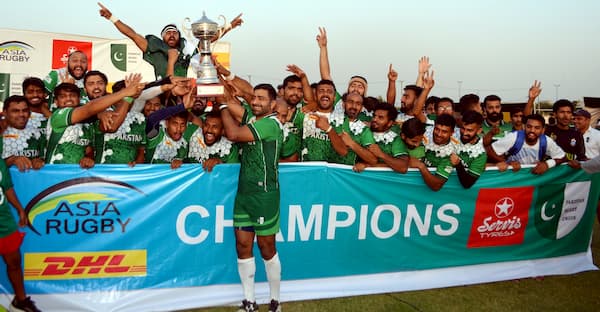 Malaysia vs Sri Lanka XVs Test matches
The two national teams were due to play two test matches, on the 2nd and 4th May in Malaysia. However it appears as if the 1st game didn't feature the Malaysian National team but a Barbarians team instead which lost 14-55 to Sri Lanka. the second game was a full test match which Malaysia narrowly won 31-26. There are images and summaries on the Malaysia Rugby Union Facebook page.
Test Match 1 2nd May 2019
Malaysia Barbarians 14-55 Sri Lanka
Test Match 2 4th May 2019
Sanix World Schools tournament
The Sanix World Schools tournament wrapped up in Japan over the weekend and South African school Paul Roos were crowned champions after beating the New Zealand National Championship winners St Peter's 52-5. The SA school from Stellenbosch were undefeated during the tournament and it is the second time they have lifted the Sanix Cup, previously winning in 2015.
Paul Roos (SA) 52-5 St. Peters (NZ)
Global Rapid Rugby: Asia Showcase Series 2019
The Asia Pacific Dragons lost their last game of the 2019 GRR series against the Western Force in Singapore. The XVs rugby union game was tightly contested and only won by the Australian franchise 7-3. The final game of the Asia Showcase Series 2019 takes place on the 12th May in Hong Kong as the South China Tigers will host the Western Force.
Asia Pacific Dragons 3-7 Western Force
Pattaya Tens – Chris Kays Memorial Rugby Cup
The Bangkok Southerners retained the Chris Kays Memorial Tens Rugby Cup in Pattaya this past weekend. They had also won the Cup final in 2018.
Read our guides for more rugby union and touch tournaments in Asia this May.
---
Trending Now