Australia Women and South Africa Men Prevail At Emirates Dubai 7s 2022 – Asian Teams Struggle
Posted On December 4, 2022
---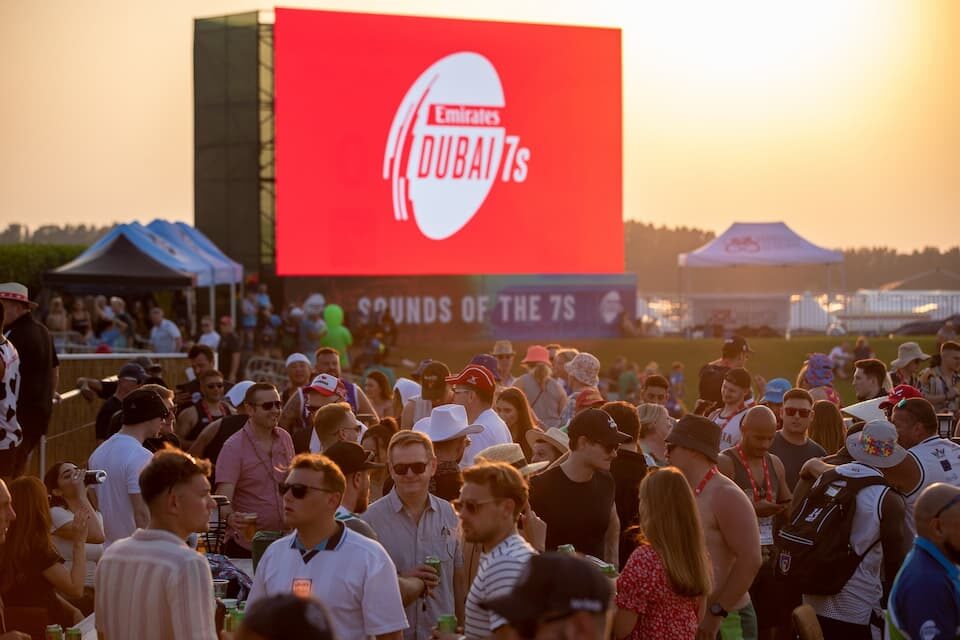 The dust never settles in Dubai but the conclusion to the Emirates Dubai 7s 2022 on Saturday 3rd December, saw the Australian women and South African men both comfortably win the HSBC Sevens Series leg, and both defending titles they had won in 2021.
At the top end of the Cup finals for both the women and men, both sides ran out comfortable winners with the Australian women beating NZ and the SA men defeating Ireland.
This was the Blitzbok's fourth Dubai title in a row and ends a dry spell of relatively poor results considering this time last year they started a run of four consecutive World Series Golds before their form dropped off.
The Australian women look invincible at the moment, with NZ their closest rivals (albeit they missed several star players who played at the victorious RWC 2021 for the Black Ferns) there is a notable class between the Aussies and the rest of the chasing pack. Madison Ashby who was the player in the final said "Our coaches say we are queens of the desert, we thrive off heat, so for us, it was just a golden win."
Australia women's co-captain Charlotte Caslick who is the current World Rugby Sevens Plays of the Year added: "We love playing in Dubai, in front of this incredible crowd. People have so much fun and that really translates to us on the field. We'll recover now, have a relaxed week getting into Cape Town and we're really looking forward to playing there again. The girls loved Cape Town for the World Cup so it's going to be fun playing there again."
South Africa men's captain Siviwe Soyizwapi said: "This win is a feeling I can't put into words. I think we really worked hard to be where we are today. And it's been tough. It's been hard to get back on the podium. It's really amazing and we have Cape Town coming next week. I think we can take so much confidence from this win in Dubai. We are excited, It's been great preparation for next week."
In the bronze medal matches, the USA women saw off the French while the USA men fell to New Zealand.
South Africa and Australia are joint leaders of the men's Series with 32 points after two rounds, while Australia leads following the first leg of the Women's Series.
How Did The Asian Teams Do At Emirates Dubai 7s 2022?
In contrast, at the opposite end, Asian teams really struggled in the UAE – the gulf in class between the recently completed Asia Rugby Sevens Series and the World Series remains a large one. The Japanese men didn't record a win, while the Japanese Sakura 7s Women's only victory was over their arch-rivals China, who themselves won their final match to secure 11th against Brazil.
Another mention should go to Hong Kong Rugby Union referee Craig Chan who officiated the Women's Cup final between Australia and New Zealand. We spotted many Asian Rugby referees around the 8 rugby fields over the weekend, including Singapore Rugby Christabelle Lim and Sunny Lee from the HKRU who refereed at the 2022 Emirates Dubai Invitational 7s.
All Asian National Team Results – Emirates Dubai 7s 2022
Women HSBC World Rugby Sevens  – Dubai
All of the HSBC World Rugby Sevens Women's results can be seen here.
Japan Sakura 7s – Pool C
Japan

14-33

Fiji

Japan

24-31

Ireland

Japan

33-7

Spain 
China Women's 7s –  Pool A
China

7-36

Australia

China

7-17

USA 

China

10-26

Canada

18
Fate decided that the two Asian teams would of course square up on Saturday following the pool matches, with both sides chasing a first win in Dubai in the 9th-place semifinal. China had looked the stronger of the two teams in the pool play and put up some good displays against strong opposition which included the World Champions Australia.
However, as with all of their clashes this year, it was a tight and tense match which saw the Japanese pip the Chinese to the win 12-7 and move onto the 9-10th play-off against Canada, while China would contend the 11-12th place with Brazil.
China were down two injured players heading into their match with Brazil and were quickly 5-14 down on Pitch 2 at the Sevens. A second-half rally saw Zhuang Cheng, Jiang Yutong and Ruan Hong Ting score three tries in three minutes to allow the Chinese to pull clear (all while losing another player to injury) and with only one substitute on the bench, the Asian Champs winners managed to stave off a Brazil fightback and win 31-21. The team were drained physically and emotionally, and in the group huddle post-match – nearly every player was in tears.
Canada had dispatched of China in the pool stages 26-10 so Japan knew it would be a tough match but they were in the fight throughout. Canada pulled ahead 10-0 by the halftime break, but the resilient Japanese came back into the match with back-to-back tries from Marin Kajiki and Chiharu Nakamura to draw the match level at 10-all with four minutes left. Both sides had their chances but it was heartbreak for the Japanese Sakura 7s when Charity Williams ran in her second try in the 16th minute (well beyond normal play) to snatch the winner 10-15 and claim the 9th spot while Japan settled for 10th.
Men HSBC World Rugby Sevens  – Dubai
All of the HSBC World Rugby Sevens Women's results can be seen here.
Japan Men's 7s – Pool D
Japan

17-38

Samoa

Japan

7-43

USA

Japan

15-28

Canada 

Japan

5-45

GB 9th place QF 

Japan

0-28

Spain 13th Place SF 
The Japanese men really struggled all weekend in Dubai – the team is young but has seen so many squad changes over the past two months and its tough to see how they can find consistency and form. They have played a lot of rugby with the RWC Sevens / HK Sevens / 3 x legs of the Asia Rugby Sevens and now in Dubai with Cape Town to come.
It's difficult to see what structures and style of play new coach Simon Amor is instilling but the players seem patient with the process and know it's a long-term goal they are working towards.
Japanese men's player Takamasa Maruo told us: "This weekend was tough for us with some strong opponents. We are a young team and we don't have much experience at this level so we need to grow gradually. We have to continue our effort to improve. Everything is different from last season but we are confident and optimistic in our goals as this is a long season and this is just the beginning.'
On the horizon, the team also is looking ahead to Olympic 2024 Qualification and the Asian Games in 2023 and Maruo adds "the most important thing at the moment is not win or loss, we have to focus on what we do and how we improve and achieve the small goals and aim for bigger things and back ourselves and the coaches."
He added that he felt the main areas for the squad to improve on are the positive and resilient mindset and to stay focussed and concentrate on building from here.
International Invitational Men – Emirates Dubai 7s 2022
There are so many other divisions playing in Dubai – with 230 teams from 32 countries involved across the 8 rugby fields- making it probably the biggest invitational 7s tournament in the world. Below are the results of some of the Asian national and development teams in action.
Japan Men's Development Squad
Japan SDS

19-27

Bond University Bull Sharks  

Japan SDS

19-14

ASM 7s  

Japan SDS

0-39

Samuray RFC 

Japan SDS

14-40 Spain A Bowl QF 2  
International Invitational Women – Emirates Dubai 7s 2022
Japan Women's Development Squad
Japan Women's development 7s

32-7

Czech Republic 

Japan Women's development 7s

14-19

Delta Drone Tuks Women

Japan Women's development 7s

7-31

Australia A 

Japan Women's development 7s

24-10

7s Fantastics

Cup QF2

Japan Women's development 7s

0-24

SA Development

Cup SF 1
Men's International Open
Kazakhstan Men 
Kazakh Men

7-35

Speranza 22 

Kazakh Men

0-49

Monaco IMPIS 

Kazakh Men

5-32

Rhinos 
Uzbekistan Men 
Uzbekistan

5-31

Wyvern Harlequins 

Uzbekistan

14-43

Canadian Irregulars  

Uzbekistan

0-17

Georgia Army 
Women's International Open
Kazakhstan Women
Kazakh Women

7-26

Briars  

Kazakh Women

0-48

Rhinos Rugby 

Kazakh Women

0-22

Tabusoro Angels Inter (IIW) 

Kazakh Women

22-5

Scotty's Rugby

Plate QF2 

Kazakh Women

7-24 The Cats Plate SF 1
Uzbekistan women
Uzbekistan Women

5-31

Mo Sistas

Uzbekistan Women

0-45

Burraneer Rays 

Uzbekistan Women

5-17

The Cats
The HSBC World Rugby Sevens now head to Cape Town from 9-11 December – only the Japanese men and women will be involved from Asia as Core teams.
We have interviews coming soon from both Japanese and Chinese women's teams.
Rugby Sevens News
---
Trending Now