Japan vs Chile Preview – RWC 2023 Pool D Pool Match
Posted On September 10, 2023
---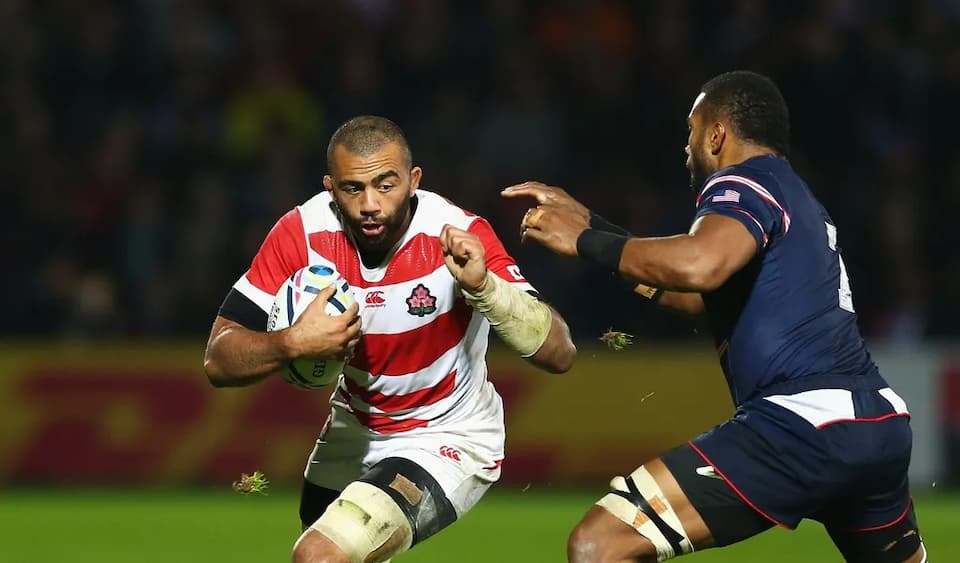 The Japanese Brave Blossoms open their account at Rugby World Cup 2023 in Pool D by facing Chile at Stadium de Toulouse on Sunday 10th September.
Update 10 September 2023
Japan Head Coach, Jamie Joseph named his Brave Blossoms side on Friday 8th September to face the South American tournament debutants before they take on England, Samoa, and Argentina.
The Japanese were to be captained by number-eight, Kazuki Himeno, while the matchday 23 features 12 players who were part of Japan's RWC 2019 squad, with 11 set to make their Rugby World Cup debuts in France. The Japanese captain said of Chile, "They will be playing as though this is the final game. I think they will be strong mentally but we have to be better than them mentally. The collisions are strong, it is their strength. Up front we need to take them, once we get that right I think we can get pace [into our game]."
(Editors note –  on the day before the match it was reported Himeno might have a calf strain and his place would be decided on the morning of the fixture. It was confirmed on the morning of 10th September Himeno was ruled out.  Amanaki Saumaki comes in at #4 and Cornelsen moves to 8th man – Nagare will captain the team.)
Jamie Joseph said, "We'll be looking to go out and start well. Chile are new to the World Cup but this will be their World Cup final, a game they've targeted with their players all available and motivated to have a very good performance and put us under pressure. Rightfully so, they should have confidence and they will look to put the pressure on in the first 20 minutes. So we'll be focusing on ensuring that doesn't happen.
Japanese defence coach John Mitchell said of how Japan aim to play against the opposition; "Chile, while it is important to focus on ourselves first, they are a very gritty side. They have shown determination to get entry into the World Cup and in all their warm-up games they have demonstrated real cohesiveness and ability to fight for each other.
They are also sprinkled with an outstanding 10 who is very attacking and a 15 who is also very attacking. Naturally, they have their direct players, their nine is a very good runner of the ball. They are coached by an experienced coach who also got Uruguay to qualify for a World Cup in 2015, he comes with enormous experience."
A star from RWC 2019, Kotaro Matsushima is starting at right-wing instead of full-back and Joseph said of the positional change, "I just think Matsushima has played, for Japan, better on the wing than he has at full-back. He is a very quiet man. We need a guy who can talk and communicate a lot at full-back. He is an awesome rugby player in terms of how he can attack and there is less responsibility around communicating when you are on the wing than at full-back."
Some highlights from the Japanese selection:
Loosehead prop, Keita Inagaki will earn his 50th Japan cap.
Shota Horie, at 37,  is the oldest member of the squad and is set to play in his fourth World Cup.
Warner Dearns has been named on the bench as a replacement lock, having returned to the team following an injury that kept him out of the recent matches.
Michael Leitch will also feature in his fourth World Cup in what will be his 81st test, equaling Hirotoki Onozawa as their second-most capped player all-time (Hitoshi Ono has the record with 98 caps for Japan).
Chile are in their first-ever men's Rugby World Cup and their 33-man squad boasts four sets of brothers! Two have been named to play Japan with Alfonso and Diego Escobar, and Clemente and Domingo Saavedra involved.
Although Chile will be the outsiders to pull off an upset win, they have players with experience, however only three in their match-day squad play their club rugby outside of South America – Inaki Ayarza for Soyaux Angouleme XV Cherente, Matias Dittus for Club Athletique Perigeux in France, and captain Martín Sigren for Doncaster Knights in England.
Ricardo Cortes, the Chilean Assistant Coach said of their fight in the opening game, "The most important thing we have is that we fight for every ball, our sacrifice, our solidarity with each other, be together as one. That is all very important in order to put together a great team. Games are not won by individuals, but by teams and that is our focus. I have been working with Iñaki and Matias since they were young. Those two have a lot of knowledge and that is very important."
Matias Garafulic, the Chilean centre added of their focus for RWC 2023 following a tough but successful qualification campaign, "Every team is under a lot of pressure, some are fighting for the title, others to get through the pool stage. We have been working hard on pressure management, as it's the first time for us in a Rugby World Cup. Whenever we play in games with pressure it brings out the best from each of us."
Japan Not Looking Too Far Ahead at RWC 2023 (and the hot French weather)
Joseph said that the team was not getting too far ahead around anything, "Our first focus is ourselves. Chile is the opposition, but we're focusing on ourselves and getting back to playing our best rugby."
Of the abnormally hot weather for the opening weekend of the tournament in France, he added "It's going to be hot, but the last six or seven games we've played have been similar and our boys are used to the heat. With the heat you get a slippery ball and the way we play, with the amount of passes we execute, nearly double the amount of other teams, it puts a lot of pressure on our skillset. We've trained very well this week, so whatever comes on Sunday, the focus will be to get on with the business and play for Inagaki in his 50th test and give a performance we can all be proud of."
World Rugby confirmed that water breaks will operate at all RWC 2023 matches on the opening weekend – this means one water break per half at a natural break in play managed by the referee with additional water and cold towels provided more generally.
Date: Sunday, September 10 2023 (Kicking off at 13:00 French local time, 20:00 in Japan)
Venue: Toulouse, France
Japan vs Chile –  Pool D RWC 2023 Match Permutations
Although pool points are more important than World Rugby rankings, here are some rating permutations:
Japan are unable to improve their World Rugby rating with victory over Rugby World Cup debutants Chile.
If the Brave Blossoms lose, they will slip below Tonga and Portugal if the margin is more than 15 points.
Chile can enter the top 20 for the first time if they beat Japan (also depending on the margin of victory and the outcome of the Italy v Namibia match)
Japan Brave Blossoms Squad vs Chile – RWC 2023 Pool D Sunday 10 September 2023
Updated based on changes on 10th September*

1 Keita Inagaki
2 Atsushi Sakate
3 Jiwon Gu
4 Amanaki Saumaki *
5 Amato Fakatava
6 Michael Leitch
7 Kanji Shimokawa
8 Jack Cornelsen *
9 Yutaka Nagare (c) *
10 Rikiya Matsuda
11 Jone Naikabula
12 Ryoto Nakamura
13 Dylan Riley
14 Kotaro Matsushima
15 Semisi Masirewa
Replacements:
16 Shota Horie
17 Craig Millar
18 Asaeli Ai Valu
19 Warner Dearns
20 Shota Fukui
21 Naoto Saito
22 Tomoki Osada
23 Lomano Lemeki
Chile Squad vs Japan – RWC 2023 Pool D Sunday 10 September 2023
Chile head coach Pablo Lemoine named his squad to face Japan as follows:
1 Javier Carrasco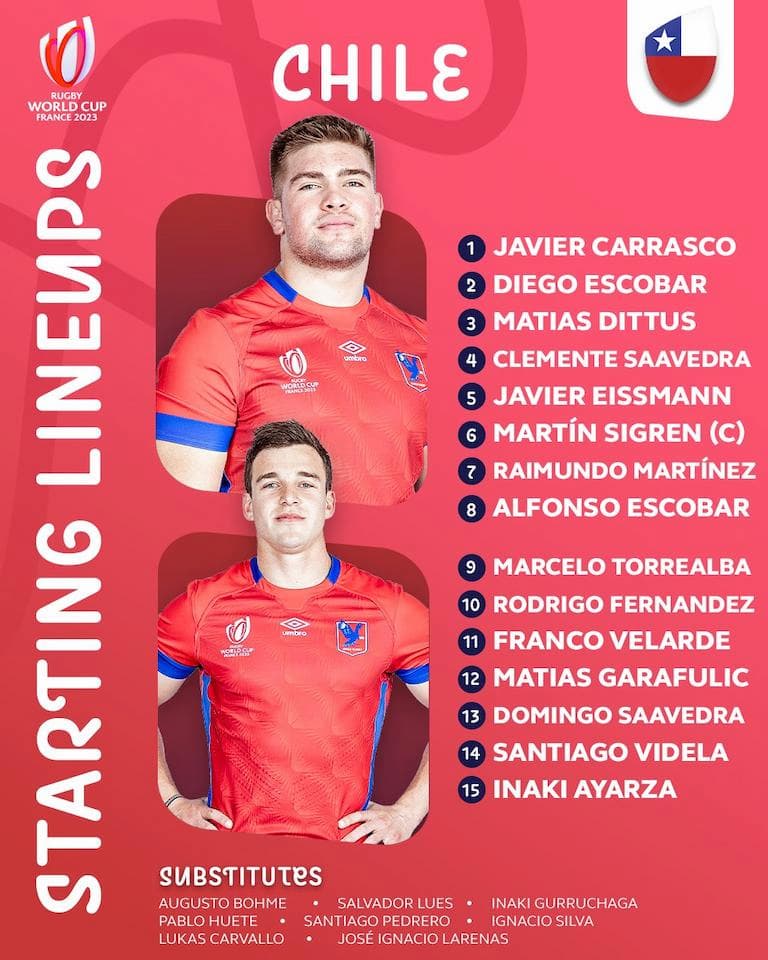 2 Diego Escobar
3 Matias Dittus
4 Clemente Saavedra
5 Javier Eissmann
6 Martín Sigren (c)
7 Raimundo Martínez
8 Alfonso Escobar
9 Marcelo Torrealba
10 Rodrigo Fernandez
11 Franco Velarde
12 Matias Garafulic
13 Domingo Saavedra
14 Santiago Videla
15 Inaki Ayarza
Replacements:
16 Augusto Bohme
17 Salvador Lues
18 Inaki Gurruchaga
19 Pablo Huete
20 Santiago Pedrero
21 Ignacio Silva
22 Lukas Carvallo
23 José Ignacio Larenas
Rugby World Cup 2023 France – For The Fans
---
Trending Now