Refereeing Rugby At The Highest Level – Craig Chan & Matt Rodden
---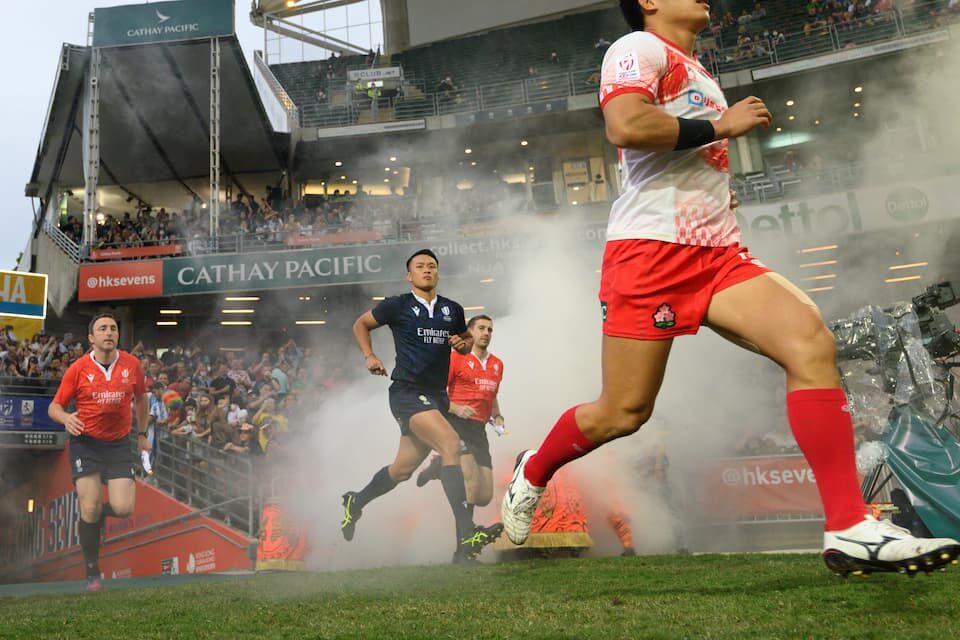 We had the fantastic opportunity to speak with two of Hong Kong Rugby's top match officials; Craig Chan provides insights on how he picked up the referee whistle and his aspirations, while his mentor Matt Rodden talks of the positive changes to the game and pathways for young referees in Hong Kong.
Where would the sport be without them? Match officials are a crucial and integral part of rugby, and even though they may cause as much debate as player selections, armchair fans often don't quite have the appreciation for the amount of work and dedication that these passionate rugby fans put into their careers and development.
Craig Chan has become a regular feature on the Sevens Series circuit as a match official for the current HSBC Women's Sevens World Series which has already seen him take charge of finals in Dubai and Hamilton. 
Matt Rodden is an extremely accomplished referee who first joined the HSBC World Sevens Series in 2016 and has officiated more than a century of 7s matches on the World Series. He has also been involved in the Olympic Qualifiers and Asian Games and is the Head of Refereeing at Hong Kong Rugby Union as well as a TMO and Performance Reviewer – Sevens World Series (Women and Men).
With the Cathay/HSBC Hong Kong Sevens 2023 under a month away and the pools now confirmed, we discussed refereeing roots and aspirations, the excitement for the HK Sevens, as well as the challenges and opportunities within rugby.
Craig Chan & Matt Rodden – Rugby Roots
Craig's origin story is probably no different to countless others' first experiences in picking up an oval ball.
"I used to play. I was studying at a boarding school overseas and just by a random chance event when it was snowing outside and the rugby team needed to use the basketball court, the headmaster saw me and said, "why don't you join in". So that's basically how I started." 
He carried on playing until 2015 but he wasn't sure he could play at a high level. 
"I was kind of a little bit annoying as a player on the pitch – like I always asked questions to the referees during or after the game. So the coaches said, "why don't you just go to the referee course and have a look and see."
Craig wasn't sure if he was going to pick up the whistle but was encouraged by Matt and a few others, and an injury meant he had the time to take the course. The first game as a referee was not a fond memory.
"I hated it (he says laughing). The coaches came up to me during the game and after the game with questions and I was thinking "I'm done with it." I remember I called Matt and I said 'That's it. That's it for me. I'm done. I don't want it anymore."
"Yeah, I remember that call very clearly, actually" Matt chirped in. "So it's one of those things – I think most people before they take up the whistle, don't actually realise they will enjoy it. It can take a bit of time to get into the swing of things. The pressure that comes with the environment can be something that takes a bit of time to get used to. It's good that people like Craig stick at it and give it a chance because as you can see –  the rewards do come at some stage."
Whereas Craig is from Hong Kong, Matt was born in rugby-obsessed New Zealand. 
"I had a typical New Zealand upbringing with rugby. As soon as I could hold a rugby ball, I was out there playing touch or Ripper rugby, whatever it happened to be. But actually, from quite a young age, I had an interest in refereeing – even at primary school I would referee games that we'd play at lunchtime.
I don't really know where that interest came from. But that sort of stuck with me and I continued playing right up until I was at university and then I eventually got into refereeing properly when I was finishing up there. I realised pretty quickly that I would get further as a referee than I would as a player. So I decided to take it more seriously and not long after I ended up over here in Hong Kong and then had the amazing opportunities that are on offer in Hong Kong for referees."
Referees Have A Support Structure
We asked both Craig Chan & Matt Rodden to explain the support infrastructures they have as referees, in Hong Kong and with other referees globally.
Matt: What's really key is, a lot of people think refereeing is quite individual, which, for the 80 minutes, the 14 minutes to 70 minutes of a game it can be. I mean, sometimes you have your assistant referees so you do have a bit of a team. 
But actually, there's a strong support network off the pitch. The referees at the HKRU society are really great –  they're essentially our club. So there's a lot of support that comes from that group of referees and we train once a week. We get together, there are 35-ish referees and we do a bit of fitness and some learning. 
It's mostly a social occasion and a chance for referees to talk to each other. It could be about what challenges they had on the weekend, or some different ways to do things, just to be able to chat things through. The game itself is quite lonely sometimes but having that support network that comes from the collective group of referees, I think, is really, really important. 
And it's the same refereeing internationally, particularly with the Sevens. It's a really cool team environment, you travel around with 8-10 other referees, and while you're competitive, and it is, the referees themselves all work together in that team environment – they want everyone to succeed. 
So whoever gets the final, everyone celebrates that, and supports that referee and each other to be the best they can be. So for me, that's a huge part of why I enjoy refereeing. 
Craig added on his experiences. `On the Sevens Series, we think that we are the extra team. We try to help each other at the same time. So that's the team culture, and as Matt said, the advantage we have in Hong Kong with it not being that big, it makes sense for everyone to come together once a week to have a chat and bounce off any negative or positive things.
I think that's a very good culture that is led by Matt and all the others from the past. If we continue doing that, we support each other and understand a little bit more about what's going on, and what can we do better or what we need to avoid doing. 
Rugby Laws, Adaptation & Respect 
Something we often ask Sevens coaches is about player transitions from XV to Sevens and vice versa. With referees, there is the same challenge, especially when it comes to the rule variants of the games.
Craig: Hong Kong currently is focused on the domestic 15s season. So as an example, straight after Hamilton and Sydney Sevens events, I came back and I was reffing a 15s game in the Premiership here. 
Mindset-wise, I would say it is a little bit easier switching from 15s to Sevens. Going from Sevens back to 15s, I take a little bit more time for preparation and adaptation, rather than a big change. 
On the annual changing and trailing of rugby rules, we asked Matt his thoughts. We feel – from a fan's point of view – it can be complicated because lots of different tournaments in different parts of the world are trying these different rules.
Matt: A lot of the rugby rule changes that have been brought in at the moment are around player welfare, which is World Rugby's number one priority. And we fully support that as referees. 
We're essentially there to administer the game and to facilitate based on the laws of the game at that point in time. 
Those changes come from different stakeholders throughout the game, everyone has input into the changes that are made and we fully support changes that are designed to keep the game safe. 
I also think that there are a lot of really interesting innovations that are coming in at the moment as well but there has to be a real balance between what can take the game forward and improve it from a spectacle point of view, but also be able to keep it easy to understand and encourage more people to get into the game. 
As referees, we have time to discuss the changes, so it's not like there's a change and we have to implement it that weekend –  there's a lot of work that goes into making sure everyone's on the same page. 
For me, it's really, really important to have engagement between referees, coaches and players. And that's something that we're really pushing within Hong Kong – how we can work together a bit closer. Because we, as referees, love rugby as well and we want to see the game succeed.
We want everyone to enjoy being involved with it. So, from the laws perspective, it is really really important that we work together to ensure that we're doing the best for rugby. 
And on the level of abuse and or respect in the game that they experience? 
Matt: The values of the game are hugely important. I think that is what makes rugby quite unique from some other sports. I think it's really important that we all work together to uphold those values. Rugby is a sport where the laws are front and centre a lot of the time, and because of the nature of the game, referees are often discussed. 
An integral aspect of rugby is the ability to discuss and give feedback, and obviously, everyone's entitled to their opinion.
When we refer to abusive behaviour, that shouldn't be acceptable. And I think there are some really good support structures in place from World Rugby, from Unions, and from referee societies. Clubs are very, very supportive of making sure that that type of behaviour is eradicated from the game and that abusive behaviour shouldn't be tolerated. 
There are structures in place, there are processes in place to give feedback. I think abusive behaviour shouldn't be tolerated, not just towards referees, but towards players, coaches, or spectators. I don't think there's a place for that in the game. Everyone's working together to ensure that we're upholding those values to ensure rugby as a product and as a recreation is something that people want to get involved with.
What Does It Take To Referee At The Top?
With the amount of time officials spend on the Sevens Series, we wanted to hear if they felt the more time they get to spend with some of the players and captains and coaches, if those relationships that are built off and on the field,  make officiating the games easier?
Craig: Yep, I agree. When we go to a tournament, we will stay close to the players and we will go for dinner, lunch, or whatever, we will see each other often. Sometimes we might have a chat in the dining area or after the games.
Sometimes that's how we're going to build up the relationship between the coaches, players or captains for them to just ask questions. Like everyone, as referees we are human, we might make mistakes, but at the same time, we would like to learn and make sure that we don't do it again. So it's a two-way thing. 
And the game's speed at the top level is something we imagine would be one of the biggest challenges, but what else is needed to handle the best players and teams in the world?
Craig: I think speed is definitely one aspect. And the other one would be the players' knowledge, they know as much as the referees. They (players) come up with some new little tricks and test your awareness of the laws so you need to be really quick-thinking and make sure to make the correct decisions.
I want to continue in Sevens and I want to be challenged and let that pressure come to me to deal with it. That's something that I really enjoy doing, it's not always easy, but hopefully, I get there one day and handle it more easily.
Matt: The really good point that Craig made there is that referees are human, they're going to make mistakes and we want to learn as much as players and coaches want to learn. That ability to be able to interact together is hugely important. It's a massive point for me in terms of how we can keep the game moving forward.
Hong Kong Sevens 2023 Excitement – Craig Chan & Matt Rodden
With the buzz that's building up in Hong Kong for the Sevens, we asked them for their perspectives, and if there are any additional nerves officiating a hopefully packed HK Stadium. And if they work with the HK Sevens teams to help them prepare?
Craig: I would say, luckily, that I was involved in the first one in November (Men's HK Sevens in 2022) so I kind of got the nerves out of the way. But I think as we get close to the tournament date, I would still get butterflies flying. 
It's always good to be in front of a home crowd and it will be great to have a full house at our home Sevens. So I'm looking forward to it, and with the Women's Series, it's quite special and unique this year to have the HK team too, and just to see more supporters and families around the stadium during those three days and having a good time.
The Hong Kong teams will invite us to do some training sessions and ask if they have any contact area issues that they need to clarify. Luckily I will go to the Borneo Sevens before the Hong Kong Sevens and can see the men's and women's teams there and we will have a chat on some laws or if they need any questions answered. So it's good preparation for me and the teams to get ready for the Hong Kong Sevens.
Matt: It's the best Sevens tournament in the world! I mean, maybe we're biassed, but you know it's the one that everyone wants to play and everyone wants to referee at. So I think it's really really great that someone like Craig is able to referee at home in front of family and friends.
It's a great opportunity for him and also for other local referees to get involved with assistant refereeing, or the subs bench, or technical zone staff. It is an amazing opportunity for them to be involved on the world stage.
Read our full guide on all of the events at the 2023 Cathay/HSBC Hong Kong Sevens!
What message would either of them send out to players or new fans to the game that want to become referees?
Matt: It's my job to promote that side of it but I would just challenge people to give it a go. A lot of people don't actually realise they will enjoy being out there with the whistle and there are some really great stories of former players who maybe didn't think they would ever be a referee who has gone on to have huge success at the top level. 
Damon Murphy is a great example – he refereed the gold medal match at the Olympics and was a former player, or, someone like Craig within Hong Kong who's had a similar story and gone from a player and had really great success as a referee. 
Just give it a go and there are real pathways to get to the top level from within Hong Kong. 
Craig: Keep your hopes alive – if you have a dream, give it a go as it won't do you any harm. Really commit at least a couple of years to see the outcome. Some people seem to think that to referee you need to stop playing but that's not the case, as long as you are able to manage your time.

You never know if you don't try to set your goals, push hard, and see it through until the end to reach your goals.
And for Craig Chan – what are his main goals?
Craig: To referee at the top level, so the Olympics would be a top goal, and the second one would be to try and referee on the HSBC Men's Sevens Series too, and maybe some international XVs.
But I focus on it game by game, and tournament by tournament, and hopefully provide inspiration for a young referees and provide them with a pathway to say "I would like to try like Craig and give it a go".
Craig confirmed he is heading to Borneo 7s and the HK 7s and the final Women's Sevens at the Toulouse 7s for the Women's 7s Series. He is still waiting to hear about the Asia Rugby Sevens 2023, and Olympic Qualifiers.
Matt will continue in his role as TMO and performance review for the HSBC Men's World Rugby Sevens Series and will also be at the Challenger Series.
Tanner De Witt, also renewed its title sponsorship of the Hong Kong Rugby Referees for Hong Kong's domestic leagues for another three years, extending Tanner De Witt's support of Rugby Refereeing in Hong Kong to a decade.
Hong Kong Rugby News
---
Trending Now