The Cathay/HSBC Hong Kong Sevens 2023 Delivered On So Many Fronts
---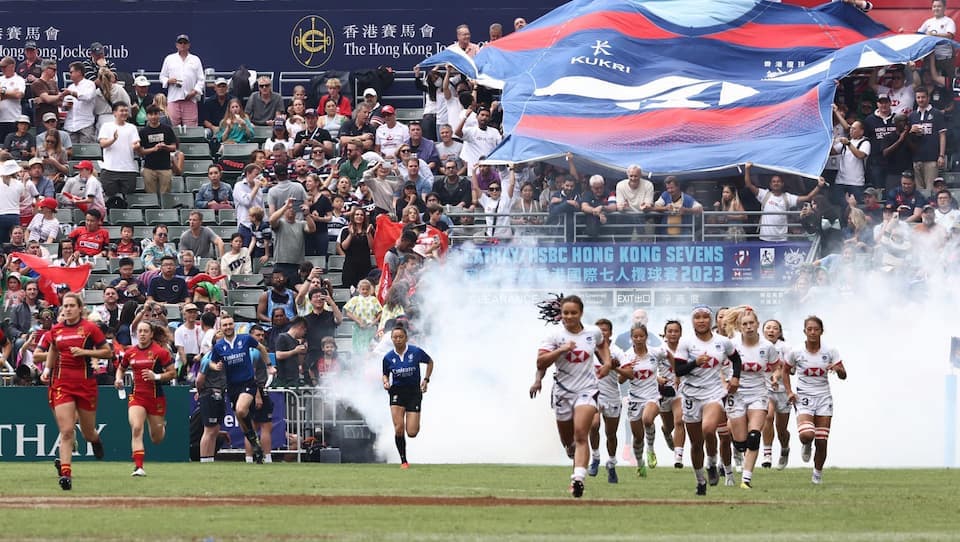 It was a grind, but the kind of pleasurable grind you hope can be repeated week to week as the Cathay/HSBC Hong Kong Sevens 2023 really delivered across all fronts this past weekend.
There were so many visual and audible highlights – sensational and uplifting rugby, the numerous programs the sport supports, rugby stars inspiring others, the broader sports network doing deals, the faithful fans, and Hong Kong as a rebounding city. They were all not without their faults but no rugby event we have been to over the past year has seen a seamless transition in shaking off the pandemic hangover.
We spoke with HKRU CEO Robbie McRobbie at the Hong Kong Sevens 2023, which in our opinion was a successful return and issued a bold reassuring statement that it remains the world's most iconic and irreplaceable sevens rugby tournament. 
There were so many historic moments over the course of the week leading up to NZ winning the Women's and Men's finals on Sunday – which by all accounts will be the second-last time ever that Hong Kong Stadium will host the annual Sevens tournament.
Feature Photo Credit: Takumi Photography
"We've been very happy with the tournament and the typical Scottish drizzly weather on day one was a bit unfortunate but it didn't seem to dampen the spirits of the 23,000 crowd who turned up and there was a really good buzz around the stadium," said McRobbie as we lurked outside a heaving media centre at the Hong Kong Stadium. 
Robbie McRobbie: I think last November was a great event and there was certainly a release of pent-up pandemic frustration then. But I think this time, with all of the traditional elements that make the Hong Kong Sevens so special; the mini rugby in the morning, the entertainment, the opening ceremony – it is fantastic. 
I think people are just in a really good place and just really happy to see the event back. And with the women involved as well, there's a lot of excitement around that and there was some great rugby action, as well!"
It's been four years since we have been in Hong Kong, and it was great to be back. We were not quite sure what the expectation levels were but by the close of the finals on Sunday night, we felt the HKRU, their partners, and all of the teams had delivered the best sevens rugby event in a few years.
There was a strange mix of emotions – relief seems to be maybe the top of that pile, but then the excitement. It was certainly buzzing when the Hong Kong teams played – both the women and men.
Robbie McRobbie: They got a fantastic reception and it's a great testament, I think, to the way that both teams have performed over the recent months in the Asian Sevens Series – for the men to win that and the women put in a great performance as well. 
This was a big, big step up for both teams this weekend. For the women, that opportunity to play against the very, very best in the world doesn't come along very often. And to do that in front of their friends and family is just a remarkable experience for them. 
This is an opportunity for both teams to show that they can compete at that level. And both teams go on in a couple of weeks' time to the Challenger Series in South Africa, where they'll be endeavouring to actually get themselves a place in the World Series going forward. 
So this for them was a really important benchmark to see where they are, in comparison to the Core Series teams.
There were so many fantastic stories all week – from the first Women's Tens teams playing at the HKFC Tens – to the broad grinning smiles etched on the HK Women's and Men's 7s teams as they ran out to the field for each game – rewarded with a raucous cheer. 
Iconic moments were captured too – with Agnes Tse Wing-kiu scoring her side's first try – she gave up her career as a Cathay Pacific steward to become a full-time rugby player) and was instantly a player to aspire to for young Hong Kong girls and boys.
Even sitting in the stands and walking around the stadium, countless encounters with young and old HK residents and new fans who wanted to see what the Sevens was all about, and event staff taking their breaks but spending the time watching the rugby.
We actually found the Women's final rugby matches at both the HKFC Tens and HK Sevens to be more exciting than their male counterparts – so it's very possible a Women's final could be capping off the events in the future
What the Cathay/HSBC Hong Kong Sevens Means
We have spoken to you and others in the HKRU over the past few years – about the hard times. When will you be able to judge how much impact this weekend is going to have and how can you start maybe changing plans moving forward, if any?
Robbie McRobbie: I think that in terms of the larger impact on the city, we've already seen that. One has to remember that the event is hugely important for the HKRU – it generates 95% of our revenue. But one can't forget all of the associated businesses and people whose livelihoods depend on the events industry – who again – have had a very, very tough three years. 
Everything within the stadium, the people who are selling the beer, and selling the hot dogs, to have this event back has already had a massive positive impact on people's livelihoods. People who have been either not working or certainly not earning the same level of income that they would normally do in a non-pandemic situation. 
This has been very important. And this whole month for Hong Kong with Clockenflap, International Golf, and international cricket next week. It's such a relief for all of us to see, not just the Sevens, but the sports and event industry back on its feet in Hong Kong.
John Lee, the current Chief Executive of Hong Kong shared images of the weekend on his social media platforms and he handed out the coveted trophies and medals during Sunday's finals day.
HK Sevens Rugby Week Benefits So Many
The Rugby Sevens week has been a very busy one with all of the associated events this past week – you were hosting and presenting and have been wearing many hats. Are there any standout events for yourself from the past week as there have been some excellent and meaningful events which have also raised funds and awareness for great causes?
Robbie McRobbie: There have been more than 20 breakfasts, lunches, brunches, drinks and dinners. We didn't see that in November for obvious reasons. So to have all of that back, and perhaps even a few more than in the past has been outstanding. 
To have all of the Chambers of Commerce, the consulates, the societies, and the rugby clubs involved too. All of these events are really important to them. And it's important that a lot of money is raised during the week for charities as well. I think we're all very aware of the Doddie Weir charity dinner that was held – which raised over HK$ 3 million for MND research, which was just outstanding. 
We've also had our partners at the Jockey Club, and Laureus Sports – we've tried to also make sure that we've used the Sevens as a shop window for the wider work that goes on year-round in the community, and not just in Hong Kong, but around the world, using sport as a powerful tool to affect social change. 
To hear through Laureus that the likes of Chris Hoy, Andrew Strauss, and Daley Thompson, are advocates for this whole sport development movement. 
I mean, it's such an absolute privilege and I think that you'd agree that the Value of Sport lunch that we held earlier in the week – to have on stage; Daley Thompson, Sir Chris Hoy, DJ Forbes and Jodie Ounsley – who is a deaf England rugby player who has an incredible story –  they are each such an inspiration in their own right, but to have four of them on stage at one time! 
We were really spoiled. And so I guess for me, that event is certainly something which I loved being part of and felt very privileged to be part of.
The

'Value of Sport' luncheon was held by the HKRU and Laureus at The Fullerton Ocean Park Hotel Hong Kong with a special selection of guests who spoke under the key theme of how sport can play a role in recovery and resilience.

The KPMG & BritCham dinner also raised HK$180,000 to support Rugby For Good and Handson Hong Kong.
Meanwhile, at the SAAHK Dinner, they reached a milestone of officially surpassing the HK$1 million mark in funds raised for South Africa charity Ons Plek over the past 7 years, and on the night raised HK$75,500.
In total, HK$ seven million was raised in the week benefitting several charities.
Hong Kong Sevens 2024 Is Happening
Can you confirm Hong Kong Sevens 2024 is definitely happening – we certainly feel it's the best Sevens in the world.
Robbie McRobbie: It's always nice to hear that. All of the sevens tournaments are great, but of course, we like to think that what we've got here is a bit special. 
For 2024, we are already excited as this is poised to be the last one in the current venue before we move to the fantastic state-of-the-art and brand-new facility at Kai Tak.
I can assure you that we are absolutely committed to making sure that the last one in the grand ol' stadium will be one to remember. We know that not all of our overseas fans and friends are back this year, but we very much hope that from this weekend, they'll get a reminder of what they're missing out on. 
We are confident that we'll see them all back next year to join us in what is going to be one hell of a party.
SCMP further reported that World Rugby CEO Alan Gilpin said the 50,000-seat venue in Kai Tak offers a bright future for the sport in the city. Hong Kong certainly won't be playing" at home" again unless they qualify for the HSBC World 7s Rugby Series as a core team (no invitational teams will feature in the new format of the series from next season). There are hints of an Asia tournament" or an invitational event attached to the main series.
Both Gilpin and World Rugby's Chairman Bill Beaumont visited the stadium during the HK 7s 2023 and called the stadium "incredibly impressive". Gilpin added "I love the fact that with the new stadium design, they've got the South Stand, that's a great tribute to what this means to sport in Hong Kong, that they've actually incorporated that into a modern stadium design. It's going be a lot about keeping this atmosphere."
What The HSBC Ambassadors & Players Told Us – 2023 Cathay/HSBC Hong Kong Sevens
Australian 7s player Charlotte Caslick:  
"Our group has been lucky to be part of a few history-making moments and to be part of this one is pretty special…… It's been great to be in Hong Kong and the crowd has been amazing – so to finally be part of the most iconic Sevens stop in the world is a huge step forward for women."
HSBC Ambassador Brian O'Driscoll (former Irish and British & Irish Lion)
"There are lots of rugby players here, but you don't always speak with one another, you know, you have got different schedules – but I have run into so many people I know. But it's the energy even on the concourse, and with the South Stand filling up. I think the addition of having the women for the first time is hugely significant too."
Hong Kong co-captain Natasha Olson-Thorne: 
"It's still amazing. Every time I run out there in the tunnel it gives me shivers. It's been a joy – we are so happy to be here and playing. We have a few things to work on as we prepare for the Challenger Series but playing at this level will up our game."
HSBC Ambassador (former England Player) Nolli Waterman: 
"The fact that the women are running out, for the first time on the HSBC World Series is super special. There's not many things in my career that I feel like I wish I'd been able to do but on reflection, you know, im feeling a little bit jealous of the girls. I'm getting that because it's such an iconic stadium – to watch the girls here, to hear the crowd roar and to listen to them talking about how awesome they all are, is super special."
HSBC Ambassador Alicia Lucas (nee Quirk) – former Australian 7s player: 
"Yeah. It's been incredible to be a part of it. I've dreamed of coming here and I remember watching the girls when I first started playing in 2011 – they played an invitational tournament and the atmosphere was electric and the vibe that the tournament offered was special.
I had envisioned playing here once in my career but I didn't get to, but it didn't get to come to fruition. So to be here, in a spectating capacity and in a supporting role with HSBC, it's really special to be a part of, and quite momentous, with the women running out and seeing how much it means all the separate teams and hearing their stories of why they wanted to come here and how they got here. So it's been a pretty incredible weekend to be a part of."
Sevens Rugby News 2023
---
Trending Now